Dairy and Gluten-Free Butternut Squash & Mushroom Christmas Wreath
Who doesn't love a veggie sausage roll? Especially when it's packed full of festive flavour and plant-based goodness. Give Happy Skin Kitchen's Butternut Squash and Mushroom Christmas Wreath a go for a seasonal centrepiece that's sure to be the talk of any party.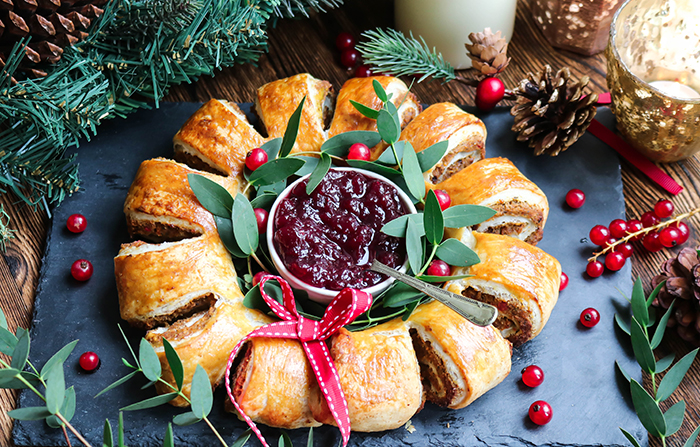 Dairy and Gluten-Free Butternut Squash & Mushroom Christmas Wreath
Recipe by Happy Skin Kitchen in collaboration with Gosh! 
GF (option)  SF DF EF V MF
Ingredients
1 roll of puff pastry (JusRol do a vegan and gluten-free version)
1 tablespoon of olive oil
1 small white onion, diced
2 cloves of garlic
1 cup of roughly chopped chestnut mushrooms
1 tbsp of dried thyme
1tbsp of dried sage
1/2 teaspoon of salt
For the flax egg:
1 tbsp of milled flaxseed + 3 tbsp of water
Approx. 2 tbsp of melted vegan butter to brush the pastry
To serve:
Method
In a small bowl mix together the milled flaxseeds and water. Leave to one side for 5-10 minutes until it becomes gloopy.
In a large pan, sauté the onion, mushroom, and garlic in olive oil over a medium heat for 4-5 minutes.
Add thyme and sage and stir occasionally for another 3-4 minutes, until the mixture is slightly brown and has softened.
Add the mixture to a food processor, along with broken up Gosh! sausages and the flaxseed "egg".
Process until the mixture is fairly smooth, then place it into a bowl. Cover and refrigerate for approx. 30 minutes for a more solid consistency.
Dust your rolling surface with some flour and roll out the puff pastry. Cut out a long rectangle, about 90cm length x 20cm width (don't worry, it doesn't have to be precise).
Spread the sausage mixture all the way along the pastry strip. Roll it and shape the sausage roll into a circle, making sure to keep the pastry seam at the bottom and gently lay on the baking sheet.
Use a little almond milk to stick the two ends together. Using a very sharp knife cut about 12-13 sausage rolls, leaving the inner circle of pastry connected, creating a wreath shape.
Use the melted dairy-free butter to brush the whole wreath. Cook at 180 °C for about 25-30 minutes until golden brown and flaky.
Serve straight away while still warm with a pot of cranberry sauce for a show-stopping party centrepiece.
Tags:
Christmas
,
Dairy-Free Christmas
,
Gluten-Free Christmas
,
Pastry
,
Puff Pastry
,
Vegan
,
Vegan and Gluten Free
,
Vegan Christmas
,
Vegan Dinner