Healthy vegan mince pies
Sweet and wonderfully spiced, you'll find it impossible to resist these healthy vegan mince pies! Warm them up just a little and enjoy with a nice glass of mulled wine!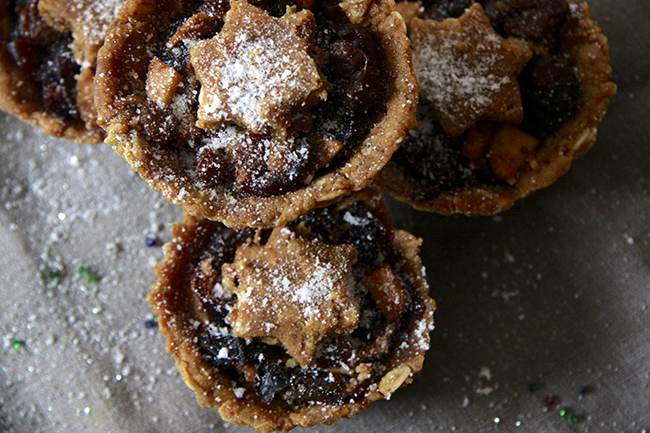 Healthy vegan mince pies
By Mira Manek (www.miramanek.com)
Makes: 8 large mince pies
GF (option) DF EF V MF
Ingredients
For the pastry:
100g coconut oil
100g chickpea flour
100g dates
70g oats (can use gluten-free oats)
For the filling:
2 apples, chopped in small pieces
100g prunes, about ¾ cup, chopped in small pieces
100g sultanas, about ¾ cup
80g cranberries, about ¾ cup
Juice of 1 orange
Juice of ½ lime
Some orange zest
1 teaspoon cinnamon
Method
Start by making the mince. Place the apples in the saucepan first, squeeze the orange and lime and grate some of the orange zest into the pan. Stir and let the apples cook for a few minutes, then add the rest of the ingredients and keep stirring. Let this cook on low heat while you make the crust for the pies.
To make the crust melt the coconut oil in a large pan, then pour in the chickpea flour and start stirring on a low to medium heat. While stirring, warm the dates in a separate pan on low heat for a few minutes (especially if they are hard) so they melt easily when added to the chickpea flour and coconut oil mixture. Leave aside.
You will need to continuously stir the chickpea flour mixture for around 15 minutes on low heat until the mixture starts to thicken and you notice the colour change very slightly from yellow to orange/light brown. As soon as you notice the colour change, add the oats and the warmed dates and remove from heat, still stirring vigorously until the dates start melting into the mixture. Let this cool down until it is cool enough to be able to handle it. You can remove the mince mixture from the heat and let this cool down now. Using a fork, gently mash the mince mixture so that it becomes more sticky.
I prefer to use silicone cupcake moulds for these mince pies as it is much easier to remove the mince pies from them later. If using a muffin tin, then grease each tin with coconut oil. Mould the mix into individual tins and then cut the remaining mixture into stars or whichever shape you like (I used star moulds) to then go on top of the pies. Fill the mince mixture into the individual pies, then place the star shapes on top and place in the fridge.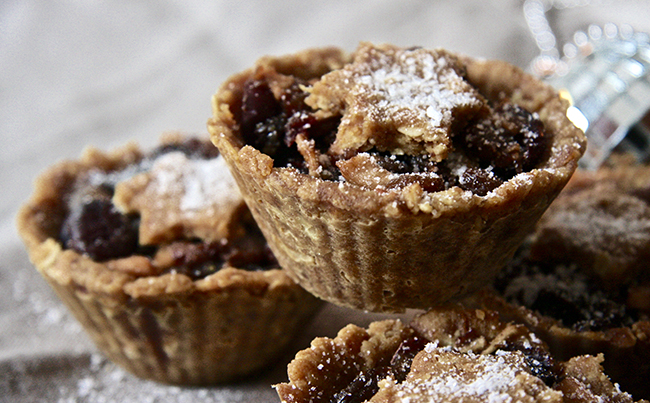 About the author: 
Mira Manek is a journalist and writer with a passion for health and wellbeing. Her book Green Daal Stories focuses on adapting some of her family's Gujarati vegetarian dishes, to ensure they are nutritious, low in carbohydrates and high in protein. For more recipes, please visit: www.miramanek.com or @miramanek on Twitter.
Tags:
Christmas
,
Dairy-Free
,
Dairy-Free Christmas
,
Dairy-Free Recipes
,
Gluten-Free
,
Vegan
,
Vegan and Gluten Free
,
Vegan Christmas
,
Vegan Diet
,
Vegan Recipes