Strawberries & Cream Pinwheel Biscuits
These gorgeous dairy-free strawberries and cream pinwheel biscuits taste as good as they look!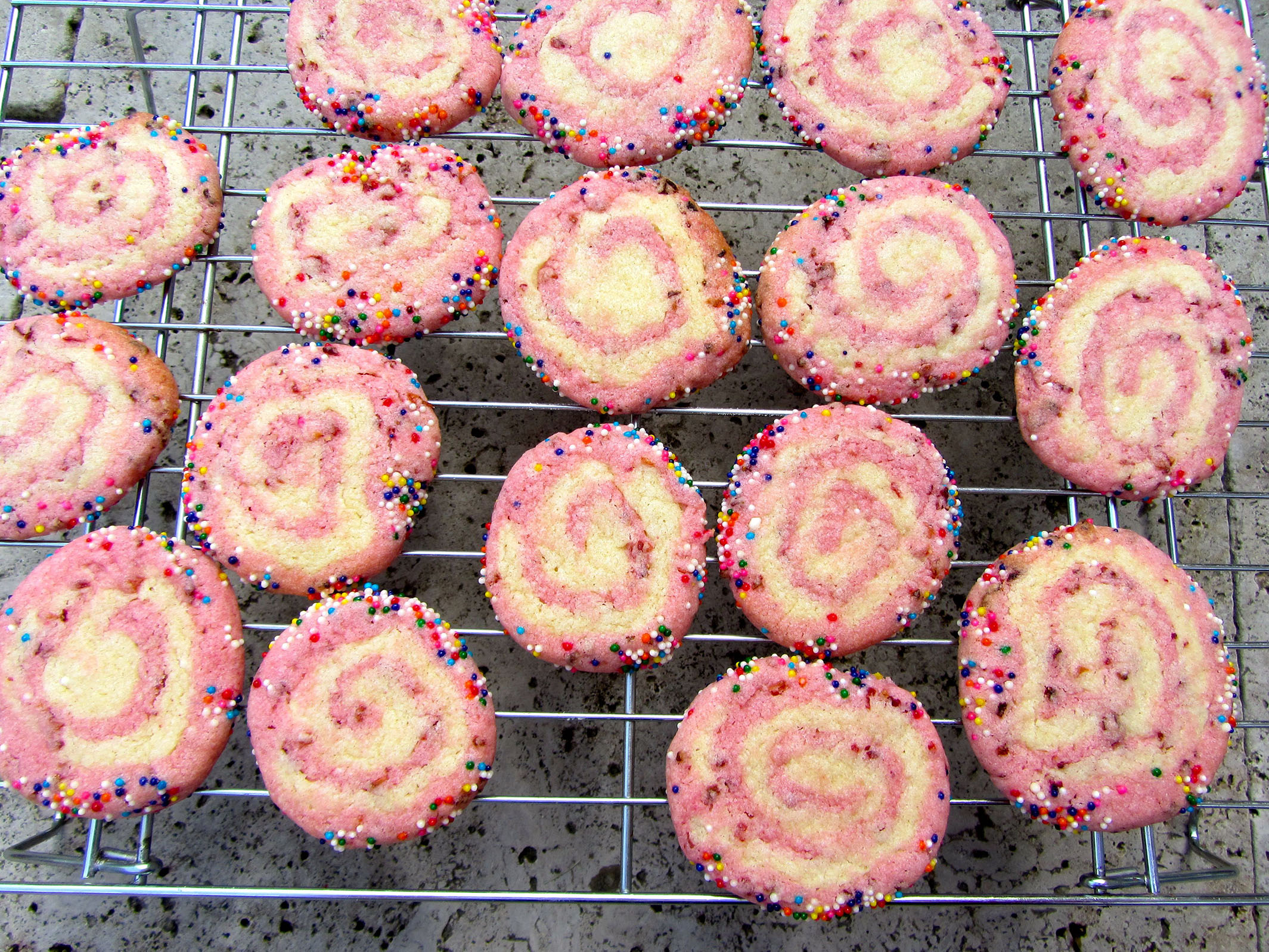 Dairy-free strawberries & cream pinwheel biscuits
By Lucy Parr (www.lucysfriendlyfoods.wordpress.com)
DF EF V
Makes 25 | Prep 20 mins (plus 30 mins for chilling) | Cook 10 mins | Calories 132 (per biscuit)
Ingredients
2 1/3 cups of plain flour
2 tbsps cornflour
1/4 tsp salt
1/4 tsp baking powder
1/4 cup vegetable fat (I used Trex)
3/4 cup dairy-free spread (Pure)
1 cup caster sugar
2 tbsps oat milk (Oatly)
1/3 cup freeze dried strawberry pieces
1-2 tsps natural pink food colouring
2-3 tbsps sprinkles
Method
Sift together the flour, cornflour, salt and baking powder.
In another bowl whisk together the fat, spread and sugar until light and fluffy. Add the oat milk and whisk again.
Add the flour mix and carefully combine.
Split the dough into two equal sized portions. Add the food colouring and freeze dried berries to one and mix to thoroughly combine.
Roll out one dough. Then roll out the other and sandwich together. Tightly roll into a sausage shape.
Place a sheet of cling-film onto the work surface. Put the dough cylinder on one side, liberally sprinkle the decorations next to it, then roll over to coat the whole log, pressing in the sprinkles to make sure they stick.
Wrap in the cling-film and then place in the fridge for at least half an hour.
Cut 1/4 inch slices with a sharp non-serrated knife.
Place on a lined baking sheet, flatten slightly and bake at 180 degrees for 10 minutes, or until lightly golden round the edges
Cool on the sheet before moving to a wire rack.
For more great recipes by Lucy Parr, visit www.lucysfriendlyfoods.wordpress.com
Tags:
Biscuits
,
Dairy-Free
,
Dairy-Free Dessert
,
Recipes
,
Vegan Dessert