Sweet potato tagine
Taking the warming flavour of cinnamon and mixing it with herbs, spices and apricot, this sweet potato tagine is as healthy as it is tasty. With sweet potatoes and butternut squash you'll also be getting 2 of your 5 a day, so it's a perfect nutritional boost for a day in the desert, or a night with your feet up!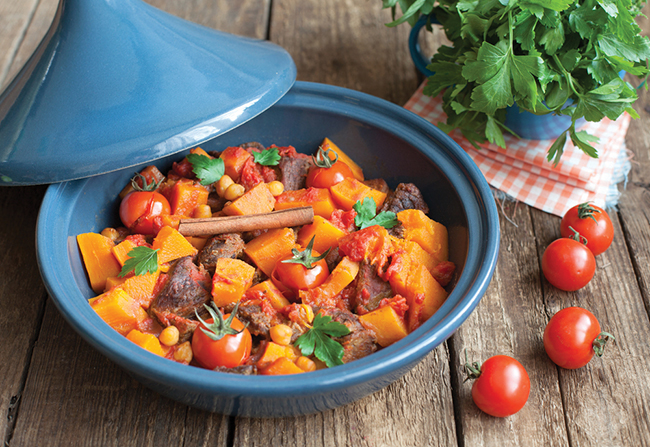 Sweet potato tagine
By Kirsty Henshaw (www.kirstys.co.uk)
Serves 2-4 | Prep 15 mins | Cook 1 hr  | Calories 412 (per serving)
GF SF DF EF V (option) MF
Ingredients
4 tbsp coconut oil
6 garlic cloves, peeled, finely chopped
2 large red onions, peeled, quartered
1 medium sweet potato, peeled, cubed
1 small butternut squash, sliced
400g (14oz) tinned chopped tomatoes
1 red pepper, chopped
1 yellow pepper
400g (14oz) tinned chickpeas, drained
1 tbsp agave syrup or honey
a handful of chopped apricots
a small bunch of coriander
a pinch of cumin
a cinnamon stick and cherry tomatoes, to garnish
sea salt
paprika
Method
Preheat the oven to 180°C/Gas Mark 4.
Sauté the onions, garlic and peppers in oil for 5-6 minutes, then add the butternut squash and sweet potato chunks. Reduce the heat.
Drizzle agave over the vegetables and add the spices, sea salt, black pepper and chickpeas. Stir together for 1 minute.
Pour over the chopped tomatoes and add a cup of water. Stir in the dried fruit and fresh coriander, then transfer to an ovenproof dish or a tagine pot if you have one. Cook in the oven for 1 hour.
Serve with brown basmati rice, quinoa or even on its own.
About the author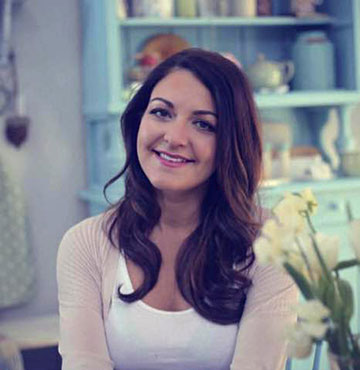 The 
Kirsty's
 range of healthy and nutritious gluten-free, dairy-free and wheat-free chilled ready meals was launched in 2012 by
Kirsty Henshaw.
Kirsty appearened on Dragon's Den, where she secured a healthy investment in her allergen-free frozen desserts. They have proved hugely popular with people who have Coeliac disease, and individuals with food allergies and intolerance's. You can find more recipe videos, and information both on her
YouTube
channel, and her
website
.
Tags:
Dairy-Free Dinner
,
Dairy-Free Recipes
,
Gluten-Free Dinner
,
Gluten-Free Recipes
,
Paleo Dinner
,
Paleo Recipes
,
Sugar-Free Dinner
,
Sugar-Free Recipes
,
Sweet Potato
,
Vegan Dinner
,
Vegan Recipes
,
Vegetarian Dinner
,
Vegetarian recipes