The ultimate gluten & dairy-free fish pie
This gluten and dairy-free fish pie is a super homely, feel good meal, and it's also super simple to make. Don't forget the tartar sauce!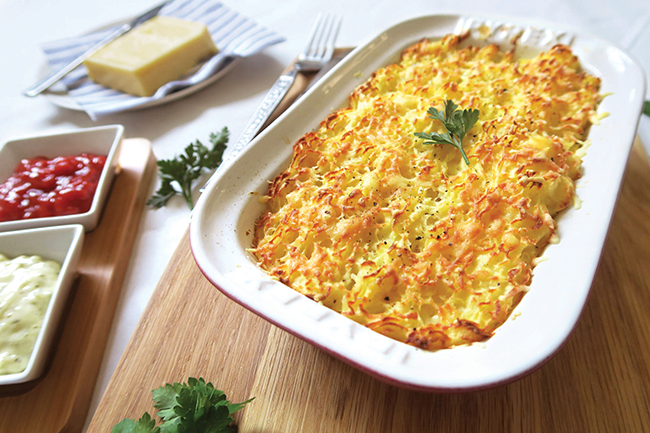 The ultimate gluten & dairy-free fish pie
By Becky Excell (www.glutenfreecuppatea.co.uk)
Serves 6 | Prep 25 mins | Cook 40-45 mins | Calories 469 (per serving)
GF SF DF EF
Ingredients
2 salmon fillets
2 smoked haddock fillets
2 cod fillets
6-8 raw king prawns
500ml (18fl oz) dairy-
free milk
50g (1¾oz) dairy-free spread
25g (1oz) gluten-free plain flour
3-4 potatoes
1 tsp Dijon mustard (optional)
dairy-free cheese, grated (enough to cover the top)
salt and freshly ground black pepper
Method
Peel, chop, then boil the potatoes for about 20 minutes. Remove from the heat, drain, then mash with a little milk, dairy-free spread and mustard. Season with salt and pepper to taste. Set aside. Preheat the oven to 160°C/Gas Mark 2½.
Place the fish fillets in a large ovenproof dish. Pour over the milk and bake in the oven for 15-20 minutes. Remove from the oven and turn the heat up to 180°C/Gas Mark 4.
Use a slotted spoon to remove the fish from the milk, then pour the milk into a jug.
Create a white sauce by adding flour, dairy-free spread and the milk in the jug to a saucepan. On a low/medium heat, keep stirring your mixture until it thickens.
Return the fish to the ovenproof dish, break it up into bite-sized chunks and add the prawns. Drizzle over the white sauce until covered.

 

You may not need all the sauce. Spoon over the mashed potato, making sure it covers all the edges. Sprinkle with dairy-free cheese and pepper.
Bake in the oven for about 25 minutes, until the top starts to turn golden.
---
About the author

Becky Excell is a free from food blogger and foodie YouTuber. She's passionate about all things gluten free and loves helping her followers by creating delicious free from recipes, travel guides and telling the world about exciting new free from products. Find out more are www.glutenfreecuppatea.co.uk.
Tags:
Dairy-Free
,
Dairy-Free Diet
,
Dairy-Free Dinner
,
Dairy-Free Recipes
,
Gluten-Free
,
Gluten-Free Diet
,
Gluten-Free Dinner
,
Gluten-Free Recipes
,
Pie
,
Recipes
,
Sugar-Free Diet
,
Sugar-Free Dinner
,
Sugar-Free Recipes