Vegan Chunky Monkey ice-cream
This Vegan Chunky Monkey ice-cream is a deliciously smooth banana ice cream that contains half of the carbs of the original. Filled with chocolate chunks and toasted nuts it's sure to curb those naughty cravings. Dairy, egg, gelatine, gluten and refined sugar-free!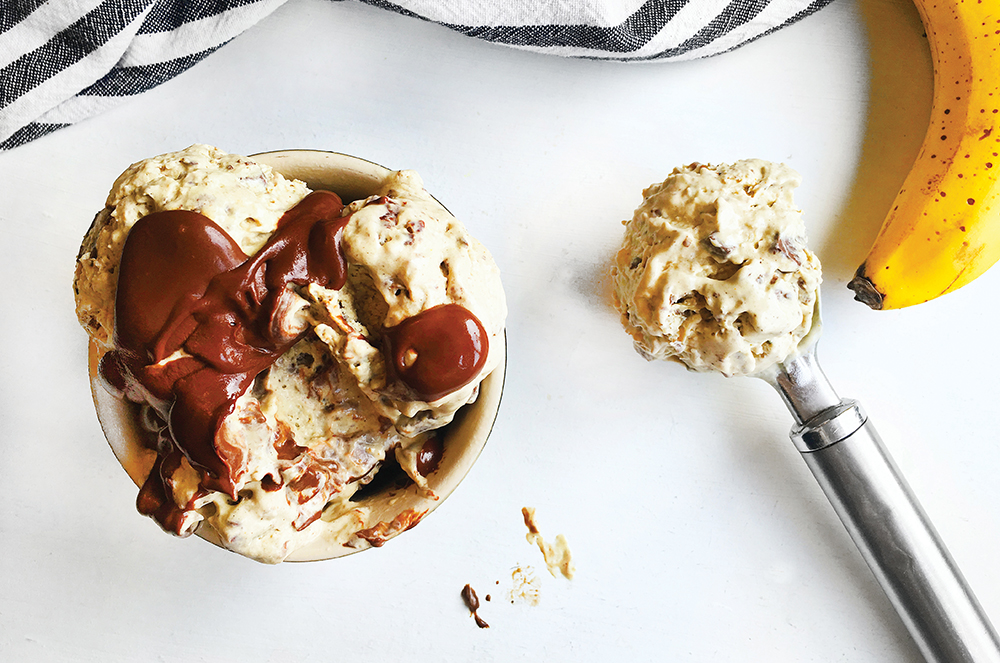 Vegan Chunky Monkey ice-cream
By Georgina Young (www.greensofthestoneage.com)    
Serves 6-8 | Prep 30 mins plus freezing | Cook 5 mins | Calories 519 (per serving)
GF DF EF V MF
Ingredients
For the ice cream:
400ml (14fl oz) full-fat coconut milk
50g (1¾oz) cacao butter
60ml (2fl oz) maple syrup
¼ tsp vanilla powder
1 large banana, peeled
juice of ½ a lemon
¼ tsp fine Himalayan pink salt
¼ tsp ground turmeric
¼ tsp xanthan gum
70g (2¾oz) toasted pecans or walnuts
60g (2oz) vegan dark chocolate
For the Sugar-Free Hot Fudge Sauce:
160ml (5½fl oz) coconut cream
100g (3½oz) cacao powder
100g (3½oz) xylitol
60g (2oz) df, gf dark chocolate
¼ tsp fine Himalayan pink salt
1 tbsp vanilla extract
30g (1¼oz) coconut oil
30g (1½oz) cacao butter
Method
Place the coconut milk, cacao butter, maple syrup and vanilla powder into a heavy bottomed pan. Gently whisk the ingredients and place onto a medium heat until almost at boiling point. Reduce to a low heat and simmer gently for 30 minutes, until the mixture has thickened enough to evenly coat the back of a spoon. Leave the mixture to cool for 5 minutes, before placing into the freezer for a further 10-15 minutes to cool completely.
In the bowl of a food processor, combine the banana and lemon juice. Process until smooth. Remove the cooled ice cream base from the freezer and begin to pour down your feed tube while the processor is running. Add the salt, turmeric and xanthan gum. Process until all of the ingredients have fully combined. You may want to periodically scrape down the sides with a silicone spatula.
Place the mixture into the freezer. Stir every 15 minutes, until it has cooled completely.
While you are waiting, cut the chocolate into chips and chop the toasted nuts. Remove the mixture and stir in the chocolate chips and nuts.
Cover the bowl with clingfilm to prevent ice crystals from forming, then place the mixture back into the freezer. Stir every 15 minutes for 1 hour, until the ice cream becomes slightly more firm than the texture of soft scoop.
For the hot fudge sauce, in a heavy bottomed saucepan bring the cream, cacao powder, xylitol granules, salt,and half of the chocolate to a boil. Reduce the heat to medium-low, being sure to maintain a low simmer, and cook for 5 minutes, stirring.
Remove from the heat and stir in the remaining chocolate, coconut oil, cacao butter and vanilla extract. Stir until smooth and glossy. Leave to cool for 20-30 minutes before serving. It needs to cool a little first in order to thicken. Store in an airtight jar in the fridge for up to 2 weeks. To reheat simply place your jar in a bowl of boiling hot water for 3-5 minutes until it is just pourable – you still want it to be thick!
Notes
*Prep time is 30 mins, plus 2 -3 hour freeze time. Recipe yields roughly 500ml.
**All cup measurements used are UK cup measurements and so 1 cup = 250ml.
About the author: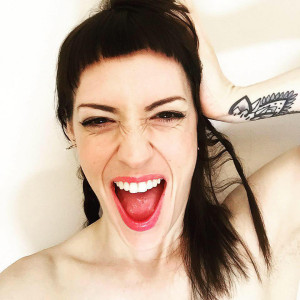 Georgie is a fresh faced, freelance writer and recipe developer who specialises in nutrition, fitness, and health and well-being. She enjoys sharing her passion for cooking, Paleofying food, and exploring Veganism within the Paleo diet on her blog, Greens of the Stone Age, and along the way has helped many friends to take a more holistic approach to their hectic lifestyles. She have further expanded upon her love of the Paleo way of living by setting up Primal Eye Magazine – the UK's 1st online Paleo lifestyle magazine!
Tags:
Chocolate
,
Dairy-Free
,
Dairy-Free Dessert
,
Dairy-Free Diet
,
Dairy-Free Recipes
,
Gluten-Free
,
Gluten-Free Dessert
,
Gluten-Free Recipes
,
Paleo Dessert
,
Vegan and Gluten Free
,
Vegan Dessert