Dates & Pumpkin Seed Granola
A wonderfully simple and healthy recipe to add to your breakfast repertoire. Use gluten-free oats to make this granola gluten-free.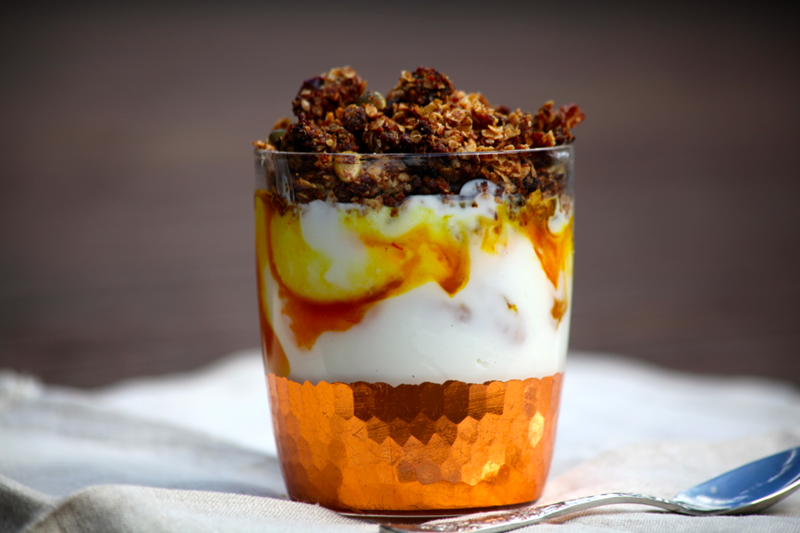 By Mira Manek.
When I go for breakfast in hotels and restaurants, my tastebuds more often than not require something sweet. Since I don't keep granola at home – for the sole reason that I would end up picking at it any time of day – I sometimes do indulge. I love trying different granolas, once in a while, and I treat them as a treat! So I decided to make my own granola, especially since I had made a Saffron Blossom compote and realised that granola would make for the perfect compliment and topping. While I've made granola before, this time I've made it with dates and pumpkin seeds rather than prunes and walnuts and anything else that I used to add. I've also added rather a lot of cinnamon to bring about that natural sweetness and that deliciously woody aroma when it's baked. And to make it slightly sweeter, I've used coconut sugar, but you can always use agave nectar or honey.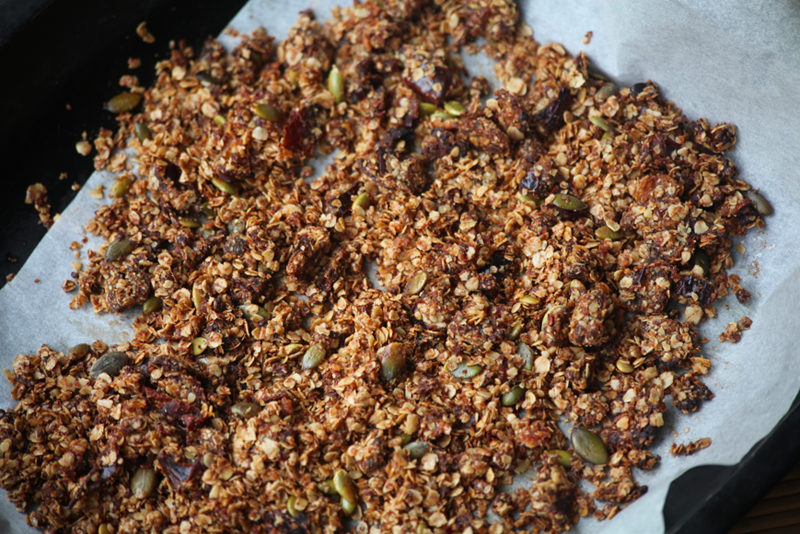 This recipe is gluten-free, refined sugar-free, dairy-free and vegan.
Ingredients | 6-8 servings
2 tablespoons coconut oil
10 tablespoons gluten-free oats
100g dates, finely chopped
1 tablespoon pumpkin seeds
1½ teaspoon cinnamon
1 teaspoon flax seeds, optional
2 tablespoons maple syrup/ coconut sugar
Method:
Start by preheating the oven to 180C/gas mark 4.
Now melt the coconut oil in a medium pan on low heat.
Add the oats and stir them for 1-2 minutes before adding the rest of the ingredients. Keep stirring the granola for 7-8 minutes until brown.
Transfer to a baking tray and place in the oven for 10-15 minutes, checking regularly after 5 minutes to ensure it doesn't burn.
Leave to cool down before serving as it will become crispier once cooled.
You can have this granola with any kind of milk, or with yogurt and berries. Here I've served it with plain yogurt and my saffron blossom compote.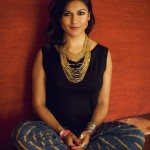 About the author: Mira Manek is a journalist, writer and healthy Indian cook with a passion for health and wellbeing. Indian food is not something we would usually associate with being healthy and is often perceived as being a very heavy and oily cuisine. Author, journalist and healthy cook Mira Manek has her heart set on changing that perception with her handmade food products, colourful blog and debut cookbook Green Daal Stories, out later this year. With her expanding range of products, menu collaborations with restaurants and wellness events and supper clubs Mira is bringing a new healthy concept of Indian food to the table. For more recipes, info on the release of Mira's book and upcoming events and product news go to: www.miramanek.com or @miramanek on Twitter.
Check out more delicious gluten-free recipes and vegan recipes! For even more, grab a copy of the magazine.
Comments
Tags:
Dairy-Free
,
Dairy-Free Breakfast
,
Egg-Free
,
Gluten-Free
,
Gluten-Free Breakfast
,
Meat-Free
,
Paleo Breakfast
,
Recipes
,
Vegan
,
Vegan and Gluten Free
,
Vegan Breakfast
,
Vegetarian