English Breakfast Mini Frittatas
These little English breakfast mini frittatas are laden with good fats, protein, essential vitamins and nutrients. Fun for kids to make and get involved with, perfect for lunch boxes, picnics or just a snack on the go.
English Breakfast Mini Frittatas
By Emma Porter (www.paleowithmrsp.com)
Serves 8-10 | Prep 10 mins | Cook 20 mins |
GF SF DF
Ingredients:
8 eggs, whisked together with 3 tbsp water
2 spring onions, finely chopped
½ tsp sea salt
110g cherry tomatoes, sliced in to half
60g button mushrooms, sliced
pinch black pepper (to each muffin)
5 rashers bacon
Instructions:
1 Preheat oven to 180° c. In to a frying pan over high heat place bacon and dry fry for approx 2 minutes on each side (you want it to be cooked but not crispy as it will cook in the oven later). Place to the side.
2 In to the same frying pan place a little oil (preferably coconut) and fry off mushrooms for about 2 minutes- just to soften them. Place to the side.
3 Chop your bacon in to thin (about 1.0 cm) length strips.
4 With all your ingredient in front of you, in to muffin holders (I always use silicone as they don't need greasing, but if yours are not silicone then please grease first) place lengths of bacon (about 4 pieces in each one).
5 Followed by a few mushrooms, 2 cherry tomato halves and then fill with egg mixture to near the top.
6 Sprinkle a little sea salt over the top and add some chopped spring onion and a little black pepper to finish.
7 Repeat until all the mixture has been used (I make around 12 medium sized muffins).
8 Place muffins in to the oven for around 15 minutes (and then check), if they have not risen or are still a little soft then keep them in for a further 5 minutes and check.
9 Once risen, take out of oven and place on wire rack to cool. Serve hot or cold
Notes:
Keep in the fridge in sealed container for up to 4 days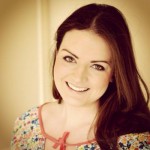 About the author: Emma is the writer of Paleo With Mrs P, a website dedicated to creating simple, healthy, nutritious recipes which are free from dairy, gluten, grains and refined sugar. Diagnosed with diabetes just before her eighteenth birthday, Emma later fell in love with the Paleo diet and how it calmed her symptoms, as well as making her feel happy and healthy.
You can find her on Facebook, and Twitter.
Check out more of our delicious paleo recipes and gluten-free recipe ideas.
Tags:
Gluten-Free Recipes
,
Paleo Recipes
,
Sugar-Free Recipes