Lemon & ginger cupcakes
Sticky, sweet and utterly moreish, these gluten and dairy-free ginger cupcakes with luscious lemon icing are a treat for the tastebuds!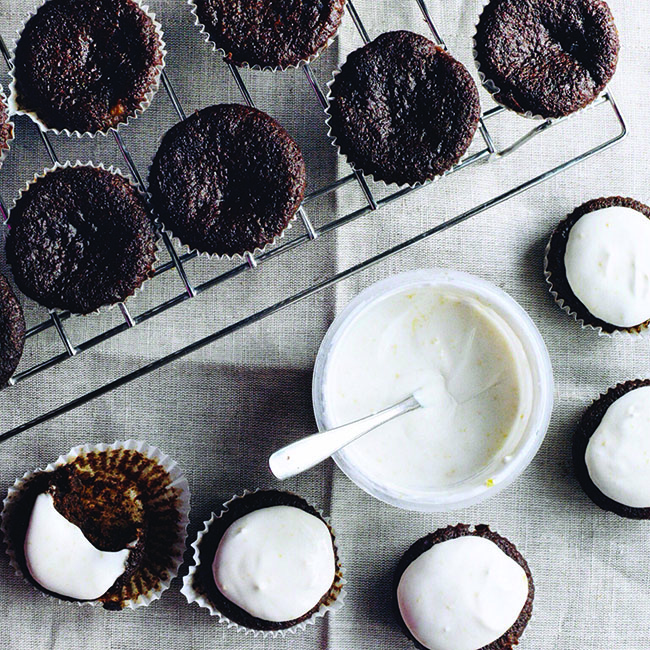 Lemon & ginger cupcakes
By Kate Gardner (www.magpieandmaple.com)
GF DF EF MF
Serves 16 | Prep 20 mins plus chilling | Cook 20-25 mins | Calories 264 (per serving)
Ingredients
225g (8oz) buckwheat or brown rice flour
1 tsp bicarbonate of soda
2 tsp gluten-free baking powder
1-2 tbsp ground ginger
1 tsp ground cinnamon
1 tsp ground mixed spice
100g (3½oz) coconut oil
100g (3½oz) coconut palm sugar
100g (3½oz) blackstrap molasses or black treacle
100g (3½oz) honey, maple syrup or agave nectar
250ml (8½fl oz) unsweetened almond milk
100g (3½oz) glacé, crystallised or stem ginger
1 ripe banana, mashed
For the icing:
500g (1lb) coconut yogurt
2 tbsp honey, maple syrup or agave nectar
grated zest of 2 lemons
Method
Preheat the oven to 180ºC/Gas Mark 4 and line two 12-hole cupcake tins with cupcake cases.
Mix together the flour, bicarbonate of soda, baking powder and spices until well combined.
In a saucepan over a low heat, gently melt together the coconut oil, blackstrap molasses, maple syrup, coconut sugar and almond milk until everything is smooth and well combined. Pour into the flour mix and stir well.
Gently beat in the banana, then stir in the glacé ginger.
Fill cupcake cases with the mixture until about two-thirds full, then bake for 20-25 minutes.
To make the icing, stir together the coconut yogurt, honey and lemon zest. Once the cupcakes are completely cool, dollop a tablespoon or so of the icing on top. Keep it in the fridge until just before using, though, or it can go too runny. The cupcakes are best iced just before serving.
Tags:
Cupcakes
,
Dairy-Free Dessert
,
Dairy-Free Recipes
,
Gluten-Free Cake
,
Gluten-Free Dessert
,
Gluten-Free Recipes
,
Vegetarian recipes