Sweet Potato & Kale Rosti with Baked Eggs
A quick, simple and delicious paleo & vegetarian one pan dish that is perfect for sharing.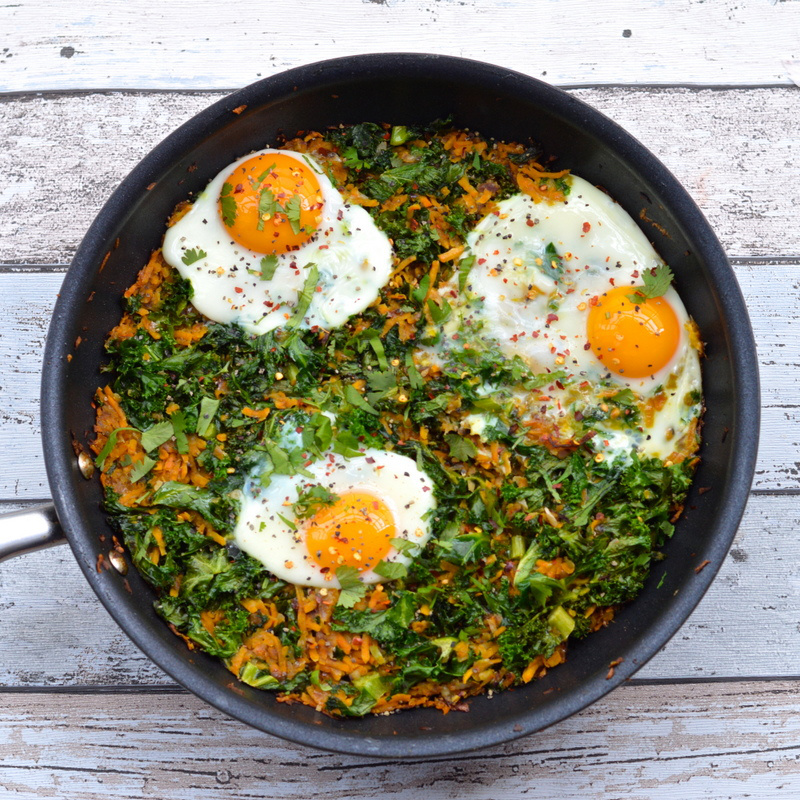 By Emma of Paleo With Mrs P.
Don't you just love it when two vegetables meet and it literally becomes love at first bite?! I have recently found this between kale and sweet potato. For me, flavour is everything in a dish- …closely followed by texture! Even as a child it was all about taste, I would raid my parents' spice rack adding a little bit of 'this' and 'that' to enhance the flavour. I loved working out what worked well together and learned very quickly (as did my poor family) what didn't!
I adore meat and could never give it up, however I will admit that sometimes a dish is better off without it- especially the one I am about to share. This is a one pan dish that can go from pan to plate in under 25 minutes. It's a dish that's perfect for sharing with one or two others. We regularly have it after a long day at work or on a Sunday for brunch with steaming hot mugs of fresh mint tea out in the garden. However you choose to have it, it's a dish I can guarantee you will enjoy and have again… And again.
This recipe is gluten-free, dairy-free, meat-free, sugar-free and suitable for paleo and vegetarian diets.
Serves 4 | Prep time 10 mins | Cook time 15 mins |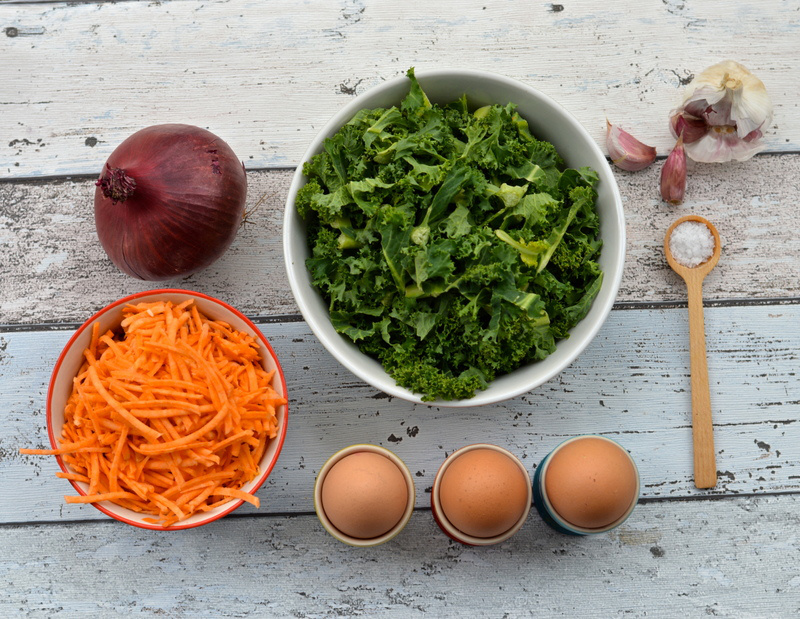 230g Sweet Potato, de-skinned and grated

240g Red Onion

2 Large handful kale, chopped and washed

3 Large eggs (add an extra egg if you are serving for 4)

3 Garlic cloves

½ tsp Sea salt

½ Lime, juice

1 tsp Coconut oil

Small handful coriander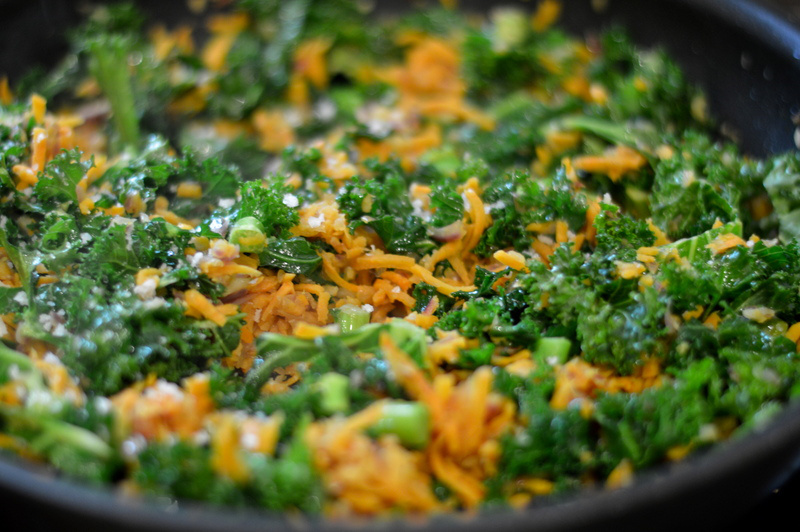 In to a food processor with the "grating" attachment, grate the 230g sweet potato (or grate by hand if you do not have a food processor)

Finely chop red onion and garlic

In to a non stick frying pan over high heat place 1 tsp coconut oil

Add in grated sweet potato and fry off until it softens (2-3 mins)

Add in red onion and garlic and continue to fry (3-4 mins)

Add in salt and place kale on top to steam a little before mixing in (it will reduce in size pretty quickly)

Now press the mix firmly down and turn the heat down to medium (as you do not want the bottom to burn)

Crack 3 eggs on to the top and leave to cook through (5-6 mins)

You can finish the dish off under the grill if you like a crispy top (I don't usually do this though as I prefer the yolks to be runny)

Once cooked through squeeze ½ lime juice over the dish and add chopped coriander and cracked black pepper / dried chilli to taste

Serve immediately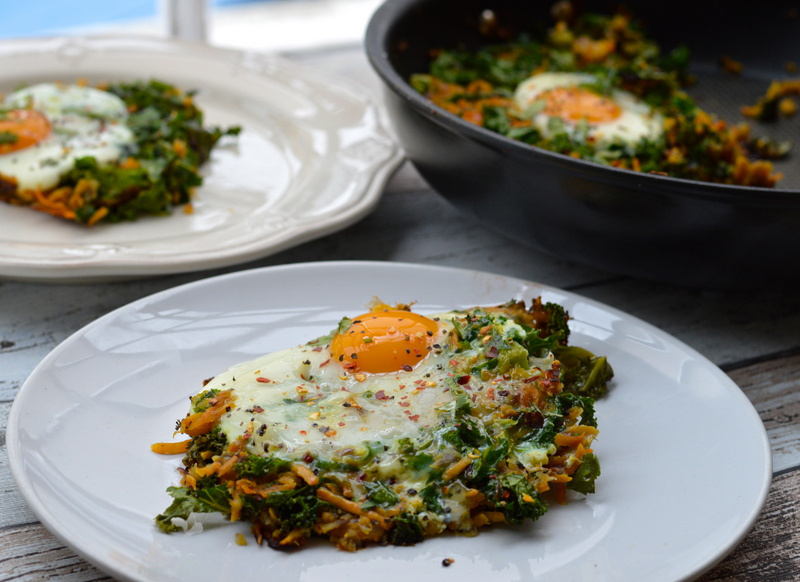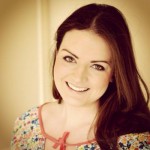 About the author: Emma is the writer of Paleo With Mrs P, a website dedicated to creating simple, healthy, nutritious recipes which are free from dairy, gluten, grains and refined sugar. Diagnosed with diabetes just before her eighteenth birthday, Emma later fell in love with the Paleo diet and how it calmed her symptoms, as well as making her feel happy and healthy.
You can find Emma on Facebook, and Twitter.
Check out more of our delicious paleo recipes. You can also see more of our online gluten-free recipes, and of course grab a copy of the magazine.
Tags:
Dairy-Free
,
Dairy-Free Dinner
,
Gluten-Free
,
Gluten-Free Dinner
,
Meat-Free
,
Paleo Dinner
,
Recipes
,
Sugar-Free Dinner
,
Sweet Potato
,
Vegetarian
,
Vegetarian Dinner