Vanilla Bean Cheesecake with Almond Crust
Vanilla, lemon, cashews, coconut oil and dates – this scrumptious vegan cheesecake is full of sweetness and richness, all without dairy, eggs, refined sugar or gluten.
Ooooooh boy this is just plain freakin' delicious. I love the sour you get from the lemon, just the right amount to pair with the sweetness and richness of the maple syrup and cashews. This time I put coconut chunks in the crust and they added another texture. NOM. Now – if you're one of those people who are worried about many calories are in a slice of this heavenly creation… STOP IT! Who cares? You're not eating the entire thing, and all that's in it are raw nuts, dates, maple syrup (or agave) and vanilla beans. I really just don't worry about calories. When you are eating whole plant foods in reasonable amounts – you shouldn't either.
This recipe is gluten-free, meat-free, egg-free, dairy-free, and is suitable for vegan and vegetarian diets.
Ingredients:
Crust:
1 cup dates

2 cups raw almonds
Cheesecake:
3 cups raw cashews (preferably soaked for 3 to 4 hours)

3/4 cup lemon juice

2/3 cup maple syrup

3/4 cup melted coconut oil

1/2 teaspoon salt

1 teaspoon vanilla extract

Seeds from 1 vanilla pod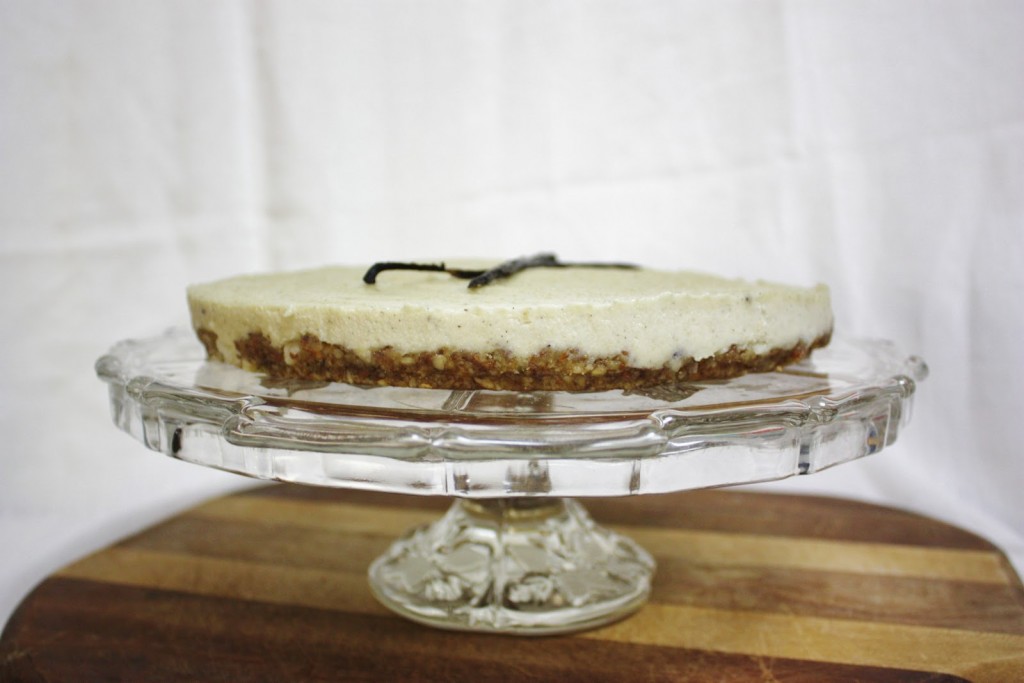 Method:
Crust
Surround the inside of a cake pan with wax paper or plastic wrap. Pulse dates and nuts together in food processor until you get a rough, sticky mixture that you can pat down with your hands into the bottom of the cake pan. Do so.

Set in fridge.
Cheesecake
Blend all ingredients, EXCEPT coconut oil, together until smooth and creamy.

Add coconut oil and make sure it blends completely. Taste it. Yes.

Pour onto crust in cake pan and set in the fridge until it has the hardness you want (probably 3-5 hours or overnight).

Take out of cake pan holding the wax paper or plastic wrap and put on your favourite plate.

Slice and enjoy, or eat it like a wild animal.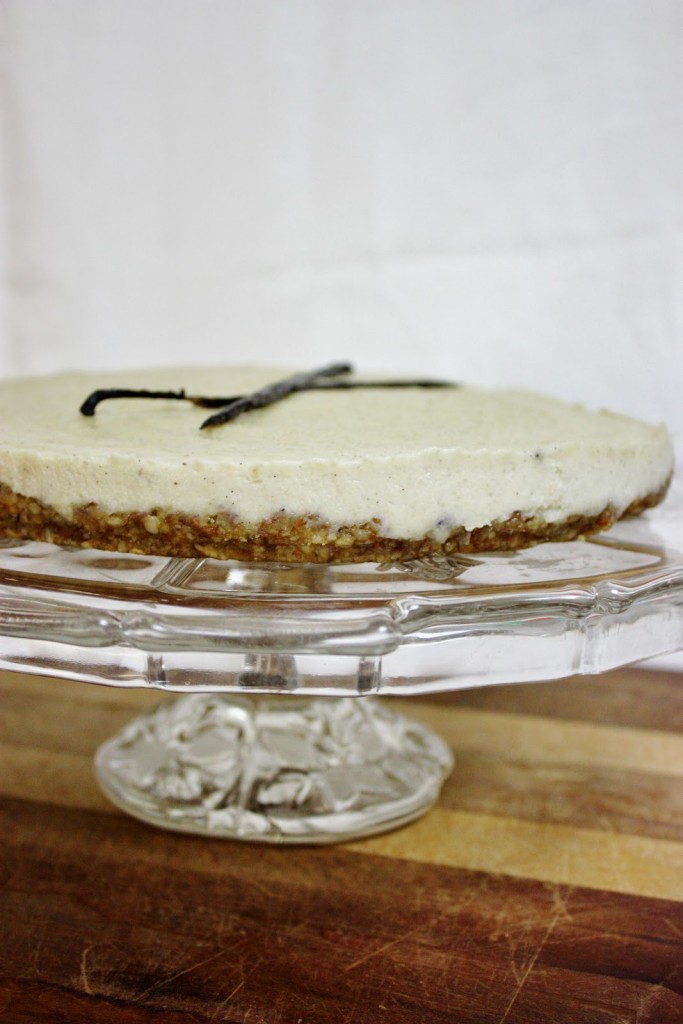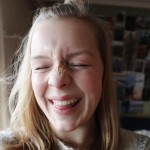 About the author:
Emily is a vegan, plant-based foodie blogger over at Rawsome Vegan Life, documenting her inventive recipes as she experiments with raw foods. She believes in eating for happiness, and eating what you want.
You can visit her website, or say hello on Facebook and Twitter.
Want more recipes?
Check out more delicious gluten-free recipes and vegan recipes! For even more, grab a copy of the magazine.
Tags:
Cheesecake
,
Dairy-Free
,
Dairy-Free Dessert
,
Egg-Free
,
Gluten-Free
,
Gluten-Free Dessert
,
Meat-Free
,
Paleo Dessert
,
Vegan
,
Vegan and Gluten Free
,
Vegan Dessert
,
Vegetarian