Slow-Cooked Asian Beef
Celebrate Chinese new year with this delicious pot of tender, succulent slow-cooked Asian beef, which is absolutely bursting with flavour!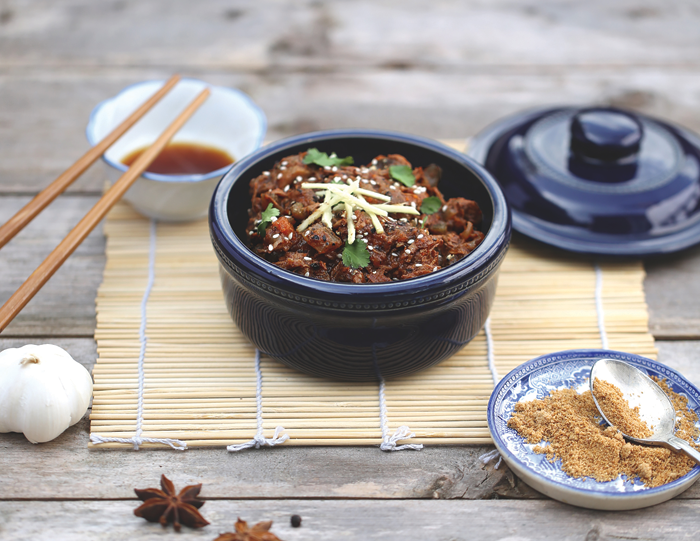 Slow-Cooked Asian Beef
By Perfectly Paleo (www.perfectlypaleo.co.uk)   
Serves 4 | Prep 25 mins | Cook 3-4 hrs | Calories 393 per serving
GF SF DF EF
Ingredients:
500g (1lb 2oz) beef shin
200g (7oz) chestnut mushrooms, sliced
2ltr (3½pt) gluten-free beef stock
3 carrots, thinly sliced
2 large onions, peeled, roughly chopped
3 celery stalks, roughly chopped
Grated generous thumb-sized piece of ginger
6 garlic cloves
3 whole star anise
1 tbsp coconut oil
2 tbsp tomato puree
1 tbsp coconut aminos
2 tbsp palm sugar
2 tbsp chinese 5 spice
1 tsp sesame seeds
1 bay leaf
Handful of fresh coriander
Salt and pepper
Method:
Preheat the oven to 140°C/Gas Mark 3. Melt the oil and add the roughly chopped onion and garlic until sweated. After 5 minutes add the chopped celery and grated ginger.
After a few minutes, add the beef shin and cook until nicely browned on the outside. Add the beef stock, thickly sliced pieces of carrot, and sliced mushrooms to the mixture. Then add the remainder of the ingredients and seasoning.
Transfer to the oven and cook for 3-4 hours or until the meat is tender and the sauce has become rich and thick.
To garnish, sprinkle some sesame seeds, roughly chopped coriander and slivers of ginger.
Tags:
Chinese Food
,
Gluten-Free Recipes
,
Paleo Recipes
,
paleo-diet