These light, fluffy sweet gluten-free ricotta doughnuts, coated in cinnamon 'sugar' are utterly irresistible!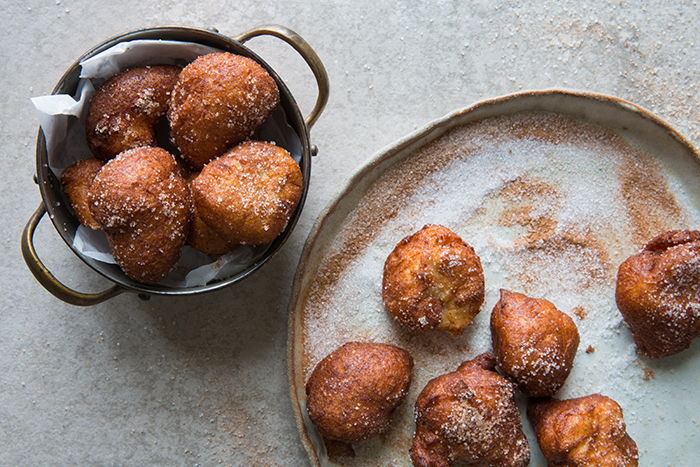 Phil Vickery's sweet gluten-free ricotta doughnut recipe
When I wrote my gluten free cook book these doughnut balls were one of my favourite recipes, so I thought I'd have a go at created a no added sugar version and I'm delighted with the results…
For a sweet treat, just make sure the oil is deep and hot enough to make the dough inside fluffy and light. You can use a wheat flour instead of gluten free, in which case leave out the xanthan gum.
Preparation time: 10 minutes plus 30 minutes to drain the ricotta | Cooking time: 25 minutes | Serves: 30 doughnuts
GF SF V MF
Recipe by Phil Vickery (www.vickery.tv) 
Ingredients
Doughnut ingredients:
vegetable oil for deep frying
250g ricotta cheese
45g gluten free flour blend*
1/8th level tsp xanthan gum
1 level tsp gluten free baking powder
1tbsp. Total Sweet Xylitol
finely grated zest 1 lemon
1 egg, beaten
1 egg yolk
Cinnamon dusting ingredients:
2tbsp. Total Sweet Xylitol
1tsp cinnamon
Method
Drain the ricotta: turn into a colander and leave to drain until dry, about 30 minutes or overnight.
Heat the oil in a deep fat fryer to 180⁰C, or a deep sided pan filled one third with oil.
Place the flour, xanthan gum, baking powder, xylitol and lemon zest into a bowl and mix together evenly. Add the egg and yolk; next add the drained ricotta cheese and again mix well.
Spoon the dough into a piping bag (not fitted with a nozzle) and when the oil is hot, pipe small balls of dough straight into the hot oil. If you don't have a piping bag, roll little balls of mixture between metal spoons and transfer to the oil.
Cook a small batch at a time, swirling and turning with a slotted spoon so you get an even colour and until nice and golden: about 3- 4 minutes.
Drain well on kitchen paper and then roll in cinnamon dusting while still warm.
Serve warm and fresh straight away. The recipe makes about 30 to allow 4 servings of six little bites.
*White & brown rice flour blend
Simply mix the following together:
175g mixture of half white rice flour with half brown
175g potato starch
150g tapioca flour/ starch
---
About the author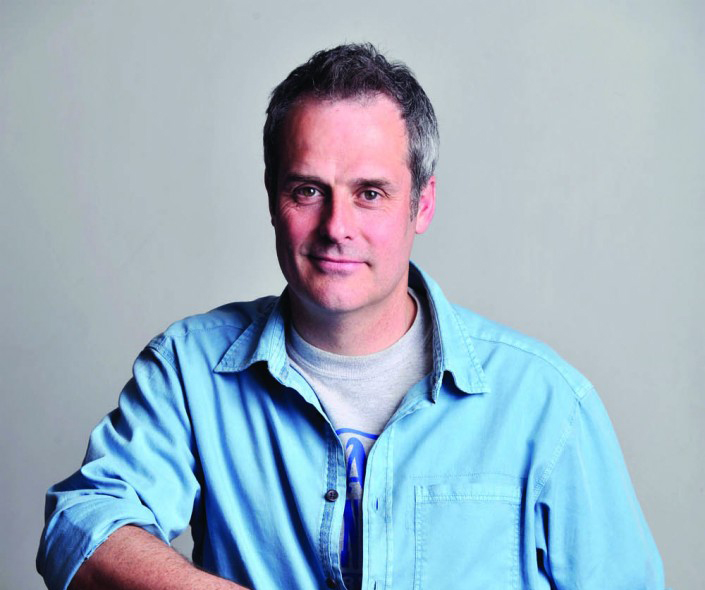 As a father, and general advocate of healthy living Phil appreciates the need to eat healthier, but as a chef he always wants to create dishes that look and taste amazing and in particular desserts that feel indulgent and a little bit naughty. It is this cooking contradiction that has been the drive behind the creation of this collection of recipes, which aim to provide healthier alternatives that taste and look just as impressive as their traditional alternatives.
In the recipes I've looked at ways to reduce sugar and/or saturated fats, but not at the cost of taste. You'll still find butter or margarine in some of them, because I felt replacing it produced an inferior product and what's the point of making a super healthy dessert if you then don't eat it because you don't like the taste! In others cream has been replaced with fromage frais, full fat milk has become skimmed and even butter swapped for ricotta. I've also used a natural sugar alternative called xylitol (available in stores as Total Sweet) to replace sugar. It has lower calories than sugar and doesn't have such a dramatic effect on blood sugar levels, but can be used in cooking in exactly the same way and produces fantastic results.