Chocolate Caramel Cookie Sundae
This chocolate caramel cookie sundae is one incredibly decadent dessert, featuring a chewy chocolate chunk cookie, topped with dairy-free vanilla ice cream, salted caramel sauce and a a rich chocolate sauce. This truly is dessert heaven!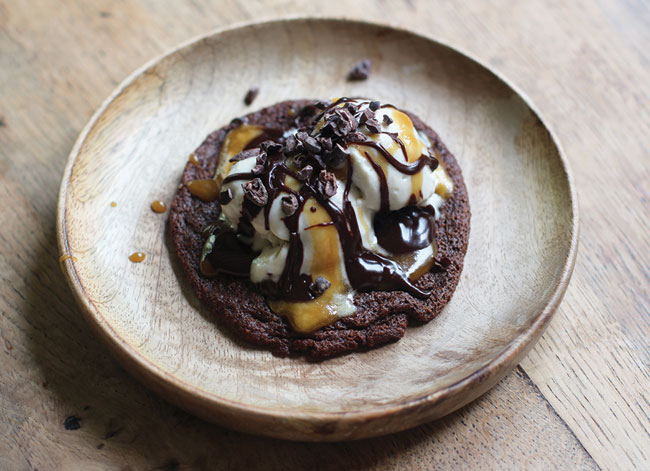 Chocolate Caramel Cookie Sundae
By Harriet Smith (www.harrietemily.com)
GF DF V
Serves 4 | Prep 30 mins | Cook 7 mins | Calories 342 (per serving)
For the cookies:
2 tbsp cocoa powder
2 tbsp ground almonds
1 tbsp millet flour
1 tbsp buckwheat flour
1 tbsp brown rice flour
½ tsp bicarbonate of soda
60ml (2fl oz) maple syrup
1 tbsp coconut butter
For the ice cream:
4-8 scoops of dairy-free ice cream of choice
For the caramel sauce:
2 tbsp maple syrup
1 tsp raw virgin coconut oil
A generous pinch of salt
For the chocolate sauce:
2 tbsp cocoa powder
2 tbsp maple syrup
2 tbsp coconut butter
Method:
Preheat the oven to 180ºC/Gas Mark 4.
For the cookies, put the coconut butter and maple syrup in a sacuepan over a medium-high heat. Stir for 2 minutes, until the butter has melted and the syrup is bubbling slightly. allowing the coconut butter to melt and the maple syrup to bubble. Remove from the heat and set aside.
Mix together the cocoa powder, ground almonds, rice flour, buckwheat flour, millet flour and bicarbonate of soda in a large bowl. Pour in the maple syrup mixture. The mixture will be quite wet/runny – this helps with the
fudgy consistency.
Line a baking tray with baking parchment, and spoon the cookie mixture into four rough circular shapes, well spaced apart. Bake in the oven for about 7 minutes. When the cookies have baked, remove them from the oven and set aside to cool. They will be very soft at this point, but they firm up after cooling.
While the cookies cool, make the caramel sauce. Place a pan on a medium-high heat and add the maple syrup, coconut oil and salt. Stir the ingredients together, allowing the mixture to bubble and thicken for 2-3 minutes into a more toffee-like consistency. Remove from the heat and set aside to cool and thicken to become gooier.
For the chocolate sauce, place the the cocoa powder, maple syrup and coconut butter in a saucepan over a low-medium heat. Stir the ingredients together until the coconut butter has melted and a smooth, silky sauce has formed. Remove from the heat and set aside.
Place one of the cookies on a plate and top it with
1-2 scoops of ice cream, drizzle with a quarter of the caramel sauce and a quarter of the chocolate sauce. Top with cacao nibs or any other additions you like. Repeat with the remaining cookies, then serve.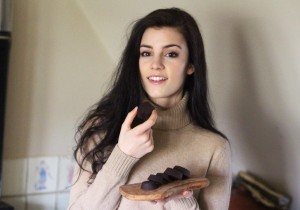 About the author: Harriet has always had a love of food, and has always enjoyed teaching herself new ways of cooking. She decided to focus on creating plant-based food, as it's something she hasalways been fascinated by, and wanted to eat more of. Harriet love's the creativity behind turning more natural, simpler ingredients into something that can taste complex and delicious. Check out Harriet's blog here, for even more plant-based recipes, and find her on Facebook and Twitter.
Comments
Tags:
Chocolate
,
Cookies
,
Dairy-Free Dessert
,
Dairy-Free Recipes
,
Egg-Free
,
Gluten-Free Baking
,
Gluten-Free Dessert
,
Gluten-Free Recipes
,
Vegan and Gluten Free
,
Vegan Dessert
,
Vegan Recipes