Coconut and Lemon Cookies
Coconut and Lemon Cookies – Dairy-Free, Gluten-Free, Egg-Free, Vegan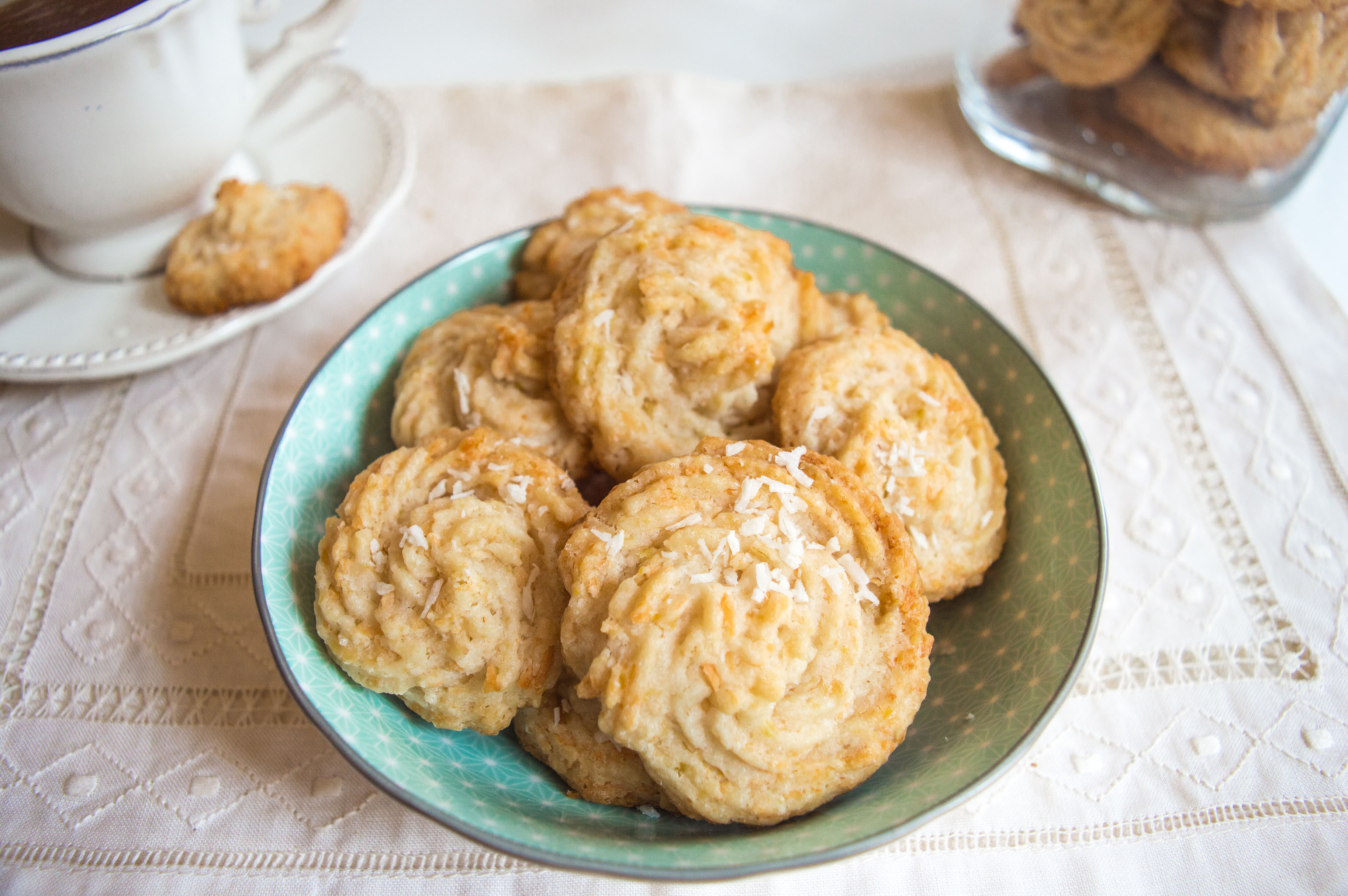 Coconut and Lemon Cookies
By Joana Oliveira (www.mygutfeeling.eu)
GF DF EF V
Makes 14 | Prep 15 mins |
Cook 15-20 mins | Calories 119 (per cookie)
Ingredients
1 flax egg (1 tbsp flaxseeds plus 3 tbsp warm water)
4 tbsp extra-virgin coconut oil
115g (4oz) caster sugar
1 tsp vanilla extract
2 tbsp lemon juice
2 tsp grated lemon zest
70g (23/4oz) rice flour
75g (23/4oz) tapioca flour
½ tsp salt
35g (11/4oz) unsweetened dried coconut, shredded
Method
1 Preheat the oven to 180ºC/Gas Mark 4. Line a small baking sheet with parchment paper.
2 For the flax egg, combine the flaxseeds and warm water, allow to sit for about 5 minutes, then mix in a blender. Set aside.
3 Beat the coconut oil and sugar for about 5 minutes. Add the flax egg, vanilla extract, lemon zest and juice.
4 Weigh the rice flour, tapioca and salt into another bowl, add it to the mixture and blend thoroughly. Add the coconut and stir until evenly moistened.
5 Spoon the dough into a piping bag fitted with a piping tip. Pipe the cookies, evenly spaced, onto the baking sheet, then bake in the oven for 15-20 minutes.
6 Let the cookies cool on the tray for 10 minutes, before eating or storing in an airtight container.
For more great recipes from Joana, visit www.mygutfeeling.eu
Comments
Tags:
Cookies
,
Dairy-Free
,
Dairy-Free Dessert
,
Gluten-Free Baking
,
Gluten-Free Dessert
,
Recipes
,
Vegan and Gluten Free
,
Vegan Dessert