Gluten-Free Scrumptious Scones
Fancy creating your own gluten-free afternoon tea? Have a go at these delicious gluten-free scones!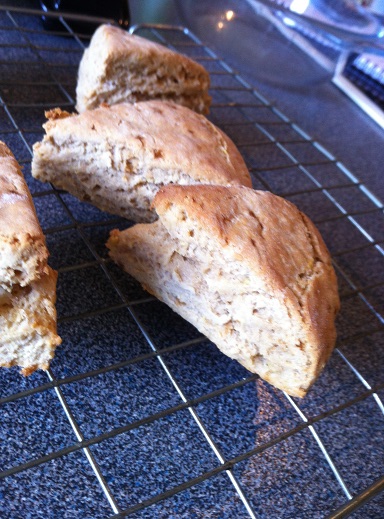 By Michelle of Gluten Free and All Things Nice.
This recipe is gluten-free and refined sugar-free
Ingredients | Makes 4-6 medium sized scones
1 cup (148g) Bobs Red Mill gluten free 1 to 1 Baking Flour
1/2 cup (120g) strawberry flavoured greek yogurt*, or plain or whatever flavour you want! (vegans: see below for subs)
1 Tbsp (14g) organic virgin coconut oil, solid
1 tsp baking powder
1/4 tsp baking soda
1 tsp lemon zest (omit if desired – i love strawberry and lemon though)
1 Tbsp (10g) coconut sugar (or "sugar" of choice – am I the only one who gets 10g/Tbsp for coconut sugar? wonder why it weighs less…)
3 Tbsp milk of choice
1/4 tsp salt
1/4 tsp stevia extract (or 2-3 more Tbsp of sugar)
1/4 tsp vanilla extract
optional: chopped fruit (dried or fresh), butter extract for flavour
optional: extra sugar, for sprinking on top
Vegans: Use plain yogurt, you may need less, so add up to 1 cup first and see how you get on. Just to note – you can make your own "greek yogurt" by straining your plain vegan yogurt sub through a cheesecloth (even a coffee filter) until its nice and thick. I dont know if Tofu would work – but it just might, if blended with a little milk. Experiment! Safest option though is to use plain yogurt.
Method:
In a large bowl, combine all dry ingredients including leavening agents and sugar of choice and zest, if using.
Grate the coconut oil into the dry ingredients until the mixture somewhat resembles breadcrumbs (this part is the hardest part – I actually used a fork and smushed it all in. You could use a pastry cutter, or just do it by hand)
Mix the extracts and yogurt together and add to the dry ingredients. If using dried fruit, add now.
Mix well and add the milk, 1 Tbsp at a time (add more if needed) but stop once you reach a soft but not sticky dough.
Form into a dough ball, then place on a lightly dusted worktop and pat down into a circle about 1″ thick.
Cut the circle into 4 or 6 triangles, and place on a lightly greased baking sheet lined with parchment paper.
Bake in a preheated oven at 425F/220C for approx 15 minutes, pr until puffed up and golden slightly on top (it will also sound "hollow" when tapped.)
Allow to cool on wire rack, then store in an airtight container. These also freeze well.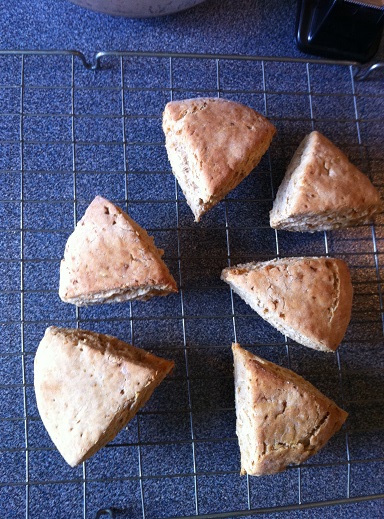 Best served hot with fruit spread – yummyyyy!
Notes:
*My yogurt was sweetened. If using unsweetened yogurt, you may need to add an extra tbsp or so of sugar.
*I know that Xylitol and Erythritol work perfect.Other "sugars" I haven't tried, but I imagine they'd be fine. Coconut sugar works in all of my recipes, just to point out.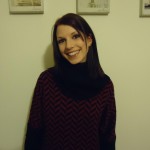 About the author:
Michelle is a foodie blogger and scientist from Ireland. She is passionate about free-from friendly cooking, and mostly eats gluten-free, and creates recipes with options for free-from sugar, dairy and eggs. Besides baking, Michelle loves chocolate, and of course, science. You can visit her blog, and also find her on Pinterest and Twitter.
Get some baking inspiration with our gluten-free recipes.
Tags:
Dairy-Free
,
Egg-Free
,
Gluten-Free
,
Gluten-Free Dessert
,
Recipes
,
Scones
,
Sugar-Free Dessert
,
Vegan
,
Vegan and Gluten Free
,
Vegetarian