Healthy Snickers Crisp Rice Slice
Crisp, crunchy and perfectly sweet, this healthier take on a rice crispy cake or Snickers bar is the perfect afternoon pick me up. Look for unsweetened crisp brown rice cereal (rather than Rice Krispies) and the plumpest Medjool dates you can find to ensure that they mash into a lovely smooth paste.

Healthy Snickers Crisp Rice Slice
By Kate Doran of 'The Little Loaf' (www.thelittleloaf.com)
Serves: 8 | Total time: 10 mins
GF DF EF V MF
Ingredients
2 tbsp coconut oil
200g Medjool dates, pitted (about 10)
3 heaped tbsp smooth peanut butter
½ tsp vanilla powder (or extract)
pinch salt
60g unsalted peanuts, roughly chopped
25g crisp puffed brown rice
60g dark chocolate, roughly chopped
Instructions
Line a 1kg loaf tin with parchment paper.
Melt the coconut oil in a small saucepan over a medium heat. Mash in the dates, then add the peanut butter and stir until smooth, about one minute. Stir in the vanilla and salt, followed by the peanuts and puffed rice then press evenly into your prepared tin.
Melt the chocolate in a small bowl suspended over a pan of barely simmering water, or in the microwave, then pour over the top of your peanut mixture. Refrigerate until firm, around one hour, then cut into 8 bars.
Will keep in an airtight container in the fridge for up to two weeks, or the freezer for up to two months.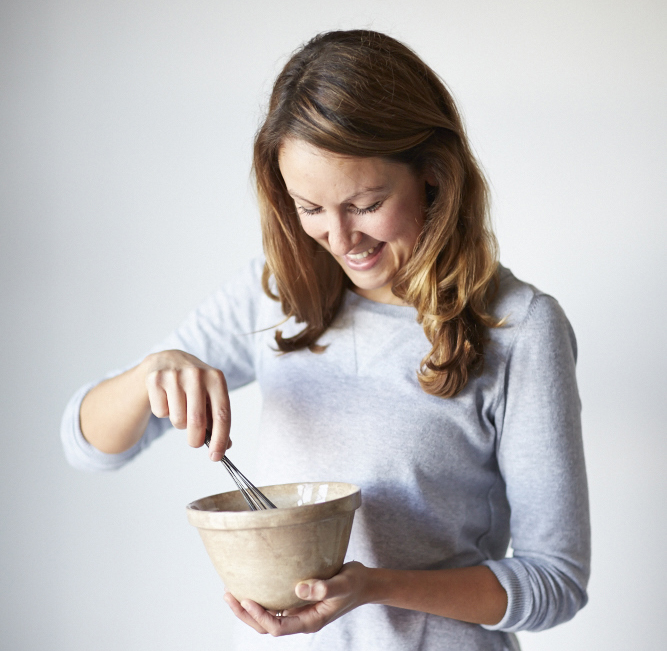 About the author: Nicknamed at the age of two by a great aunt who noticed that Kate's appetite for bread was considerably bigger than she was, she's been a life-long fan of anything baked. For Kate, happiness is cooking, baking and sharing what she make with friends and family. She lives in London with her husband and chief taste tester in The Little Loaf kitchen, and the only person who can rival her egg consumption in any given week! The Little Loaf blog is collection of recipes made with good, honest ingredients and a little bit of love, often accompanied by a hefty dose of nostalgia. You can view Kate's website here, or say hello to her on Facebook, Twitter, Instagram or Pinterest.
Tags:
Chocolate
,
Dairy-Free Dessert
,
Dairy-Free Recipes
,
Gluten-Free Baking
,
Gluten-Free Dessert
,
Gluten-Free Recipes
,
Vegan
,
Vegan and Gluten Free
,
Vegan Dessert
,
Vegan Diet
,
Vegan Recipes
,
Vegetarian recipes