Gluten-Free and Vegan Mocha Tart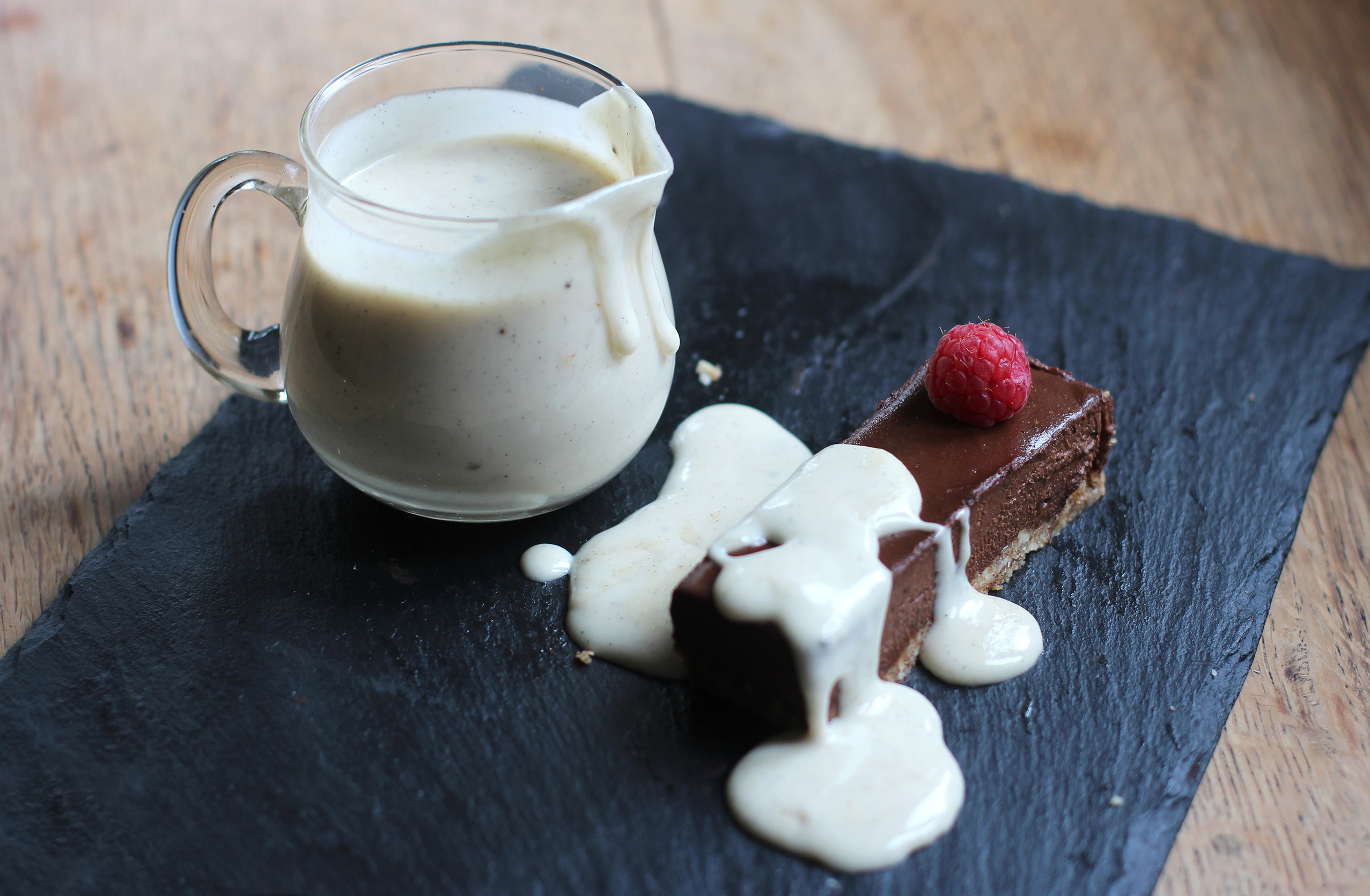 Mocha tart
By Harriet Smith (www.harrietemily.com)
GF DF EF V
Serves 10 | Prep 30 mins plus 2 hrs for freezing | Cook none | Calories 556 (per serving)
Ingredients
FOR THE TOPPING:
270g (9½oz) cashews, soaked for 2 hours
95g (3¼oz) coconut butter
180ml (6fl oz) maple syrup
180ml (6fl oz) water
½ tsp vanilla extract
2 tbsp freshly squeezed lemon juice
60g (2oz) cocoa powder
20g (¾oz) cacao powder
1 tbsp ground coffee, to taste
a pinch of salt
FOR THE BASE:
220g (8oz) almonds
3 tbsp almond butter
1 tbsp Tiana's cooking coconut butter
2 tbsp maple syrup
FOR THE VANILLA CRÈME:
75g (2¾oz) plus 1 tbsp cashews
250ml (9fl oz) rice milk
3 tbsp coconut butter
1 tbsp plus 2 tsp maple syrup
2 vanilla pods
Method
For the base, blend the almonds in a food processor for 1 minute, then add the almond butter, coconut butter and maple syrup. Blend for 1 minute until a fairly sticky crumb has formed.
Pour the crumb into a 16x16cm (6x6in) springform cake tin and press down to form an even base that sticks together. Place in the fridge to keep cool.
For the topping, Melt the coconut butter in a pan over alow-medium heat. Pour the liquid into a blender with the water, lemon juice, maple syrup and cashews. Blend for2-3 minutes until smooth. Add the cocoa powder, cacao powder, vanilla, coffee and salt. Blend again until smooth– just keep blending until it's as smooth as you can get it – the time depends on the strength/size of your blender.
When the mixture is smooth, remove the base from the fridge and pour the mocha mixture on top. Spread until even, then move the tart into the freezer for 2 hours to set. Alternatively, you can leave it for longer and just set it in the fridge, however this will take around 5 hours. When the cake has set, remove it from the tin to slice and serve.
For the vanilla crème, slice the vanilla pods and scrape out the seeds. Place the seeds into the blender and add the cashews, rice milk, coconut butter and maple syrup. Blend all of the ingredients together until smooth.
Pour the liquid into a pan and place on a low heat, stirring, for 3-4 minutes until thickened slightly into a creamier consistency. You can do this for less or more time, depending on your desired thickness. Remove from the heat and pour into a serving jug. Place the crème into the fridge to cool. When the tart has set and been sliced, pour the crème on top of each portion to serve.
For more fabulous recipes by Harriet, visit www.harrietemily.com
Tags:
Dairy-Free Dessert
,
Gluten-Free Dessert
,
Gluten-Free Recipes
,
Tarts
,
Vegan
,
Vegan and Gluten Free
,
Vegan Dessert