Morning Coco Green Smoothie
A lovely refreshing and healthy morning drink that you can drink any time you like!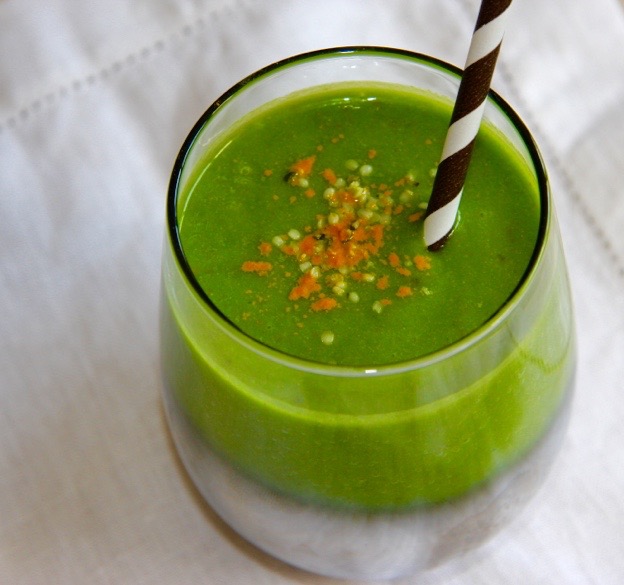 By Mira Manek.
I absolutely love smoothies but I often find them quite heavy, especially when they contain too much banana, yogurt or milk. So here is my morning smoothie, which uses coconut water as the base, blended with avocado, cucumber, spinach and date and pear to sweeten it. There are plenty of protein powders out there but I use the Sunwarrior Vanilla blend, because it contains a vegan protein that is gluten free, dairy free, hypo-allergenic and contains a unique protein made up of 9 essential amino acids – and it has a touch of sweetness. I've added a large chunk of cucumber in this smoothie – it's made up of 95% water and so helps keep the skin and body hydrated and is a great antioxidant, while avocado contains essential fats which help increase vitamin and mineral absorption, boost the immune system and add that glow. And of course the wonderful coconut water, such a great source of hydration and full of electrolytes and enzymes. And for that extra colour and nutrition boost, I've sprinkled hemp seeds and turmeric powder on top.
This recipe is gluten-free, dairy-free, refined sugar-free and vegan.
Ingredients | Makes 2 glasses
¼ cucumber, 90g
1 ripe pear
handful of spinach, 40g
½ a ripe avocado, 60g
2 teaspoons of sun warrior vanilla protein
1 date
juice of half a lime
coconut water, 500ml
Method:
Place all the ingredients in a blender and blend until the mixture has as thin liquid consistency.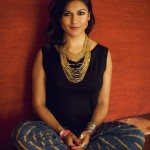 About the author: Mira Manek is a journalist, writer and healthy Indian cook with a passion for health and wellbeing. Indian food is not something we would usually associate with being healthy and is often perceived as being a very heavy and oily cuisine. Author, journalist and healthy cook Mira Manek has her heart set on changing that perception with her handmade food products, colourful blog and debut cookbook Green Daal Stories, out later this year. With her expanding range of products, menu collaborations with restaurants and wellness events and supper clubs Mira is bringing a new healthy concept of Indian food to the table. For more recipes, info on the release of Mira's book and upcoming events and product news go to: www.miramanek.com or @miramanek on Twitter.
Check out more delicious gluten-free recipes and vegan recipes! For even more, grab a copy of the magazine.
Tags:
Dairy-Free
,
Dairy-Free Breakfast
,
Egg-Free
,
Gluten-Free
,
Gluten-Free Breakfast
,
Gluten-Free Drinks
,
Paleo Breakfast
,
Recipes
,
Sugar-Free Breakfast
,
Vegan
,
Vegan Breakfast