Turmeric Tofu & Wild Rice
This flavoursome tofu and wild rice recipe is a perfect summer dinner, served with coriander and lime.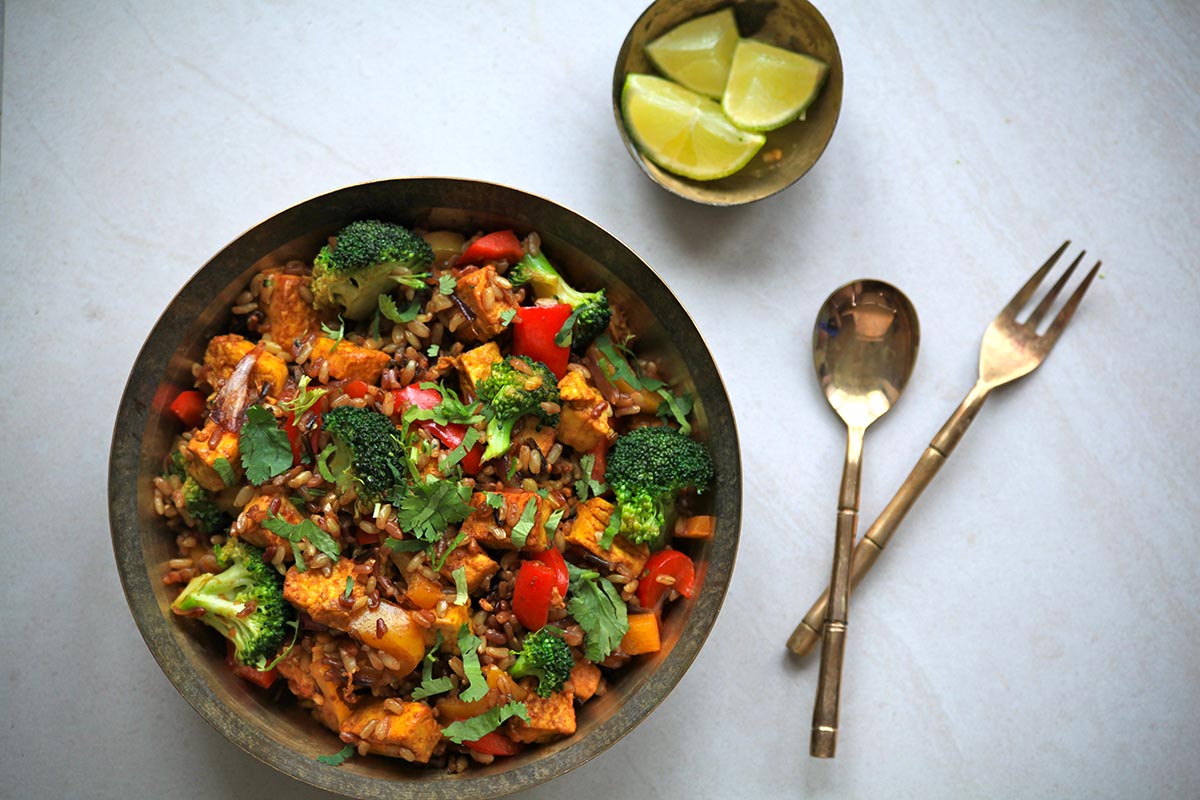 By Mira Manek.
This recipe is: gluten-free, meat-free, dairy-free, egg-free, vegan.
Ingredients:
120g gluten-free wild rice

350ml water

280g tofu (1 block), medium to firm

¼ teaspoon turmeric

1 teaspoon coconut oil

1 small onion, long thin slices

½ clove garlic

¼ teaspoon himalayan salt

150g red and yellow peppers, chopped

80g broccoli, chopped

3 tablespoons soy sauce (make sure it is a gluten-free kind)
Garnishing:
Coriander

Lime

Black pepper
Method:
1. Place the tofu on a kitchen towel to soak up excess water for 5-10 minutes.
2. To cook the wild rice, boil the rice and water in a pan on low heat for around 40 minutes until the rice grains are soft and cooked.
3. While the rice is cooking, chop the tofu in small cubes and place in a separate pan on low heat so that they become slightly brown. Add the turmeric and soy sauce to the tofu after 5-10 minutes, sprinkling over all the tofu pieces, and turn the tofu so that all the sides become brown, careful not to break them.
4. You can start the vegetable stir-fry while the tofu is still cooking. Place the coconut oil and onion slices in a large pan and let this cook on low heat for a few minutes before adding the chopped or grated garlic.
5. Once cooked, add the peppers and broccoli and stir. Let this cook for 7-10 minutes before adding the cooked rice. You can now stir in the soy sauce and add the tofu.
6. Serve with a slice of lime and a sprinkle of coriander and black pepper.
Tip:
Soaking the rice in water for an hour will reduce the cooking time for the rice.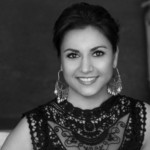 About the author: Mira Manek is a journalist and writer with a passion for health and wellbeing. Her book Green Daal Stories focuses on adapting some of her family's Gujarati vegetarian dishes, to ensure they are nutritious, low in carbohydrates and high in protein. For more recipes and info on the release of Mira's book go to: www.miramanek.com or @miramanek on Twitter.
Want more gluten-free recipe ideas?
Check out more gluten-free recipes, and of course for even more, grab a copy of the magazine.
Comments
Tags:
Dairy-Free Dinner
,
Egg-Free
,
Gluten-Free
,
Gluten-Free Dinner
,
Meat-Free
,
Paleo Dinner
,
Recipes
,
Sugar-Free Dinner
,
Vegan
,
Vegan and Gluten Free
,
Vegan Dinner
,
Vegetarian
,
Vegetarian Dinner