Spiced Spinach & Red Onion Quinoa Medallions
(with Oriental Slaw & Baked Sweet Potato Chips)
Here's a deliciously vegan dish perfect for the summer and outdoor parties (when the weather behaves) using spinach and quinoa and served with sweet potato chips…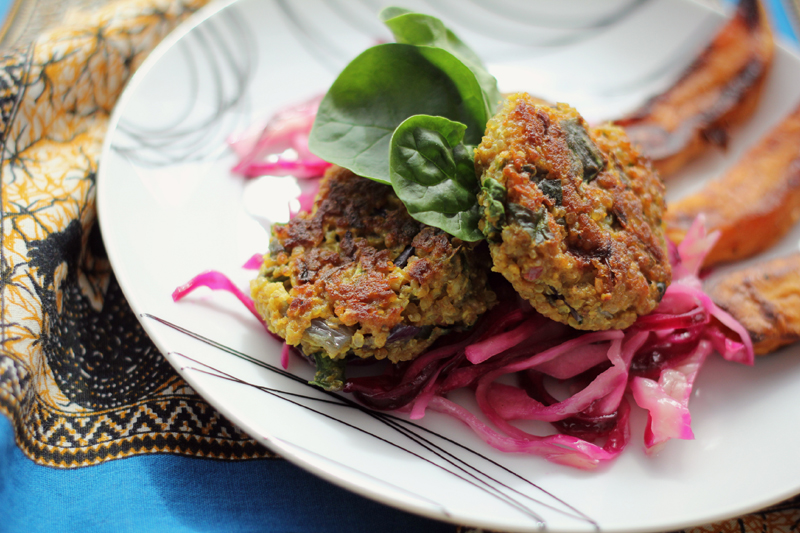 By Natalie of The Tofu Diaries
If you're a regular reader, you might have picked up on my excitement about trying out new ingredients. In which case you can imagine how delighted I was at the chance to try out a couple of products from Maille to create a new recipe with as part of their 'Maille Culinary Challenge.'
For my Maille recipe, I opted to go for Soy Vinaigrette with Toasted Sesame Seeds dressing and Mustard with White Wine, Coconut and Colombo Spices, which were kindly sent to me by Maille. As soon as I spotted these two, I knew I was going to make an Asian-inspired dish; so here it is, an entirely vegan dish of spiced spinach & red onion quinoa medallions served with Oriental slaw & baked sweet potato chips.
This recipe is vegan, dairy-free and refined sugar-free.
Ingredients:
For the slaw:
175g white cabbage, thinly sliced
175g red cabbage, thinly sliced
4tbsp Maille Soy Vinaigrette with Toasted Sesame Seeds dressing
Juice of one lemon
For the sweet potato chips:
450g sweet potatoes, cut into thick chips
2tbsp olive oil
Generous amount of black pepper
For the quinoa medallions:
100g quinoa
500ml vegetable stock
1 large red onion, chopped
2 handfuls fresh spinach, roughly chopped
½ stick lemon grass, bruised and finely chopped
4 cloves garlic, crushed
2tbsp Maille Mustard with White Wine, Coconut and Colombo Spices
1tsp ground cumin
1tsp paprika
½tsp chilli flakes
½tsp garam masala
½tsp turmeric
125g wholemeal flour
125ml plant milk (I used light soy milk)
Olive oil for cooking
Method:
Slaw method:
Add ingredients to a bowl, mix together well and leave to soak for 30 minutes.
Sweet potato chips method:
Preheat an oven to 200c / 180C fan / gas mark 6.
Pour the olive oil onto a baking tray. Place in the oven for around 4-5 minutes until the oil has heated up.
Add the sweet potatoes and black pepper onto the baking tray, covering well with the hot oil.
Bake for thirty minutes or until browned, turning halfway.
Once the sweet potatoes have turned brown around the edges and cooked through, turn off the oven. Leave them to stand in the oven for a further five minutes – this will give them a slightly sticky, caramelised texture.
Quinoa Medallions method:
Place the quinoa is a metal sieve. Wash well – this removes the bitter coating of the quinoa.
Boil the vegetable stock in a pan, add the quinoa. Stir well.
Turn the heat down slightly and simmer for 15 minutes until tender.
Drain, return to the pan, cover and leave to stand for 15 minutes.
Now the quinoa has cooled slightly, mix in all of the ingredients (bar the flour and milk).
In a separate bowl, mix the wholemeal flour and plant milk together to form a smooth batter.
Add the batter to the quinoa mix, stir well until the ingredients are fully coated and evenly mixed.
In a large frying pan, heat up 2tsbp olive oil on a high heat.
Drop the heat down to medium low. Using your hands or a spoon, divide the mixture into palm-sized medallions, placing them directly into the frying pan. The quinoa mixture will be sticky – don't be too concerned by the shape as the edges can be rounded off once they are in the pan using the edge of a spatula.
Cook for 3-4 minutes on each side, until they are golden brown on the outside and cooked through on the inside. Transfer onto a piece of kitchen roll to blot away any excess oil. Depending on the size of the pan, it may be necessary to cook in two to three batches
Serve the medallions atop a serving of the Oriental slaw with the sweet potato chips on the side. Garnish with a couple of fresh spinach leaves.
As a side note, this gorgeous Batik fabric that I used as my tablecloth was picked up in Cambodia a few years back. It's made me realise how much more creative I need to be about using props!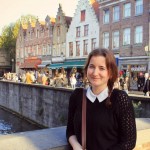 About the author: Natalie Tamara is the author of vegetarian and vegan food blogThe Tofu Diaries. The vast majority of her recipes are vegan, with a few including cheese or honey making them suitable for vegetarians. Natalie Tamara also posts about cruelty-free products, and about her travels across almost 60 countries (and counting). You can find her on Twitter andPinterest.
See more of our tasty vegan recipes.
Tags:
Dairy-Free
,
Egg-Free
,
Meat-Free
,
Recipes
,
Vegan