Vegan Radiance Bowl
Simple to make, delicious and so filling – swap with vegetables you have in the fridge to create your own radiance bowl. Served with a maple, tahini and soy dressing.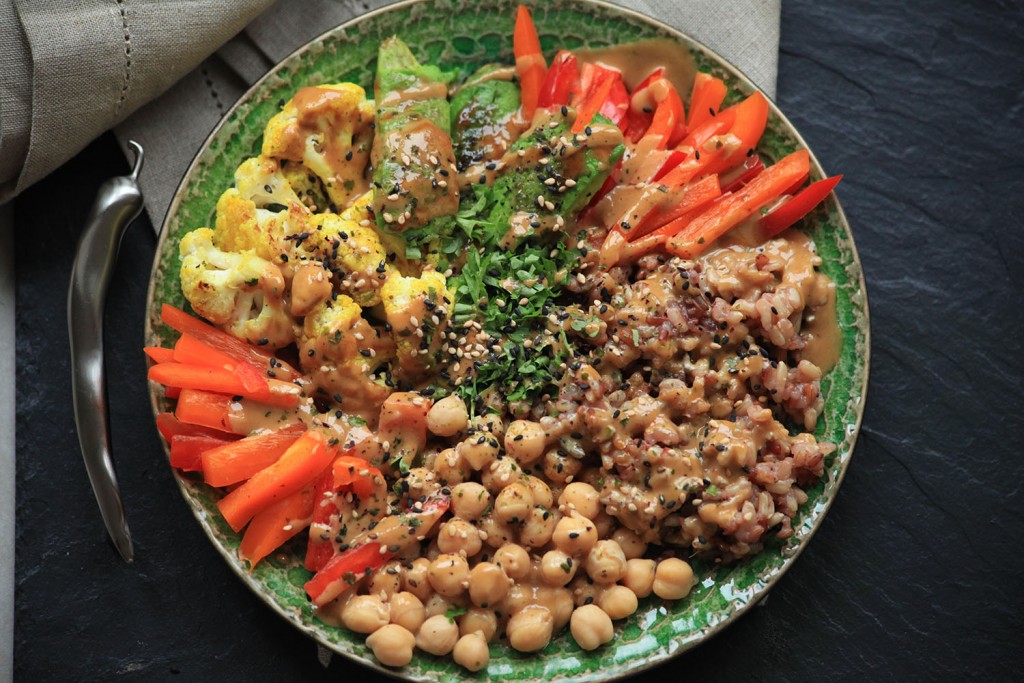 By Mira Manek.
Makes 1 bowl.
The bowl:
½ teaspoon rice bran oil
½ orange pepper, thinly sliced
½ red pepper, thinly sliced
70g gluten-free cooked wild rice
½ avocado
70g chickpeas
handful coriander
Sprinkle of black and white sesame seeds
For the cauliflower
100g cauliflower pieces
2 teaspoons coconut oil
¼ teaspoon turmeric
pinch coriander powder, optional
pinch cumin powder, optional
¼ teaspoon salt
For the dressing
1 teaspoon sesame paste
1 teaspoon maple syrup
2 teaspoons soy sauce (check it is gluten-free)
1 tablespoon yoghurt (dairy-free is fine)
2 teaspoons rice bran
Method:
Start by cooking the wild rice in water on low heat – around 45 minutes.
While this is cooking, chop all the vegetables and keep aside.
Make a few cuts along the avocado and leave on a mesh pan so that it becomes slightly chargrilled. This should take only a couple of minutes.
To cook the cauliflower, place oil in a small pan, add the cauliflower pieces, then the turmeric, coriander and cumin powders, and the salt, and stir well. Keep stirring until some of the cauliflower pieces turn a little brown. Don't cook for longer than five minutes as you want the cauliflower to remain crunchy.
Place everything in the bowl or plate in sections, arranging beautifully.
Mix all the ingredients for the dressing and drizzle generously over the top.
Sprinkle some furikake or sesame seeds along with a handful of fresh chopped coriander leaves and serve.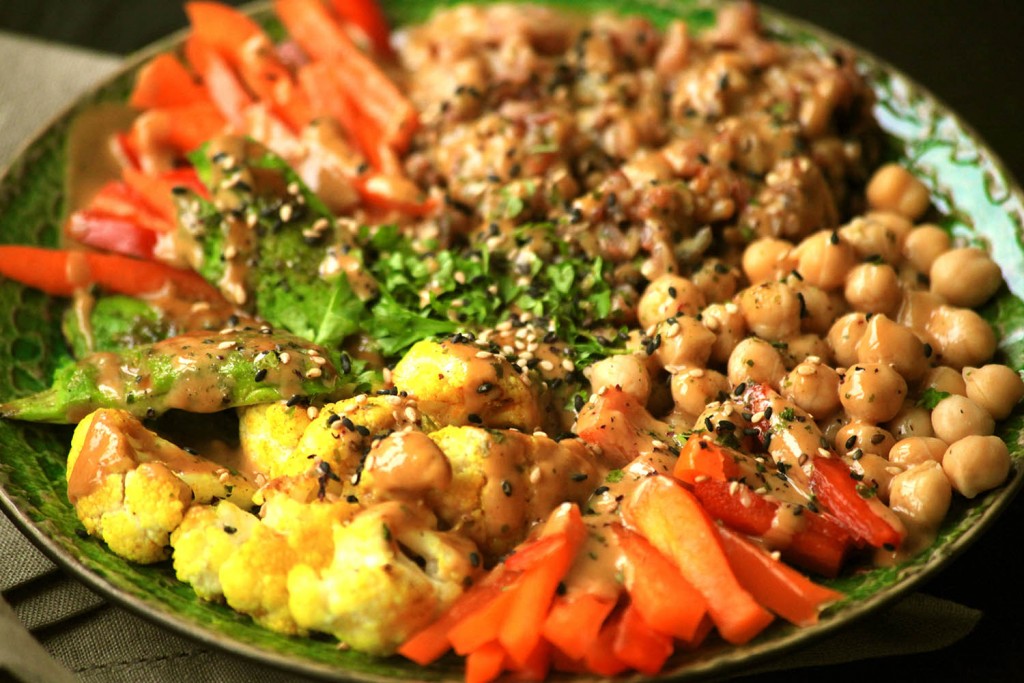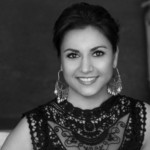 About the author: Mira Manek is a journalist and writer with a passion for health and wellbeing. Her book Green Daal Stories focuses on adapting some of her family's Gujarati vegetarian dishes, to ensure they are nutritious, low in carbohydrates and high in protein. For more recipes and info on the release of Mira's book go to: www.miramanek.com or @miramanek on Twitter.
See more of our tasty veggie dishes.
Comments
Tags:
Dairy-Free
,
Egg-Free
,
Meat-Free
,
Recipes
,
Vegan
,
Vegetarian