Vegan Raw Tomato Basil "Ricotta" Tart
This raw vegan tomato, basil and almond cheese tart is perfect for celebrating summer.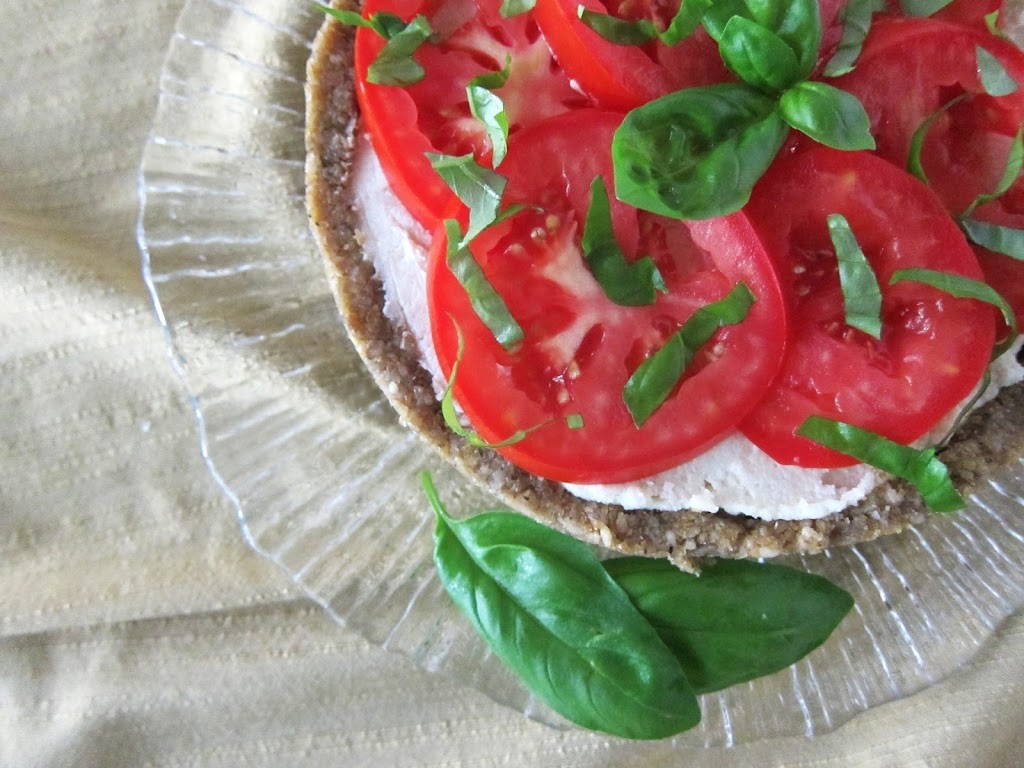 By Amy of Fragrant Vanilla Cake. 
To me, tomatoes are the essence of summer. My Grandpa has been growing a large garden of just tomatoes and cucumbers for as long as I can remember.  Every week, he gives me a large bag of each, and I live off of tomatoes and cucumbers for lunch. I love it! There is nothing like biting into a ripe tomato unadorned and straight from the garden!  The flavour is so intense, not like the tomatoes you buy at the store being flown in from elsewhere.
They taste of summer, top them off with fresh basil from the garden and even better! Which is why I thought a tart featuring them would be lovely. I then filled it with a rich raw almond "ricotta", and topped it off with those fresh tomatoes, basil and a sprinkle of fleur de sel!  It was delcious, and tasted of summer!  I am looking forward to a summer filled with lots of tomatoes fresh from the garden.
This recipe is gluten-free, dairy-free, egg-free, refined sugar-free, vegetarian and vegan.
Ingredients | Serves 2-3
Crust
1/2 cup sunflower seeds

1/2 cup ground flax

1 tsp dried basil

1/4 tsp sea salt

1 small clove garlic

1 Tbsp olive oil

1-2 Tbsp water
Cheese
1 1/2 cups raw almonds

2 small cloves garlic

1/2 tsp sea salt

3 Tbsp lemon juice

1/4 cup plus 2 Tbsp water
Additionally…
One large organic tomato, thinly sliced

A few fresh organic basil leaves cut into chiffonade

Fleur de sel
Method:
To make crust (adapted from recipe by

Ani Phyo),

combine sunflower seeds, flax, garlic, sea salt and oregano in a food processor and process until finely ground.  Add olive oil and pulse to blend.  Add 1 Tbsp water, and if mixture stays together when sweezed it is ready to use, if not, add another Tbsp water (but not too much because you don't want it too sticky). 

Press the mixture into the bottom and up the sides of a removable bottom tart pan and set aside.

To make the filling, combine the almonds, garlic, sea salt, lemon juice and water in a food processor and process until very smooth.

Scoop the mixture into the prepared crust, and smooth out the top.  Place in the fridge to set, about an hour. 

Remove the tart from the pan and transfer to a serving plate.

Arrange the tomatoes decoratively on the top, and top with the fresh basil and a sprinkle of fleur de sel. 

Serve!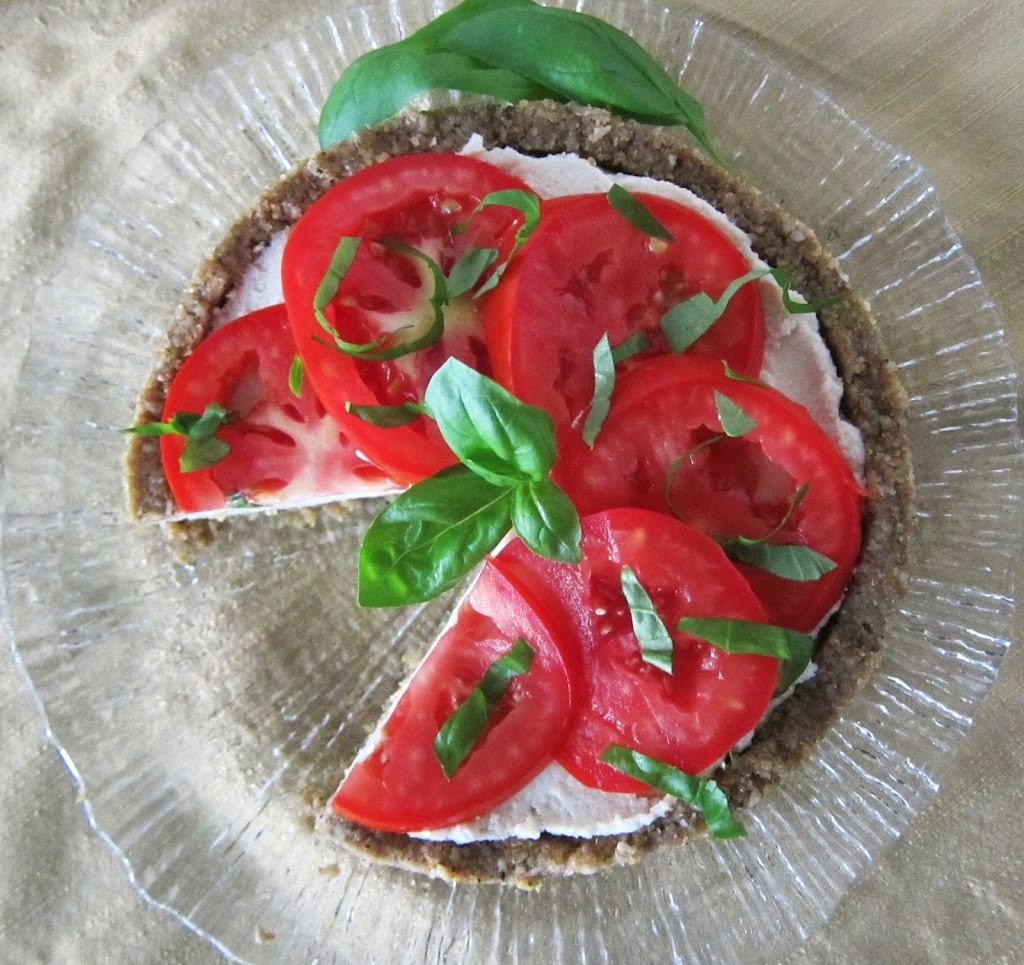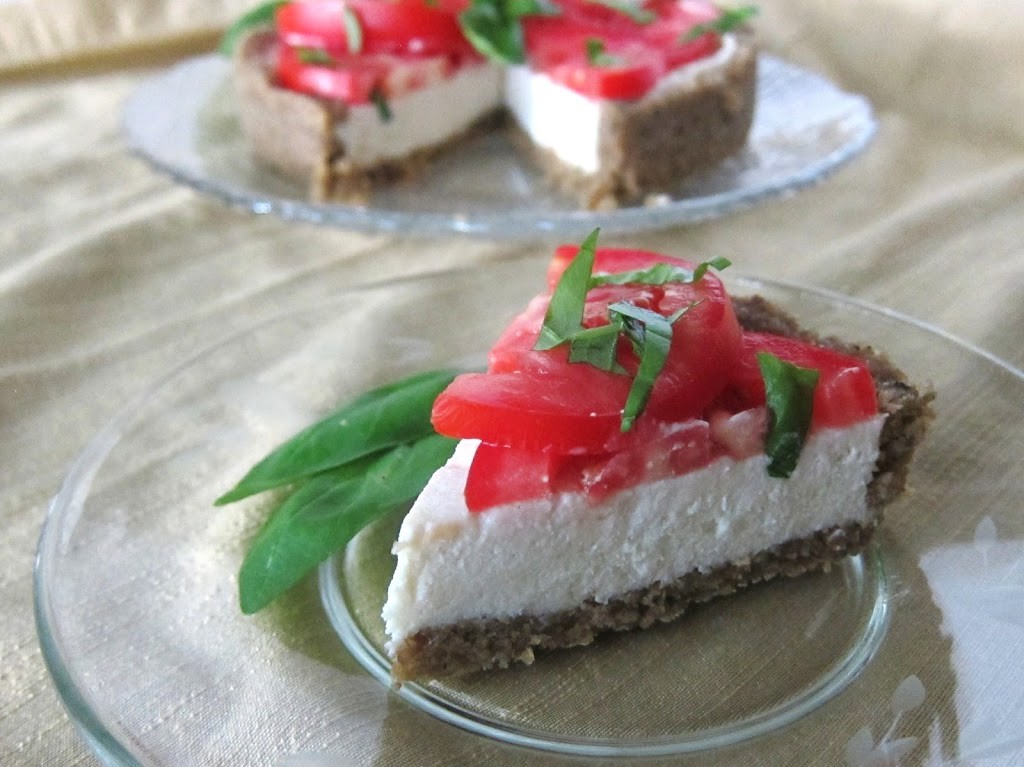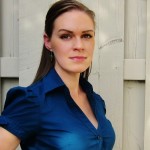 About the author: Amy lives in Minnesota and runs her blog Fragrant Vanilla Cake, which features mostly raw, vegan recipes. She especially likes creating cakes and desserts, but you'll find the occasional savoury dish too. Aside from her passion for creating new and delicious recipes, Amy also loves running and has a degree in studio art – her artistic mind is clear in the beautiful food creations she makes. You can visit her Facebook page, and follow her on Twitter.
Check out more of our vegan recipe inspiration, refined sugar-free recipes and gluten-free recipe ideas. For even more free-from recipes, grab a copy of the magazine!
Tags:
Dairy-Free
,
Egg-Free
,
Meat-Free
,
Recipes
,
Tarts
,
Vegan
,
Vegetarian