Vegan Warm Fennel & Pomegranate Salad
Step into spring with this colourful and tantalisingly flavoursome fennel and pomegranate salad, served with a tahini and lemon juice dressing.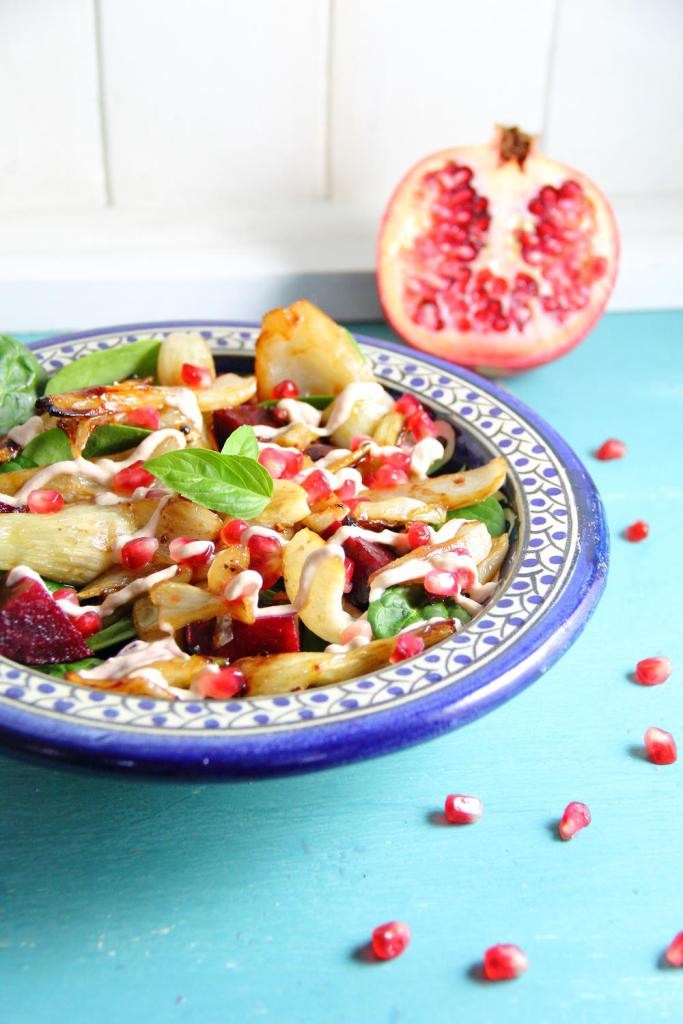 By Natalie Tamara of The Tofu Diaries.
One of the sunniest things that could possibly grace your plate on a sunny weekend is this gorgeous, colourful Warm Fennel and Pomegranate Salad. The fennel is slow roasted so it almost melts in your mouth and the sweet sticky coating contrasts perfectly with the ever-so-faint anise flavour.
This recipe is: egg-free, dairy-free, meat-free, vegan, vegetarian. Gluten-free if a GF tahini is used.
Ingredients: 
Serves 4
For the fennel:
4 fennel bulbs, stalks trimmed and cut into thick slices
2tbsp maple syrup, honey (for non-vegan version) or similar (I used Sweet Freedom plant-based honey)
1tbsp olive oil
Freshly ground black pepper, to taste
For the salad:
450g fresh baby spinach leaves, washed
4 pickled or cooked beetroot, cut into eighths
1 pomegranate, seeds only
For the dressing:
3tbsp tahini
1tbsp olive oil
1tbsp lemon juice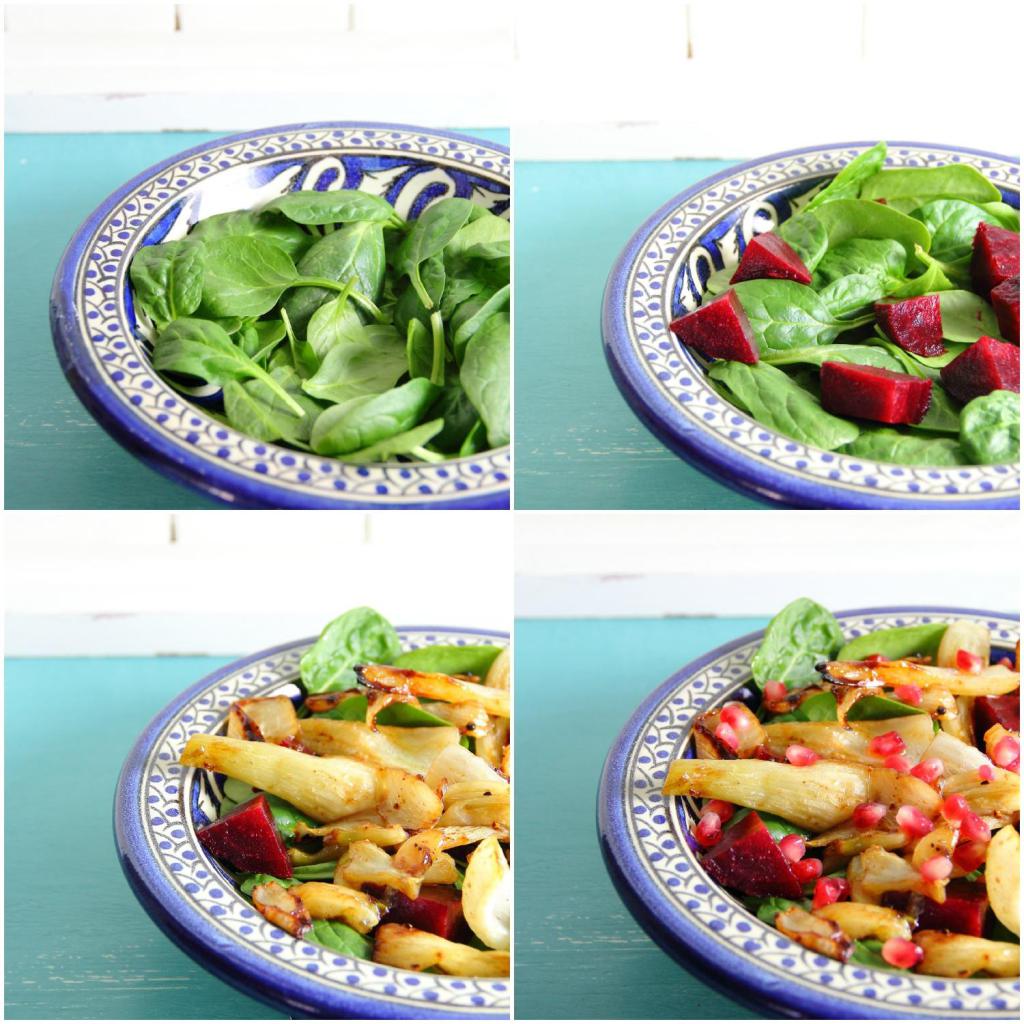 Method:
1. Preheat the oven to 180C / 350F / Gas Mark 4.
2. Pour the oil out onto a baking tray and heat up in the oven for a few minutes. Add the fennel and black pepper and mix well to coat the fennel fully with the pepper and oil.
3. Roast in the oven for around 25 minutes before adding the maple syrup/honey, mix well and return to the oven for a further 5-10 minutes until the fennel has turned golden brown.
4. In a small bowl, mix the tahini, oil and lemon together until they are fully combined and have formed a smooth sauce. If it is too thick, add a little more oil or lemon.
5. Add the spinach and beetroot to a bowl then top with the roasted fennel. Sprinkle over the pomegranate seeds and drizzle over the tahini dressing. Serve whilst the fennel is still warm.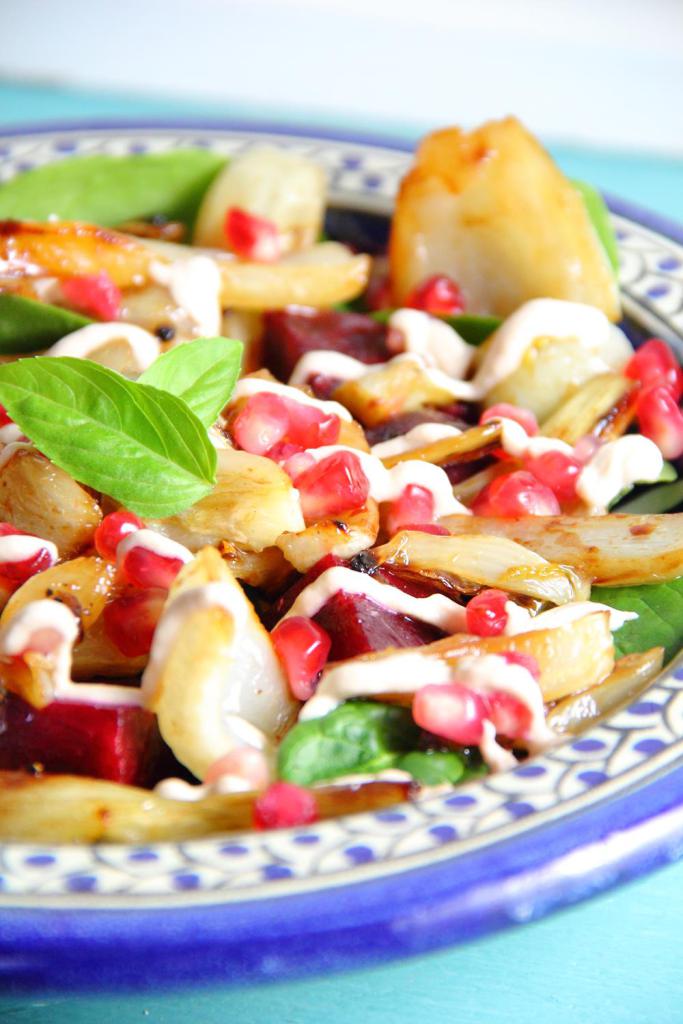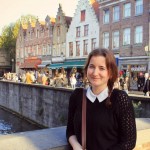 About the author:
Natalie Tamara is the author of vegetarian and vegan food blog The Tofu Diaries. The vast majority of her recipes are vegan, with a few including cheese or honey making them suitable for vegetarians. Natalie Tamara also posts about cruelty-free products, and about her travels across almost 60 countries (and counting). You can find her on Twitter and Pinterest.
See more of our tasty vegetarian dishes and vegan recipes.
Tags:
Dairy-Free
,
Egg-Free
,
Recipes
,
Salad
,
Vegan
,
Vegetarian