Vegan cottage pie topped with potato & parsnip mash
This will certainly hit the spot and satisfy on a cold day. Using a mushroom stock really enriches the 'gravy' and gives it the umami kick. Make sure you really caramelize the diced carrots and parsnips – you'll reap the benefits with flavour.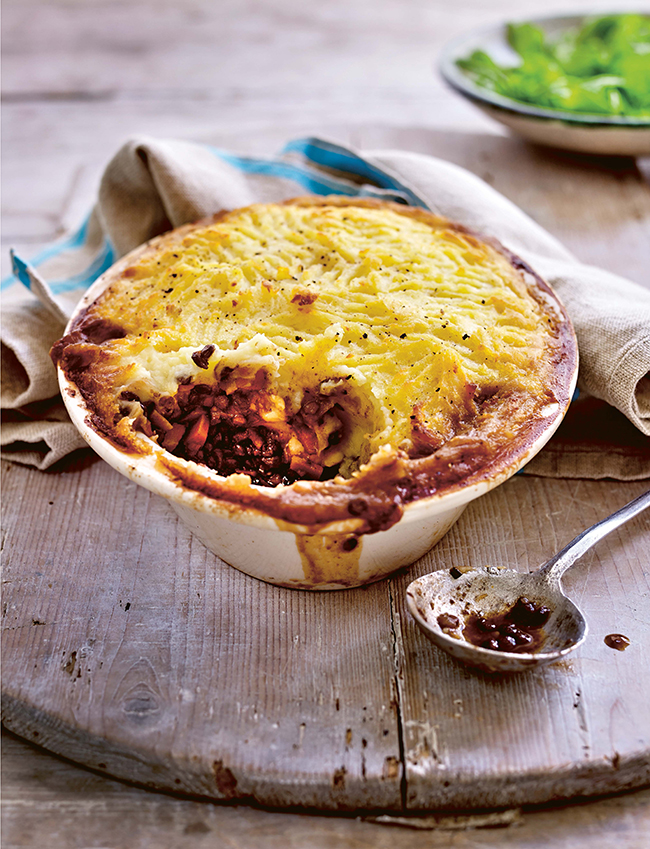 Cottage pie topped with potato & parsnip mash
Recipe by Heather Whinney 
Serves: 4 | Prep: 15 mins | Cook: 1 hour
Ingredients
1 tbsp olive oil
1 onion, finely chopped
2 garlic cloves, finely chopped
3 carrots, diced
1 parsnip, peeled and diced
200g/7oz/heaped 1 cup dried Puy lentils, rinsed
1 bay leaf (optional)
a few rosemary stalks, leaves finely chopped (optional)
a pinch of freshly grated nutmeg
a pinch of ground cinnamon
1 tbsp tomato puree/paste
1 glass of red wine (about 150ml/5fl oz/scant 2⁄3 cup)
a splash of tamari
about 500ml/17fl oz/generous
2 cups hot mushroom or vegetable stock
sea salt and freshly ground black pepper
steamed greens, to serve
For the topping:
900g/2lb potatoes, peeled and quartered
3 parsnips, peeled and roughly chopped
2 tbsp olive oil spread, margarine or dairy-free spread of your choice,
plus extra for topping
about 200ml/7fl oz/scant 1 cup unsweetened almond milk or dairy-free milk of your choice
Method
Heat the oil in a large, heavy-based pan. Add the onion, season with salt and pepper and cook on a low to medium heat, stirring occasionally, for 2–3 minutes until softened. Add the garlic and cook for a minute more, being careful not to burn the garlic. Now add the carrots and parsnip, add a drizzle more oil if needed, turn the heat up a little and cook for 6–8 minutes until just starting to turn golden, stirring so they don't burn. Add the lentils, turning so they soak up all the juices.
Add the bay, the rosemary, if using, and the nutmeg and cinnamon and stir well, then stir in the tomato purée/paste and wine, raise the heat and let it bubble for a couple of minutes. Add the tamari and stock, give it a final stir, then put the lid on and let it simmer away for about 30 minutes, or until the lentils are softened and a lot of the liquid has been absorbed. If it starts to dry out too much, top up with a little hot water from the kettle but be aware that the more you add, the more you are diluting the flavour.
Preheat the oven to 200°C/400°F/Gas 6.
While the lentils are cooking, make the topping. Put the potatoes and parsnips in a pan of salted water and bring to the boil. Turn the heat down and simmer for 15–20 minutes until the potatoes are fork tender. Drain well, then return to pan. Add the olive oil spread or margarine and mash well until there are no lumps, then pour in the almond milk and mash again until creamy.
Ladle the lentil mixture and all the sauce into an ovenproof dish, then spoon the mash over and even out with a fork. Dot with margarine and bake for 25 minutes, until bubbling and piping hot. Serve alone or with some delicious greens.
Recipe taken from Virtually Vegan by Heather Whinney, published by Nourish Books.
Comments
Tags:
Dairy-Free Dinner
,
Gluten-Free Dinner
,
Gluten-Free Recipes
,
Pie
,
Recipes
,
Vegan
,
Vegan and Gluten Free
,
Vegan Diet
,
Vegan Dinner
,
Vegan Recipes