Vegan skillet cookie
Cooked in a skillet, this ultimate cookie is gluten-free, dairy-free, egg-free, milk-free, vegan AND paleo. That makes it practically guilt-free too… right? Best eaten fresh out of the oven with a spoon. 
Paleo and Vegan Skillet Cookie
Serves 4 | Prep 10 mins | Cook 20-25 mins | Calories 567 (per serving)
GF SF DF EF V MF
Ingredients
chia egg mix – 1 tbsp chia seeds (milled) mixed with 3 tbsp water
75g (2¾oz) ground almonds
150g (1¾oz) pitted Medjool dates, pitted
60g (2oz) coconut flour
60g (2oz) tapioca flour
60ml (2fl oz) coconut oil
2 tbsp coconut milk powder (optional)
1 tbsp maca powder (optional)
1 tbsp lucuma powder (optional)
1 tsp vanilla extract
1 tsp bicarbonate of soda
a pinch of fine Himalayan pink salt
a generous handful of cacao butter wafers, chopped into chips
Method 
Combine the chia seeds with 3 tbsp water. Stir thoroughly, then set aside.
Preheat the oven to 180ºC/Gas Mark 4.
Combine all the remaining ingredients, except the wafers, in a food processor.
Add the chia egg. Pulse a few times, before processing until the dough comes together into a smooth ball. Remove your dough and knead in the wafers.
Lightly grease a 25cm (10in) cast iron pan with a little coconut oil, then press the dough in with the palm of your hand until evenly distributed.
Bake in the oven for 20-25 minutes until lightly golden brown and firm to the touch. A toothpick should come out clean.
Leave to cool for 5 minutes before serving.
Calories: 567 (per serving) | 9.3g protein | 26.1g sugar | 35.2g total fat | 20g saturates | 0.3g salt
---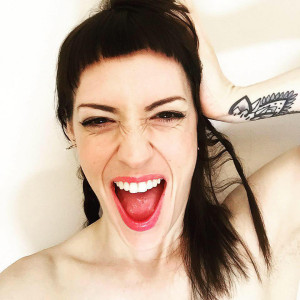 Georgie is a fresh faced, freelance writer and recipe developer who specialises in nutrition, fitness, and health and well-being. She enjoys sharing her passion for cooking, Paleofying food, and exploring Veganism within the Paleo diet on her blog, Greens of the Stone Age, and along the way has helped many friends to take a more holistic approach to their hectic lifestyles. She have further expanded upon her love of the Paleo way of living by setting up Primal Eye Magazine – the UK's 1st online Paleo lifestyle magazine!
Tags:
Cookies
,
Gluten-Free Baking
,
Gluten-Free Dessert
,
Gluten-Free Recipes
,
Vegan
,
Vegan and Gluten Free
,
Vegan Dessert
,
Vegan Recipes