Vegan tiramisu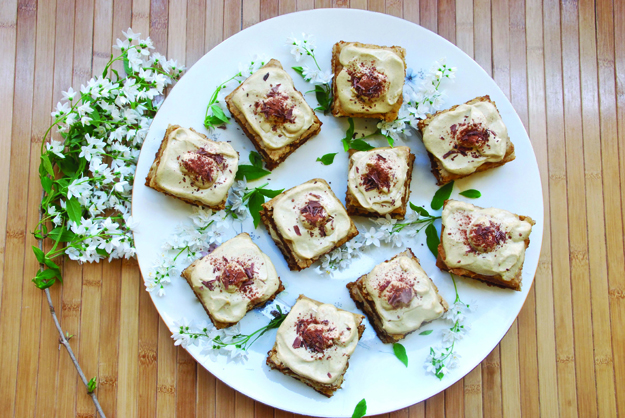 Vegan tiramisu
By Ambra Torelli (www.littlebitesofbeauty.com)
Makes 10 | Prep 30 mins plus soaking
Cook 30 mins | Calories 320 (per square)
Ingredients
FOR THE PAN DI SPAGNA CAKE
100g (3½oz) brown
Rice flour
120g (4oz) cornstarch
20g (¾oz) tapioca fl our
½ tsp cinnamon
½ tsp green stevia
2 tbsp coconut oil
1 banana, peeled
240ml (9fl oz)
Almond milk
40ml (½fl oz) dark rum
2 tbsp apple
Cider vinegar
1½ tsp gluten-free
baking powder
FOR THE CREAM
50g (1¾oz) almonds, soaked
50g (1¾oz) cashew nuts, soaked
125g (4½oz) organic tofu
½ a vanilla stick
fi nely grated zest of ½ an orange
120ml (4fl oz)
Almond milk
4 dates
Colourings – either use finely grated carrot, saffron flowers or turmeric
FOR THE COFFEE INFUSION
2 tbsp soluble espresso
1 tsp green stevia
100ml (3½fl oz)
lukewarm water
100ml (3½fl oz)
lukewarm almond milk
1 tbsp raw cacao, to decorate
Method
1 Preheat the oven to 180ºC/Gas Mark 4. Soak the nuts in water. For the cake, mix the flours and cornstarch together with the cinnamon and stevia.
2 Blend the banana, almond milk and coconut oil. When smooth, pour over the flours and mix well.
3 Add the apple cider vinegar and rum and incorporate into the batter. Sift in the baking powder and mix well.
4 Cover a rectangular baking pan with parchment paper. Pour in the batter and bake for 30 minutes.
5 While still warm, cut the cake into 5cm (2in) squares. There should be 20 total.
6 For the cream, combine all the ingredients in a high-speed blender until you get a perfectly smooth and firm consistency. If you use silken tofu (instead of firm) you'll need a little less milk.
7 For the coffee infusion, heat the water and milk, then combine them in a soup plate with the soluble coffee. Mix well and add some stevia.
8 Take 10 squares of cake and dip both sides in the coffee mixture. Make sure they are not too soggy nor too dry. Place them on a platter and scoop 2 tbsp cream on top of each one. Infuse the remaining squares, place them over each piece of tiramisu and scoop a second layer of cream on top. Decorate with raw cacao.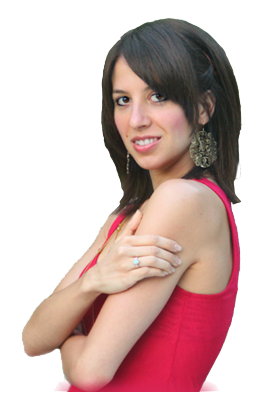 About the author: Ambra is an Italian chef who is here to give you the recipe for being a healthier, sexier and more satisfied you… whilst still indulging everyday! Her goal is to show you how you can indulge in the most delicious food while drastically improving you health, getting skinnier and looking gorgeous! You can find more of her delicious recipes on her blog, or you can get in touch with her on Facebook, Twitter or Instagram.
Tags:
Chocolate
,
Dairy-Free
,
Dairy-Free Recipes
,
Egg-Free
,
Gluten-Free
,
Gluten-Free Dessert
,
Gluten-Free Recipes
,
Recipes
,
Vegan
,
Vegan and Gluten Free
,
Vegan Dessert
,
Vegan Recipes