When she appeared on BBC's Dragons' Den, Kirsty Henshaw walked away with a healthy investment in her allergen-free frozen desserts, and since then her business has really taken off…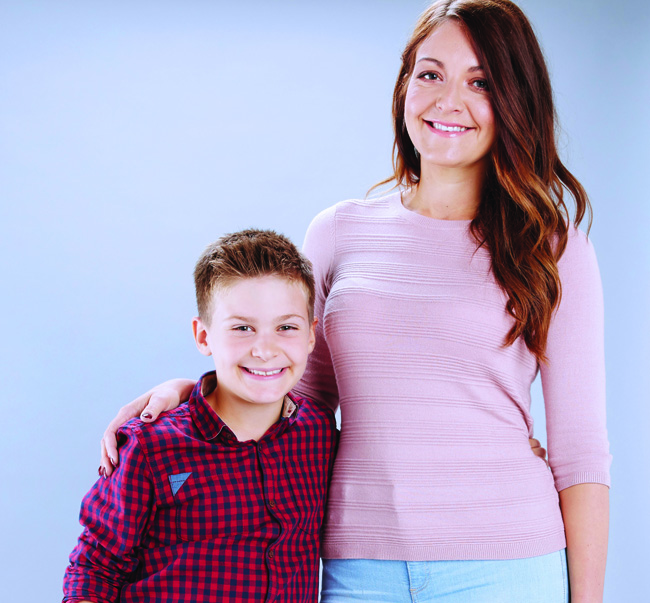 Q What is your free-from story?
When my son Jacob was nine months old, he suffered an allergic reaction to nuts, and after further testing it became apparent that he also could not tolerate dairy. I struggled to find any healthy baby food that was free from these allergens, so I just started experimenting in my kitchen. As he grew older, Jacob couldn't eat the same things as his friends, like ice cream at parties. There's nothing worse than
seeing your child miss out, so I bought a small ice cream maker from Argos and started experimenting with dairy- and sugar-free iced treats. I used coconut and rice milk and sweetened it with apple extract and agave syrup.
This proved popular not only with Jacob but also with his friends – so much so that their mothers wanted the recipe. Seeing a need and opportunity, I found a very small manufacturer in my home county and started selling my ice cream to wholesalers.
Q What was the experience like in the Dragons' Den?
Nerve-racking! The Dragons are really critical and can spot any discrepancy or error in your pitch from a mile off. But I knew my pitch, I knew my business and I knew my market. It paid off. I needed the investment to get my business off the ground and when Peter Jones and Duncan Bannatyne gave me £65,000 for a 30 per cent stake I couldn't believe it. I was the youngest person at the time to have secured an investment. I cried. During our time together, their help was priceless and it meant I could launch nationally.
Thanks to the success of Worthenshaw's Desserts, I was able to identify another gap in the market for people like me who want healthy ready meals. After a lot of experimenting, I came up with a range of seven chilled dishes, including Chicken Tikka Masala, Cottage Pie and Lasagne. We rebranded in 2012 to Kirsty's and created a range in which each meal is gluten- and dairyfree and is under 400 calories.
Q What were your biggest challenges in starting out?
As many women will understand, being a single young mother is a challenge in itself without the addition of trying to set up and run a business! In the beginning, I was working two part time jobs (as a barmaid and massage therapist), raising a young boy and trying to be the best mother possible. I don't have any qualifications, but my parents had a health food store where I grew up, so that was a good starting point on how to deal with suppliers and basic business management.
With our business growing 75 percent in the last year and Kirsty's being the fastest growing ready meal brand on the market, I think we've succeeded in convincing our target market that it's possible to have a healthy ready meal, and educating them to look in the chiller aisles rather than down the frozen food aisles, where coeliacs are accustomed to looking.
Q As competition has grown within the sector, how do you keep ahead of the game?
As my business started with my son, one of the main principles I work by is family. I want my brand to be one that families turn to and think of when they want a healthy, nutritious, free-from convenient meal. We want to build a trusted brand that never loses touch
with its consumers. Kirsty's regularly reviews how products are performing and takes feedback very seriously, be it positive or negative. I go to loads of shows, especially the Allergy and Free From shows, and talk to the people that come to our stall. We have strong ties with
influential gluten-free bloggers who are also brand ambassadors, so we just keep the conversation going.
Kirsty's is lucky to have a great fan base, especially on social media. We're always getting feedback as well as suggestions on our Facebook page. We have loads of taste testers and conduct market research to see what types of food the free-from community would like to see. As a result we're launching three new adult meals and a new kids' range called Kids' Kitchen.
Q What one ingredient could you not live without?
Organic virgin coconut oil – it's just so versatile and has so many more nutritional benefits than other cooking oils. It's great for hair, skin and nails and can even help lower cholesterol. I really can't recommend it enough. It's also great for baking sweet treats and a great substitute for butter or margarine. I eat a raw spoonful every day. It tastes delicious on its own or on oatcakes.
Q Have you developed any philosophies about food?
Many gluten- and dairy-free products are substitutes – you know, gluten-free bread, dairy-free cheese, etc. We don't want to create 'free-from substitutes'; we want to create meals that are full of flavour, healthy and nutritious. We work by the philosophy of healthy food swaps: we do not take anything out, we just put the right ingredients in.
For more information, please visit Kirsty's website, www.kirstys.co.uk, Facebook, Twitter, and YouTube.