My free-from life… Marianna Pentek
Nomad Health founder, Marianna Pentek, explains how her coeliac diagnosis spawned a thriving and successful business…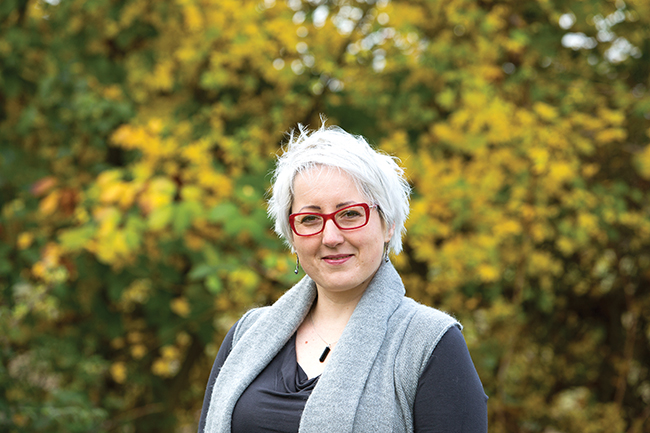 Marianna Pentek is the founder and director of award-winning artisan pasta company Nomad Health. She explains how a change in diet led her to change the way she looks at food – and how it's made her feel better than ever…
"When I was diagnosed with coeliac disease a few years ago, it sent me into a state of panic. Pasta had always been one of my favourite foods but, with it being a coeliac's nightmare, I thought I'd have to say goodbye to it forever.
Not only that, my husband Keith has diabetes, and I also have asthma and a dairy intolerance to deal with. Suddenly it seemed like not only did we have health issues to think about, our taste buds were in for a battering too. To anyone else the future may have seemed bleak, but neither of us are the type to just give up and accept a lifetime of boredom. We decided that instead of seeing it all negatively, we should instead take whatever positives we could from the situation. The more I thought about it, the more opportunities I could see – this didn't have to be a disaster, rather an adventure.
Starting over
At the time I was working all hours as a senior contracts manager for a big corporate company. I was constantly exhausted, never at home and it was putting pressure on my husband and I.
We'd planned to have a baby, but the lifestyle we were living just wasn't compatible with a family; most evenings it was 7pm before I even thought about leaving the office. It was time for a change, and our new dietary requirements made that change possible.
Looking back now, it seems a little crazy, but I left the corporate world behind in favour of a new way of life. We sold everything and started again so I could follow a dream. I'd always loved to cook, regularly testing out my culinary inventions on unsuspecting guests – and I love using interesting flavours and good, wholesome ingredients instead of the processed foods that are so bad for us all.
The only gluten-free pasta I'd tried was bland, tough and rubbery, so it got me thinking; surely there must be some other ingredients I could use to give it an authentic texture and a great flavour? I started to do some research and found that ancient grains like sorghum, quinoa and millet were good alternatives to wheat, so I gave them a try – and it tasted great. The more I experimented, the more adventurous I became, and soon I was adding flaxseed, sesame seed and, believe it or not, green banana!
Keith and I loved our pasta meals so much (and they were a hit at dinner parties, too) that we decided we must be on to something. We started cooking batches in our little kitchen and selling in small quantities, and in less than a year it's gone bonkers.
We sold out at the Allergy and Free From Show in July 2016, we've been given numerous presentations and were featured in BBC Good Food as an award winning producer. In addition, Whole Foods predicted the top 10 food trends of 2017 and our pasta is the second one on the list!
We recently gained accreditation from Coeliac UK and Sugar Wise, which has been great. It's incredible to think that we've achieved all this in such a short space of time, and we're hoping to further extend our reach over the coming months. My ultimate aim is to work with large, quality stores, but one step at a time!
Changing perceptions
There are so many processed foods out there, but it doesn't have to be that way. I believe that you are what you eat and the changes my body has experienced since starting to eat clean have been phenomenal. Life is better than ever. I'm probably working just as long hours, but I manage my own time and it's great to do something I'm genuinely passionate about.
I always say that Keith and I are the perfectly imperfectly perfect couple and that's what makes it work. I am grateful for the way things have happened and it's now a major motivation for me to create clean, healthy artisan premium pasta for everyone, with the highest quality of ingredients, strictly non-GMO, naturally nutritious and gluten/wheat-free! Everyone deserves a healthy nourishing meal that is easy and quick, colourful and simply delicious.
As they say, if life gives you lemons, make lemonade. That's my philosophy, except in this case it's pasta!
Tags:
Your Stories