Low-FODMAP on the go
Samantha Jones is a low-FODMAP lifestyle writer who quit her 9-5 life in order to travel, blogging as she goes. She's taking her current low-FODMAP, wellbeing lifestyle on the road…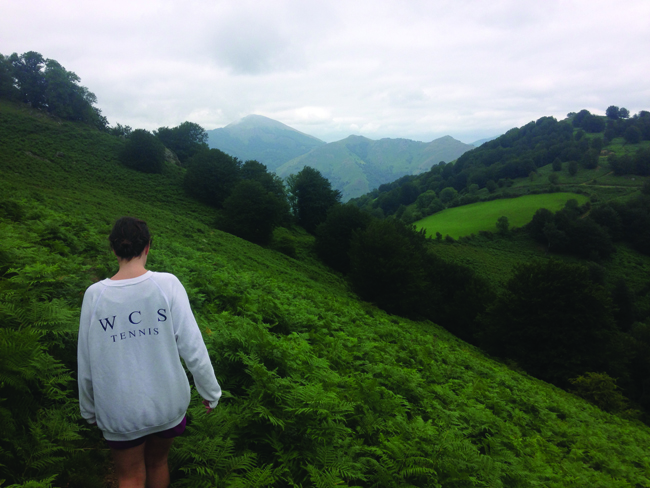 When you're fighting an uphill battle with digestive issues, trips abroad or even just eating out can all start to become distant memories. Many of us close ourselves off inside the safety of our 'free-from' homes and sit in front of the TV with a bowl of curly kale to let Bear Grylls and A Place in the Sun transport us instead. Or at least that's what I did.
I've realised, however, that as long as I can eat low-FODMAP foods abroad, then nothing stands between me and the sun, the fresh air and adventure.
Of all the trips I planned this year, camping in the Pyrenees was probably the most diffi cult to plan, but we kept things simple and put the hard work in before we went, so things were easy once we started out. So, if you long for an adventure yourself, here's how I made my way to the top of the Pyrenees
without any cooking equipment and managed to stay FODMAP free!
Pack it in
Apart from a car, a tent and a good friend, essentials include:
A smartphone with Navmii installed (so you can predownload maps before you go and just use the GPS on your phone without the need of 3G data or Wi-Fi).
A phone charger that works in your car.
A picnic blanket.
A torch.
Bin bags for rubbish.
Insect spray.
A cheese knife or penknife.
Plastic plates.
A bottle opener.
Antibacterial spray…
And a great playlist!
The luxuries
I love bread, and I knew that if I tried to eat my Spanish cheese without bread, I'd fail miserably. I'd take one look at that fresh, wheaty French baguette
and succumb immediately. The solution? Head to a local bakery before you go and buy a fresh loaf of low- FODMAP spelt sourdough and pack it for mountain munchies. (It contains gluten but not wheat and shows a green light on Monash University's FODMAP app.) This is not easy to slice up in the Pyrenees, so get it pre-sliced.
Alternatively, you could pack Nairn's oatcakes; these go perfectly with cheese. I'm all about balance, so if you can tolerate a little wine, an adventure like
this is the perfect setting to share a bottle of something nice.
Shopping list
A pack of mixed baby leaf salad.
A pack of fresh mint and basil leaves to add to the bag of salad later on for a super tasty salad.
1 tin of pimientos.
Olives. Tip: if you can find ones in a pack rather than a jar then these will be easier to take with you. Black ones go great with a salad!
Serrano ham from the deli counter. This is a ham typical of Spain, and it's delicious.
Hard cheese is safer than soft onthe low-FODMAP diet, so go ahead and buy a cheese of your choice. I seriously recommend Manchego.
Beer/wine/drink of choice. They stock gluten-free beers in most big Carrefour supermarkets.
Lots of water! You'll use lots more than you think you'll need overnight – water gets used to rinse cutlery, plates and hands. (I even washed my
hair with a bottle.)
Wet wipes. We bought alcohol-free ones so you're less likely to end up with stinging eyes when you inevitably rub them around bedtime.
How to stay on the low-FODMAP diet overseas
Don't do what I did in the beginning of the diet and eat in safe circles. 'Turkey, kale and potatoes' might be easy on the tummy, but it's not very exciting, and you won't be getting all of the nutrients you need if you stick to the same meal routine each day. Our bodies seem to love variety, so mix it up.
Try not to veer off your usual diet too much if it's working for you back home. You'll find all the necessary FODMAP-friendly foods in most overseas supermarkets if you stay natural and avoid packet food.
I don't advise trying anything new whilst on holiday. It's always best to have a trial run of most things at home before you head off.
Alcohol is a gut irritant, but if you really want to have a sip of alcohol whilst abroad, stick to the Monash University guidelines – for example, 30ml of gin or 150ml of red wine. (Yup, alcohol is on the Monash Menu!) Just keep your drinks to meal time if you can and don't be adding lots of fizzy mixers – we all know that these will bring back the 'bloat baby'.
If you can stay somewhere with a grill or barbecue abroad, then you're going to be just fine. Fresh meat, fish and vegetables all taste insanely delicious on the BBQ. Keep bread off the table and instead opt for something like boiled potatoes with mint and butter or boiled rice with chopped parsley. Most dishes can be transformed using fresh herbs, so these are my number one purchase from the supermarket abroad.
If you get all het up trying to plan meals on holiday, then do your recipe planning before you go away. Just remember to keep the ingredients simple and varied. Print them off and keep them in a little notebook with any translations you might need, and take this along to your supermarket trips for a quick and easy spree.
Drink plenty of bottled water. Some people think that water retention (which can cause bloating) will be made worse by drinking water, but the opposite is true. If, like me, you're terrible at remembering to sip the agua, download a free app to remind you each hour of the day.
Essentials to take with you
A bottle of Symprove keeps my good gut bacteria topped up, and I've found that if I do react to a sneaky bit of garlic or onion in a restaurant dish, I feel much better the next day (rather than in a week's time). Everyone is different, but this probiotic liquid gold is working wonders for lots of people. I completed the '12-week challenge' before I went away and then stayed on a maintenance dose.
Download the Monash University Low FODMAP Diet App as soon as you can before you head off. It's been created by testing foods in a lab to find out their Oligos, Fructose, Polyols and Lactose content and then tells you which is safe to consume and how much.
If you are prone to stress (and most of us are!), download the Headspace meditation app. Andy Puddicombe is an expert in mindfulness – if you're not sure, search Google for his amazing TED talk. You get ten free days of meditation when you begin Headspace and each session takes just ten minutes, so make the most of it and find a quiet spot soon after you wake up in order to soak up some morning sunshine and find some mental clarity. Meditation isn't just for hippies, you know!
Don't be a superhero. Get a teammate on board to take the stress out of meal times. If you cook, someone washes up or vice-versa. If you get all hot and bothered at the barbecue, then get someone else doing the side dishes! Unless you're a qualified chef who likes nothing more than catering for a family every night, meal times should be a team effort.
Follow Samantha on the road to full recovery at www.thebeautifulmouth.com, Instagram, Facebook and Twitter.
Tags:
Eating Out
,
Low FODMAP