We meet reader Vicki, who transformed her life by creating her own recipes, which she shares on her website Free From Fairy.

For as long as I can remember, way back into my teenage years, I suffered from bloating and extreme discomfort when I ate certain meals. I was diagnosed with IBS and told to get on with it!
It was only in my late 20's, after a six-month trip around South America, that I connected the dots and realised that wheat was the culprit.
Being a vegetarian at the time, most of the meals that I ate in South America were wheat-based and there were many times I was so bloated that I felt like I had eaten an eight-course meal. The reality was that I had eaten nothing!
Having lost weight, on our return to the UK I visited the doctor again, who agreed to test me for coeliac disease, an autoimmune disease where the only treatment is a lifelong gluten-free diet. Despite having negative blood results, they also referred me for an endoscopy because I was suffering so much. That too came back negative, but I still set about creating wheat-free recipes that I could enjoy without the discomfort.
Strangely, when pregnant with my first child, my IBS seemed to clear up and I was able to tolerate wheat again. That continued during the gap between my children and for a little while after my son was born. Slowly, however, it crept back in and now when I eat wheat, rather than getting a reaction in my tummy, I am more likely to get an itchy red rash on my hands accompanied by brain fog. Needless to say I went back to a wheat-free diet about a year ago.
In 2007, my daughter Roo was born. She came out crying and didn't really stop much for nine months! She had dreadful colic and clearly suffered from an unhappy tummy. I cut out both gluten and dairy in an attempt to help her symptoms, but to no avail.
It was when we started to wean her that we noticed her skin becoming red upon contact with milk. The GP referred her to a consultant and in the meantime I continued to breast-feed while we traipsed up to the hospital for umpteen appointments.
Finally she was diagnosed with cows' milk protein and egg allergies. So I returned to my kitchen experiments in earnest – creating wheat-free, dairy-free and egg-free recipes that we could all eat and enjoy together!
The final blow came just before Roo's third birthday. After a dreadful year where she was too weak to walk up stairs or play with her friends, had a hugely distended tummy and I had her new baby brother to look after, she was diagnosed with coeliac disease. In all honesty it was a relief! Finally we knew why she had been so listless and unhappy and at the same time we were informed that her cows' milk protein and egg allergies had gone.
The transformation that occurred within days of removing gluten from her diet was absolute. Her colour returned, her tummy reduced in size by about half, she no longer complained of tummy aches and more amazing than anything – so sweet is the memory – she was able to walk up a flight of stairs on her own and run along the beach. It was a delight to behold.
And so, back in the kitchen, it was gluten-free recipes that had to be created! That suited my wheat-free diet and meant that there wasn't too much adjustment to be made. It soon became apparent, however, that dairy still did not suit Roo. She continued to have many trips to the bathroom, particularly when she had eaten something with dairy in it. We therefore swapped her back onto a dairy-free and gluten-free diet and found her symptoms resolved.
Towards the end of 2012, I decided it was time to share my knowledge of catering for people with restricted diets. I started The Free From Fairy, a blog sharing our free-from adventures. On it I provide my tried and tested, family-friendly free-from recipes, along with recommendations of places to eat out and even tips on how to cater for someone on a restricted diet. Recently I have started to offer unique cookery lessons too – from the comfort of your own home, via a video linkup! I also have a number of 'cook along with me' videos on my YouTube channel, showing people how to make some of my simple tasty dishes.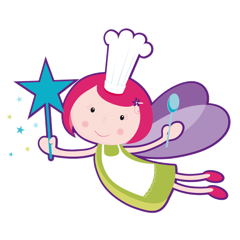 If you ever need any help cooking for your free-from diet then please do get in touch, and check out my blog at www.freefromfairy.com
Want to share your story with us? Get in touch by emailing nick.gregory@anthem-publishing.com