Gluten-Free Heaven May 2019
Gluten-Free Heaven's May issue is on sale now! This month we bring you plenty of gluten-free barbecue ideas, lighter spring dishes and refreshing cocktails, as well as advice on how to feed the family for less.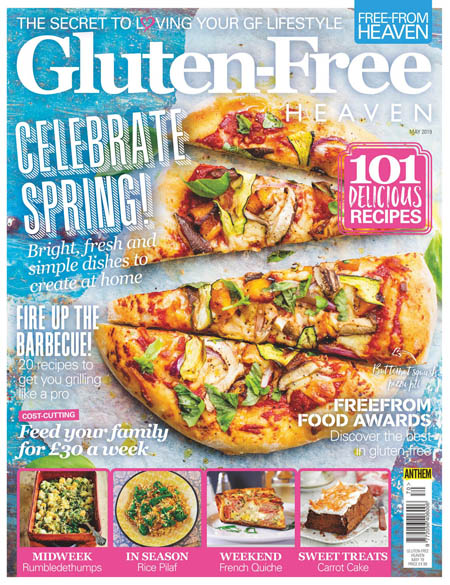 Welcome to the latest spring edition of Gluten-Free Heaven. And what does spring bring apart from fewer clouds and more pretty flowers. Well, for one, it brings out the barbecue. We have 20 great recipes that will give you some grilltastic ideas on how to get the most out of your outdoor cooking skills, while we also put a few of the lesser known gluten-free bangers and sausages to the test!
Secondly, the idea of hearty and warming dishes may not be at the forefront of your minds any more, while light, fresh and fragrant might be more to your liking? We have some wonderful spring recipes that will tick those garden-fresh cravings.
Lastly, food aside, what can be better in spring in the garden than a delicious and refreshing cocktail? Nothing right? So we have a selection of fantastic and simple drinks to really get you in the spring mood!
Also this issue, we see how you can feed a family of 4 for £30 a week on, discover how to regain your identity as a coeliac, give strawberries the early-season once-over and see how the boys at The White Rabbit Pizza company have woven their magic into the free-from aisle. Enjoy!
Pick up your copy of Gluten-Free Heaven at Asda, Morrisons, Sainsbury's, Tesco, Tesco Extra, Co-op, Waitrose, M&S, WHSmith and Easons, or order online from us here. You can also download the digital edition here.
Don't forget to visit our social media pages to get involved with your free-from community on Facebook, Twitter, Pinterest and Instagram to join in on all the gossip.
Tags:
Gluten-free BBQ
,
Gluten-Free Heaven
,
Gluten-Free Pizza
,
Magazine
,
Recipes
,
Spring