1-star review of hotel that didn't provide gluten free bread at a wake goes viral
A mourner's 1-star review of a hotel that hosted the wake for a family funeral has gone viral after being shared on Twitter.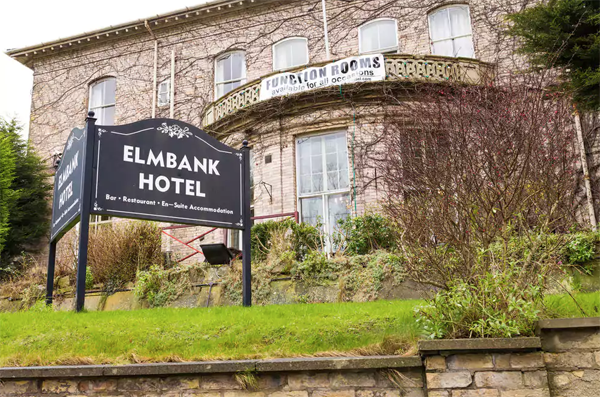 Back in June, a TripAdvisor user posted a 1-star review of the Elmbank Hotel in York. She gave it such a low score because no gluten-free bread could be provided at the wake of a family funeral.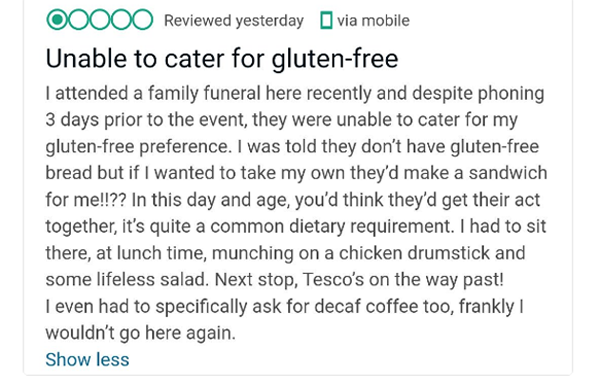 According to the reviewer, when she called three days in advance to notify the hotel of her dietary preference, they told her they were unable to provide gluten-free bread, but if she brought her own they would make her a sandwich.
She wrote: 'In this day and age, you'd think they'd get their act together, it's quite a common dietary requirement. I had to sit there, at lunchtime, munching on a chicken drumstick and some lifeless salad. Next stop, Tesco's on the way past!'
Her review recently went viral when a screenshot of it was shared on Twitter. Many are criticising her for being gluten-free by choice rather than necessity (she mentions her gluten-free preference).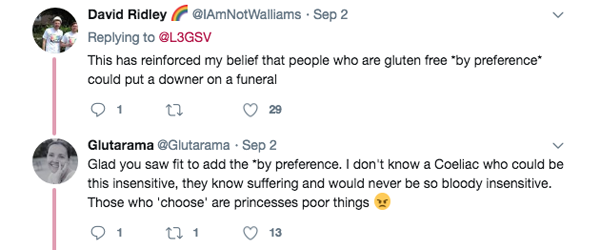 One user wrote: 'The genuine coeliacs I know would never complain about this sort of thing.'
Others believe that the food choices at the wake should not have been so much of a concern, and that expressing her distaste in such an open way was insensitive to other mourners.

Those with coeliac disease often find it difficult to find places that cater to their needs, with many worrying that complaints from those who avoid gluten for health reasons rather than out of medical necessity make it harder for restaurants and caterers to take their dietary requirements seriously.  Do you feel the reviewer was right to leave a 1-star review of the venue?
Tags:
Gluten-Free
,
News