The FreeFrom Food Awards has today published the shortlist for their 2017 10th Anniversary Awards. The FreeFrom Food Awards, now in their 10th anniversary successful year, are the industry's only award for 'freefrom food'.

The FreeFrom Food Awards were launched in 2008 by FoodsMatter – a large informational website focused on food allergy and intolerance and all the many health conditions related to them. The awards have been a huge success – both with consumers looking for a mark of excellence, and with producers wanting to showcase their products. 
This year the awards will celebrate their 10th Anniversary and, to do so, has created two new categories:
A FreeFrom Superhero Award to be given to the person or organisation that has done most to promote freefrom over the last 10 years
A 'No Top 14' award to celebrate those products which have gone that extra mile and contain none of the 14 major allergens.**  (This may seem big ask but it is very possible and there are a number of products out there which already do!!)
Says awards director, Michelle Berriedale-Johnson:
'The standard of the entries just keeps on getting better. Indeed, so good are they now that 'freefrom' foods are often the first choice for foodies who, a few years ago, would not have given them the time of day!'
The winners of the 2016 FreeFrom Food Awards will be announced and presented with their certificates by Antony Worrall Thompson at an invitation-only party in central London on March 28th.

FreeFrom Food Awards 2017 Shortlist
Sponsors for the 10th anniversary FreeFrom Food Awards:
FreeFrom Superhero Award – Sponsored by Lucy Bee
A one-off award to celebrate the FreeFrom Food Awards' 10th birthday. To be give to the person that has done most to develop, expand and popularise freefrom over the last 10 years.
Adrian Ling – Plamil Foods

2. Angela Mumby – Mrs Crimbles

3. Chris Hook – Newburn Bakehouse

4. Clare Marriage – Doves Farm

5. Lucinda Bruce-Gardyne – Genius Gluten Free
The Innovation Award – Sponsored by Food Matters Live
No top 14 – Sponsored by Ilumi
Start Ups and Small Producers – Sponsored by Tesco
Breads – Sponsored by Dr Schaer
Down the Pub and the Bar – Sponsored by FDIN
Gluten-free beers:
Savoury snacks:
Meaty and Fishy Ready Meals – Sponsored by Mrs Crimbles
Foods suitable for nut and peanut allergics – Sponsored by Wellaby's
Foods designed for children – Sponsored by Delamere Dairy
Tea Time! – Sponsored by Romer Labs
Desserts and Puddings – Sponsored by Morrisons
Confectionery and Chocolate – Sponsored by Goodness Direct
Bars – cereal, fruit, superfood, grain-free etc – Sponsored by Synergis Marketing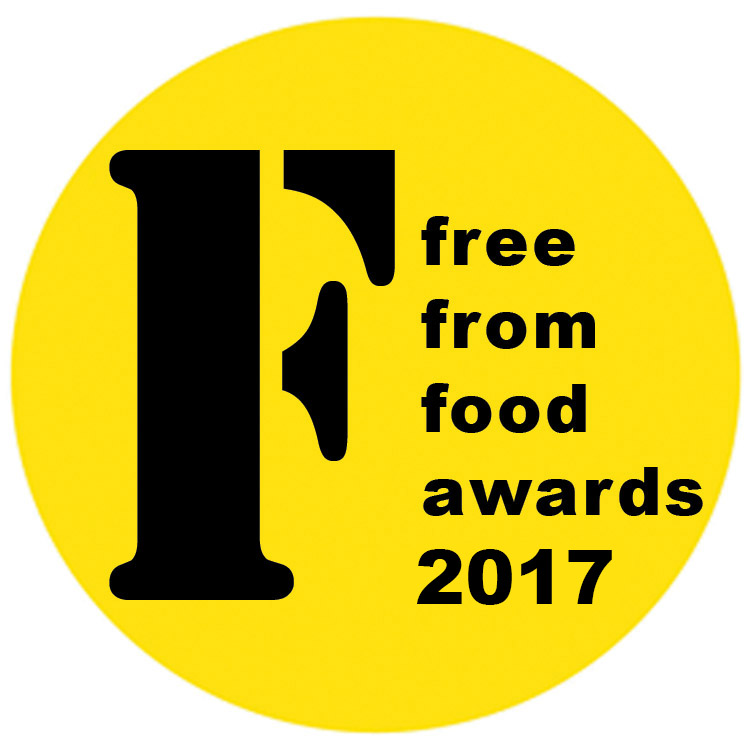 For more information on the awards go to www.freefromfoodawards.co.uk