Completey gluten-free dining hall opens at Cornell University
A dining hall at Cornell University is reopening as a certified 100 percent gluten-free, tree-nut free and peanut-free kitchen!
According to Cornell Dining, they've been systematically removing gluten from the menu for two years — with rice noodles in the stir-fry, gluten-free biscuits and brownies, and now the eatery is certified 100% gluten-free, peanut free, and tree-nut free.
It's just the second college eatery in the U.S. that's certified gluten-free, with the first at Kent State, and it provides a safe place to eat for celiac disease sufferers and others who can't have even a trace of wheat, plus an allergy-safe environment for those who can't be exposed to peanuts.
Risley Dining Hall hosted a "Night in the Warm Kitchen" dinner Thursday to celebrate its reopening as a certified 100 percent gluten-free, tree-nut free and peanut-free kitchen.
"Cornell Dining's mission is to provide safe food for our students that have food allergies, are following a gluten free diet either for celiac reasons or who are gluten intolerant,"said Michele Lefebvre, director of nutrition management. "We have been working for many years to try to get to a place where we can serve clean ingredients to all of our students."
Cornell Dining is committed to maintaining high standards of quality, according to Lefebvre. They have previously undertaken initiatives to make Cornell Dining trans-fat free and ensure that all deli meats and french fries on campus are gluten free.
"We've had great allergy training, but to take it to that next step and make an all you care to eat gluten-free, tree-nut free, peanut-free dining hall … I think that's pretty special," said Kevin Grant, the chef at Risley Dining.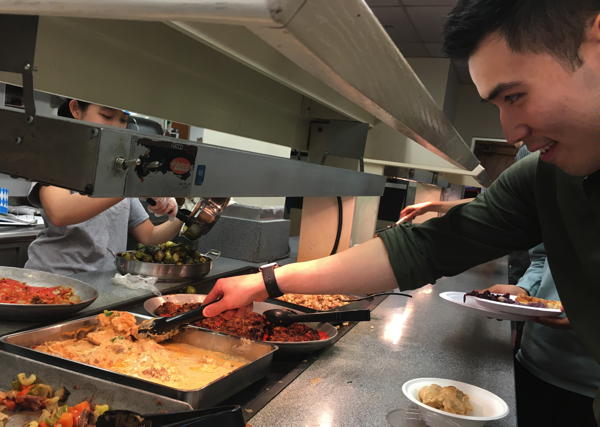 Moriah Nkosi '17, a Cornell Dining nutrition intern who has conducted research about the prevalence of gluten in many ingredients, said that preparing an entirely gluten-free menu can be tricky.
"There's a lot of hidden sources of gluten that people wouldn't know off the top of their head," she said. Grant also added that sourcing ingredients was the biggest challenge for Risley, and stressed the importance of being hypervigilant.
"Our vendors may or may not know that we're gluten-free, so the first step is on our end to make sure the ingredients are gluten-free," he said.
Even though Risley was transitioning to serving only gluten-free meals last semester, Lefevre expressed some concerns about the acceptability of the new program.
"We're making the big splash this semester to see if it has an impact on our overall customer counts," she said. However, Chef Amy Fothergill '87 said that going gluten-free does not mean sacrificing taste.
"If you make something taste good and everyone eats the same thing and it's gluten-free, everyone's happy," she said.
The menu for Thursday's dinner was developed by Fothergill, who said her family and business have been gluten-free for the last 10 years after her daughter developed eczema and needed to become gluten-free, dairy-free and egg-free.
"I saw my life changing before my eyes," she said. "There were so many bad recipes and bad products. I made it my life's passion to try to help people because I know as a chef it was difficult. I can't imagine what it would be like for someone who doesn't know how to cook to all of a sudden get this diagnosis."
Fothergill said she met Grant over the summer at an exposition and was extremely thrilled to be back at Cornell to help out with the new initiative. Grant said that he got into the restaurant industry because he loves to cook, and believes this certification is a significant step in the right direction.
"You have a huge chunk of people with severe allergies, and we're stepping up and showing that they're not a marginalized group, they are a group that we care about," he said. "You've got enough on your plate as an Ivy league student, let us take care of the food for you."
Source: The Cornell Daily Sun. 
Tags:
News