We were lucky enough to be invited to spend the evening at a cookery class with celebrated nutritionist, blogger and author of 'Get the Glow', Madeleine Shaw, at an event hosted by raw chocolatiers, Ombar, where we learnt how to make delicious treats from the finest raw chocolate. We share Madeleine's top tips for healthy baking, and her scrumptious gluten-free, flour-less chocolate brownie cake below…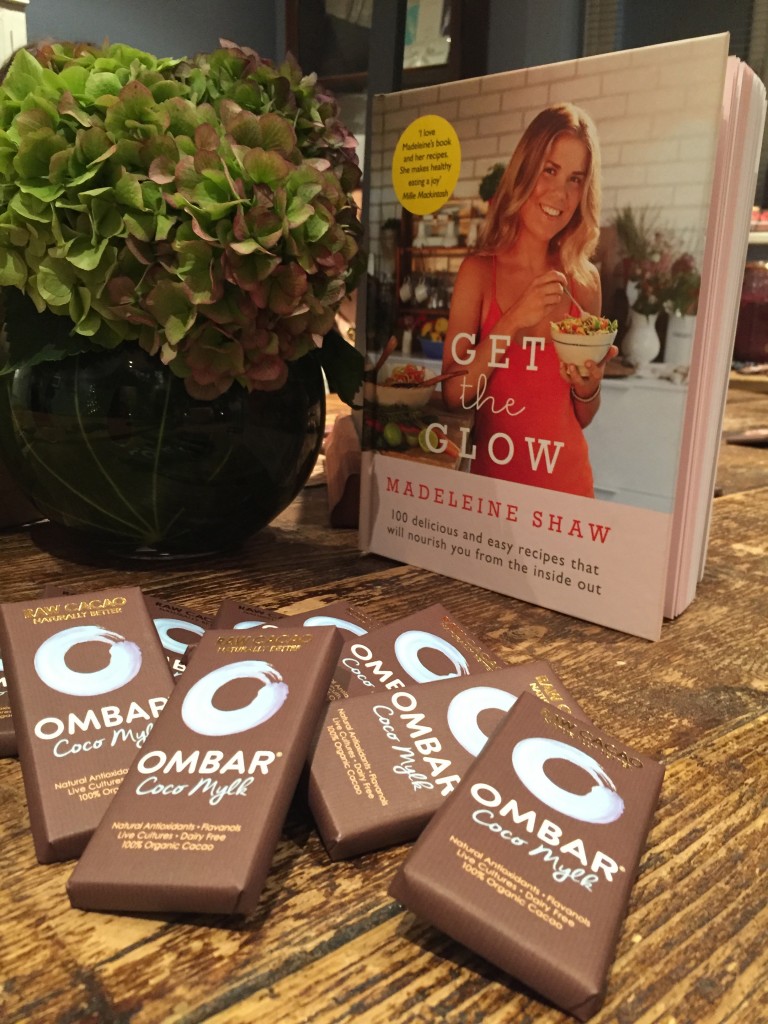 We were delighted to be invited to attend an evening of cocktails and learning how to cook with raw cacao, one of nature's finest superfoods at the Cactus TV Studio in London, with health-guru, acclaimed author and yoga teacher, Madeleine Shaw, at an event hosted by raw chocolate company, Ombar. Not only were we treated some wonderful organic prosecco, and some truly tasty raw chocolates, but Madeleine also baked us a fabulous flour-less chocolate brownie cake (recipe below), which was packed full of healthy ingredients to help you glow from the inside out.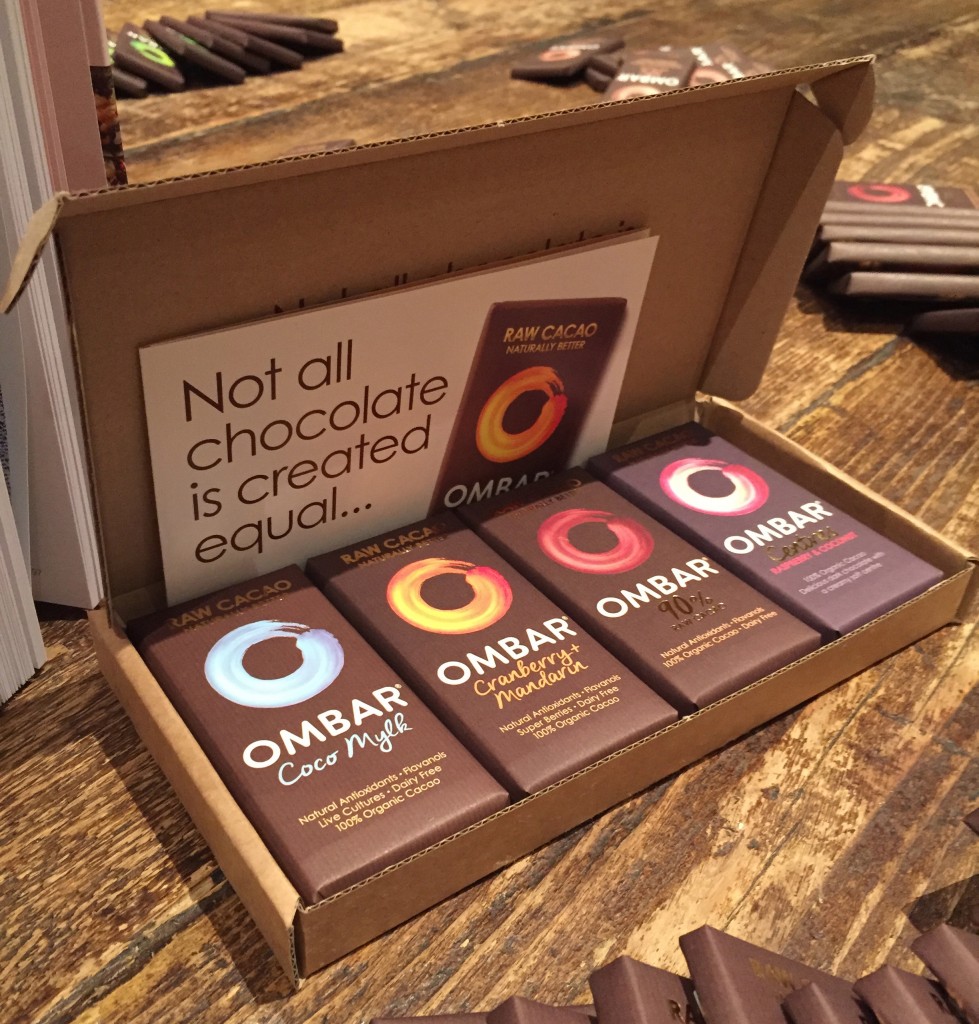 Who are Ombar?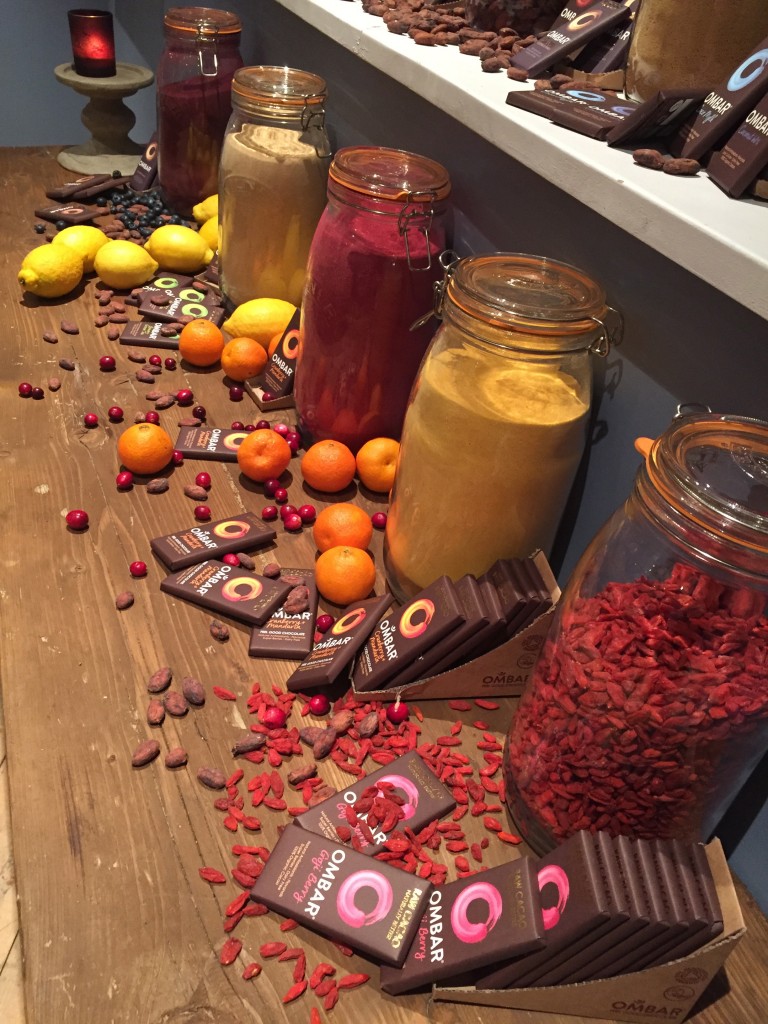 We were also treated to Ombar's entire range of deliciously smooth and creamy, melt-in-the-mouth raw chocolates, including their new soft-center bars, which are similar to Lindt chocolate bars, with their creamy soft centers, and which taste far too decadent to be healthy!
So who are Ombar? Ombar started in a small kitchen, born out of the desire to bring the health benefits of cacao to people by redefining and redesigning chocolate as a healthy food. The same desire exists today and informs everything they do.
Their chocolate is not only sourced from the best of the Ecuadorian cocoa farms, it is also raw, and their methods ensure that they preserve as much of natures original goodness as possible – which is why their chocolates have six times more flavanols than comparable chocolate brands.
They treat their chocolate like a health food – because it is – and therefore only use the healthiest ingredients such as unrefined coconut sugar, real fruit and live cultures.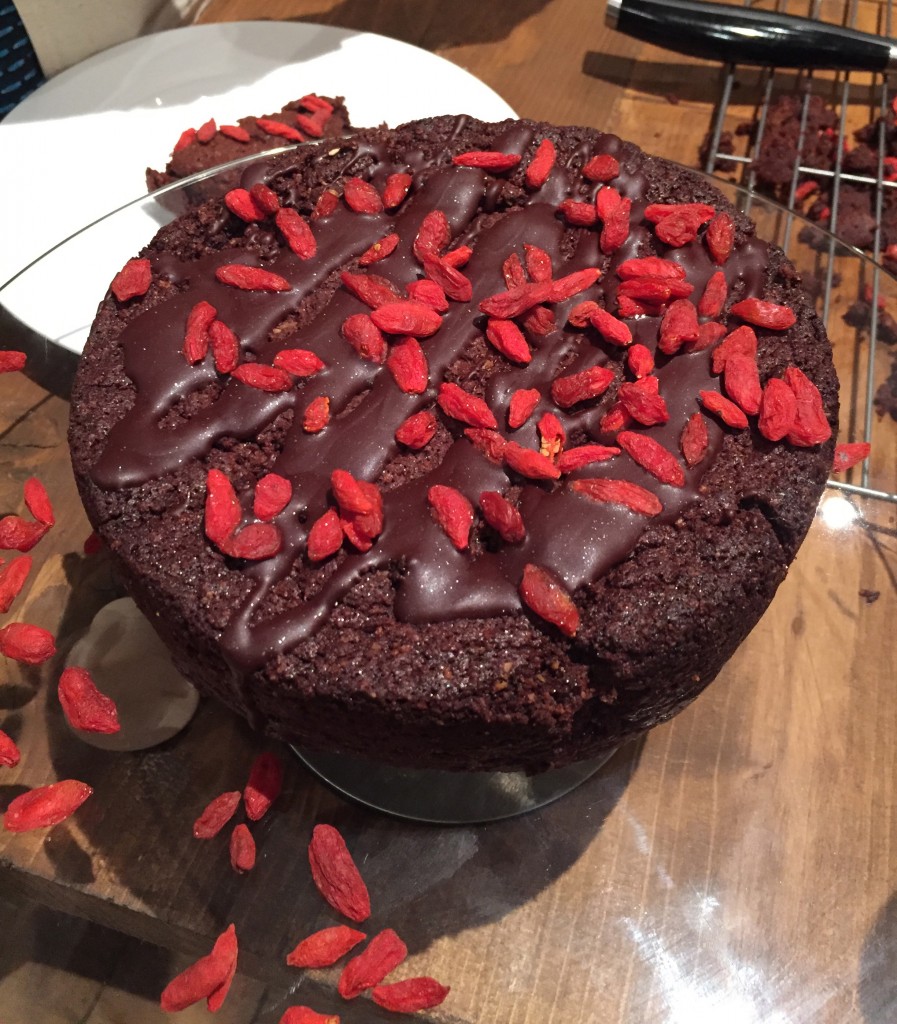 Madeleine's Flour-less Chocolate Brownie Cake
Ingredients:
200g of quality dark chocolate (Madeleine uses Ombar 72%)
125g of coconut oil OR coconut butter
125g of coconut sugar
4 eggs
1 vanilla bean
200g of ground almonds
1 pinch of good-quality salt
1 handful of goji berries
Method:
Preheat your oven to 180 C.
Break it into pieces, and melt it over a low heat in a pan. Then leave it to one side whilst you prepare the rest of the ingredients.
Cream the coconut sugar and oil (OR coconut butter if using) in a food processor for a few minutes.
Separate the eggs into egg yolk and whites. Pour the yolks, chocolate, a pinch of good quality salt, the almonds and the vanilla bean into the food processor and process until combined. Pour this mixture into a large bowl.
Whisk the egg whites until fluffy- the mixture should form stiff peaks. Fold the whites into the chocolate cake mix and stir gently to combine.
Grease a small cake tin with coconut oil, and pour in the cake mix. Bake for 20 minutes, then remove and let cool for 10 minutes, before decorating with a drizzle of raw chocolate and some Goji berries.
Madeleine's top tips for healthy cooking and baking:


Always purchase the highest quality ingredients available as these give you the best possible taste, and often have more nutrients.
Adding a pinch of good quality salt, such as Pink Himalayan or sea salt, to your food brings out the flavours much more, leaving you with more flavorful bakes.
Do not use table salt to add flavour to your food as it causes cravings.
If you're new to a healthy lifestyle, try to make healthy substitutions where possible so that you don't feel like you are missing out on your favourite treats.
Coconut butter and coconut oil make great alternatives to butter, and are full of healthy fats.
Raw cacao is a great substitution for cocoa powder as it has not been heated about 42c, which means it retains minerals and nutrients that are really beneficial to our bodies and brain function.
Use coconut sugar in your baking to make it healthier as it has a lower GI than refined sugar, and doesn't causes spikes in your blood sugar. You can substitute the same amount of coconut sugar on a 1:1 ratio.
If you can't eat eggs, you can substitute these by making a 'chia egg' to bind the ingredients in your recipe instead. A chia egg is made by mixing 1 Tbsp of chia seeds, with 3 Tbsp of water, which you then leave to sit for 5 minutes to expand before using.
Not all calories are created equal! 2,000 calories worth of Mars Bars is much worse for you than eating 2,000 calories worth of fruit and vegetables.