The world of free-from ice-creams just got even tastier as Cornetto Italy announce the launch of a two brand new Cornetto brands – Cornetto Veggy and Senza Glutine!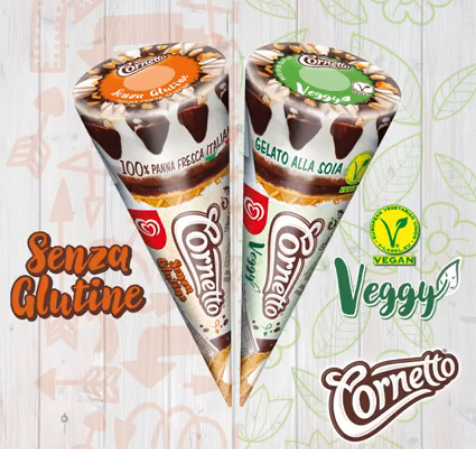 The past few weeks have already seen Fry's Family Foods announce the launch of a range of artisan vegan ice-creams, and Ben & Jerry's add two new flavours to their almond-milk ice-cream range, and now Cornetto is joining in the fun with the launch of a brand new vegan range, as well as a gluten-free range!
The vegan ice-creams will be made with soya-milk (the flavours are yet to be announced), and will be available in Italian stores soon. There is also a new range of gluten-free ice-creams available for coeliacs and those with an intolerance, but it is not yet known whether these cones will also be available in the vegan range too.
Sadly there's no word yet on a UK launch, but you can let Cornetto know there's a market full of hungry hungry free-fromers over here who would love to see their vegan and gluten-free offerings on Facebook and Twitter! 
Source: Vegan Food & Living.