Deliciously Free From gets a whole lot sweeter
Sainsbury's is set on making sure everyone can enjoy the food they love, so this week sees six exciting new launches enter their free-from aisles across the country.
From chocolate to salted caramel, fruity whipped icing to crunchy cereal, their new additions are certainly not free-from flavour.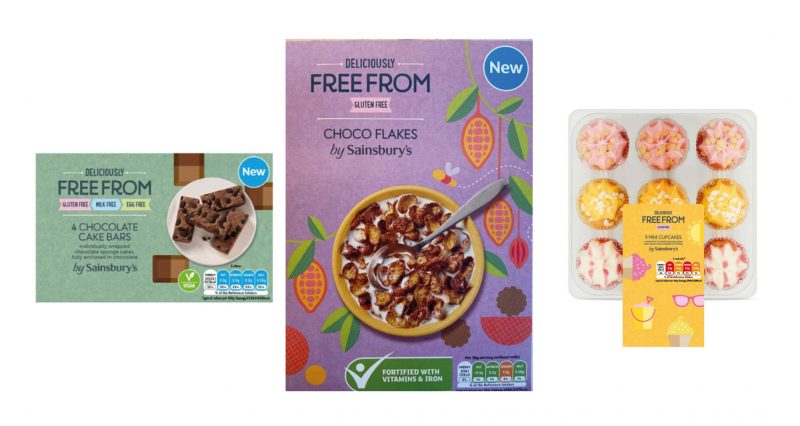 Whether you're starting your morning on the right foot with their gluten-free by Sainsbury's Deliciously Free-From Choco Flakes, or have packed one of their vegan-friendly by Sainsbury's Deliciously Free-From Chocolate Cake Bars for an on-the-go snack, they've added a whole choc-a-lot of sweet choices for you to choose from.
Grab a bunch of by Sainsbury's Deliciously Free-From Mini Chocolate Chip Muffins from their bakery, or for 'simply the zest' flavours, the by Sainsbury's Deliciously Free-From Lemon Loaf Cake sees a light and fluffy citrus sponge drizzled with a sharp lemon syrup.
Their special summer launches include the by Sainsbury's Deliciously Free-From 9 Mini Cupcakes – a combination of lemon and strawberry flavours, these little vanilla sponge cakes are brightly-coloured with their yellow and pink frostings – perfect for a sunny afternoon picnic.
Finally, Sainsbury's is stepping up the luxury levels, introducing a new Taste the Difference wonder to the range. A little salted caramel goes a long way in their Taste the Difference Deliciously Free-From Salted Caramel Crispy Squares. Their bittersweet Belgian dark chocolate combines with smooth salted caramel and crisped rice, and they're finished with hand-decorated white choc swirls for a vegan and gluten-free taste of indulgence.
Products:
by Sainsbury's Deliciously Free-From Choco Flakes 300g – £1.80 – Gluten-free
by Sainsbury's Deliciously Free-From Chocolate Cake Bars – £2 – Gluten/milk/egg-free (vegan)
by Sainsbury's Deliciously Free-From Mini Chocolate Chip Muffins – £2 – Gluten-free
by Sainsbury's Deliciously Free-From Lemon Loaf Cake – £2.50 – Gluten and milk-free
by Sainsbury's Deliciously Free From 9 Mini Cupcakes – £2.50 – Gluten-free
Taste the Difference Deliciously Free-From Salted caramel Crispy Squares – £2 – Gluten/milk/egg-free (vegan)
Sainsbury's stockist information https://stores.sainsburys.co.uk
Comments
Tags:
Gluten-Free News
,
Gluten-Free Products
,
News
,
Products