First gluten free Cornish pasty from Ginsters!
A gluten free cornish pasty will be finally available from Cornish pasty favourite Ginsters.
The company is launching its first-ever gluten free cornish pasty. As per the EU cornish pasty rules the pasty will be made with 100% British minced beef, potato, onion and swede, while wrapped in gluten-free shortcrust pastry.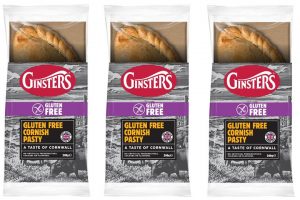 Ginsters developed the gluten free cornish pasty "in direct response to the growing number of consumers who purchase gluten-free foods due to both health and lifestyle choices."
Earlier this year Ginsters started to innovate with their first vegan products, the Moroccan Pasty and Quorn Pasty.
The new gluten-free pasty will be available from the 29th of December in Sainsbury's at £2.50 for a 200g pasty.
Follow us on Facebook, Twitter and Instagram for all the latest recipes, news and features from Gluten-Free Heaven.
Tags:
News
,
Products