Free-From celebrities chat allergies, intolerances, and Holland & Barrett
Since launching their first Holland & Barrett More store in Chester earlier this year, packed with more Free From products than ever before, the health chain have lots more in store for the future.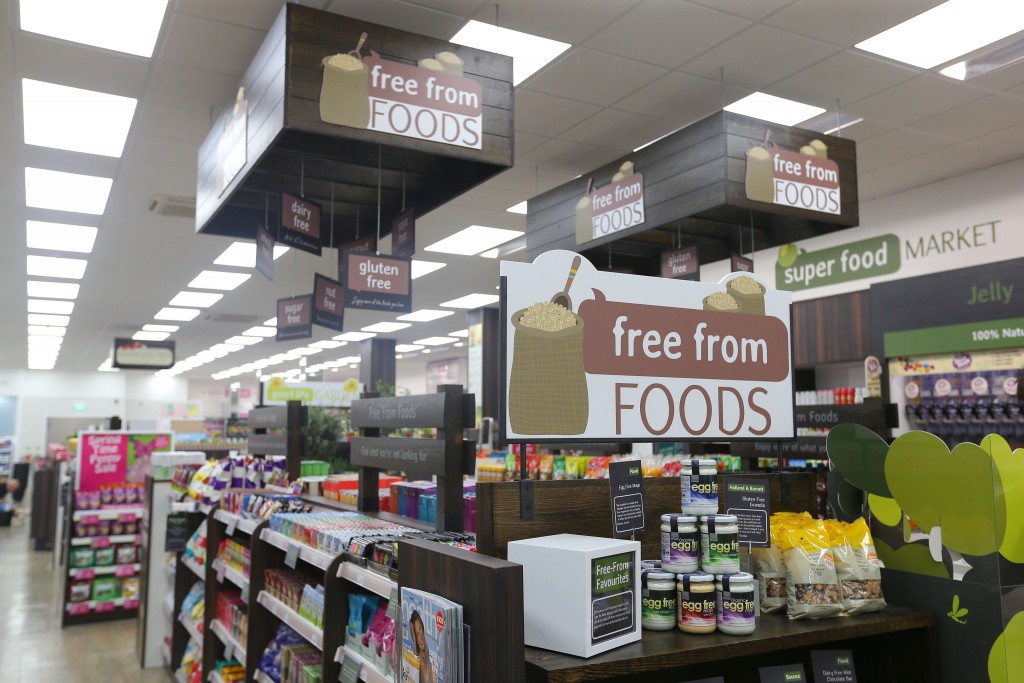 Here we hear from some of the Free-From celebrities who are dealing with their own allergies and intolerances, and who champion Holland and Barret's passion to make Free From foods more accessible to those who need them.
Jameela Jamil, TV and radio broadcaster, aged 29
"I've been allergic to peanuts and shellfish since birth and wasn't diagnosed as coeliac until I was 12. Initially they didn't know it was gluten that was making me ill, so I just presumed I was destined to feel very unwell and tired for the rest of my life. Then I developed mercury poisoning when I was 21, which was so severe that it burnt holes in my digestive system and meant that food would travel into my bloodstream undigested. The poisoning shed light on new allergies I had developed, because suddenly I started developing severe reactions to dairy, celery and peppers. My face would swell and I would feel weak and sick. Sometimes I would even faint.
Food is such a huge and important part of life and when you have an allergy it can be genuinely depressing to spend your life restricted by your diet. There have been massive steps made in the quality and range of Free From food recently and this move by Holland & Barrett reflects that. Some brands are so delicious that my friends won't even notice the difference, so it is great to know that people like me will now be able to buy the brands that we love and increase the variety of what we eat quickly and easily by visiting a national health food store."
Jennifer Ellison, actress & TV personality, aged 32
"Both my sons were born with a milk allergy, so overnight they went from being really happy babies to being really unwell. It was a very difficult time for us, because we kept on taking them to the doctors and the hospital and they just kept saying it was reflux. I think there is a lot of confusion around food allergy in this country and getting the right diagnosis is difficult. I can't tell you how distressing it is for a mum to have a baby who is unwell day and night and not know why or what you can do to make it better.
Knowing there are now places like Holland and Barrett that provide such a wide range of Free From food brings such piece of mind. Having a child with a milk allergy is extremely hard in the first few months, as obviously milk is their only source of food and nutrition. However the weaning process and toddler years can also be hard because so many foods contain dairy. It's hard enough to get a child to eat a varied diet, but when your options are limited, it is even harder. It's incredible that there is now so many Free From foods available, because it means that children and families no longer need to be restricted by allergy – there are loads of exciting options for them too."
Jorgie Porter, Hollyoaks Star, aged 27
"I have a severe allergy to prawns and shellfish. When I was younger I had an anaphylactic shock and was hospitalised, which was a really scary experience for me, but also something I know my mum will never forget. 
Having a severe allergy is very upsetting because you always have to aware of what you are eating, especially when you are eating out. It really is a matter of life and death. I'm lucky though, as shellfish is something that I'm able to manage and avoid. A couple of my friends have nut allergies, which is extremely hard to live with, as traces are found in so many foods and reactions can even be air-born. It's so good that Holland & Barrett are moving into Free From foods because I know how much my friends struggle to find food they can eat-on-the-go and also how difficult I find it to cook for them. I might event throw a allergy dinner party now there is access to such a wide range of Free From food available on the high street!"
Natasha Corrett, celebrity chef & blogger, aged 30
"Being free from is really important to me and my blog Honestly Healthy is all about being alkaline. An alkaline diet is about reducing the acid forming foods in your diet, because things like sugar, wheat, gluten and dairy are all very acid forming. Alkaline eating helps the body maintain healthy pH levels which can improve digestion, skin tone, mood and also aid weight-loss.
I think it is amazing that Holland and Barrett have launched the biggest range in Free From food because it makes these foods so much more accessible for people – there is a store on pretty much every high street across the UK. All of the recipes I make are free from and it's great to know that other people can easily cook for themselves at home, whether they are trying an alkaline diet from choice, or have a food allergy or intolerance."
Ampika Pickston, star of Real Houswives of Cheshire, aged 32
"My wheat intolerance has been the bane of my life. For years it went undiagnosed and I couldn't understand why I suffered constantly from bloating, wind and diarrheoa. Finally I had a blood test done and my GP advised that I had a wheat intolerance. Then it was time to go through the painful process of cutting out all wheat, which was so difficult, because so many foods contain it. It was safe to say that my diet was seriously boring for a while and as someone that has always enjoyed food, it made my life pretty miserable! Finally I found a balance that works for me, where I can manage my wheat intake, whilst still enjoying some of lives little pleasures.
I think what Holland & Barrett are doing in Free From food is amazing. Instead of spending time on the internet doing research, going to the library finding books, or asking friends, you can now go to one place and ask educated staff, or even visit their website for loads of information. Their new range is incredible. It means that people like me can still have varied and balanced diets, whilst avoiding the foods that make them unwell."
Check out our In The Kitchen With Holland and Barrett for more juicy details on their Free From launch and plans for the future.

You can visit the Holland and Barrett website at hollandandbarrett.com to see their ever-expanding range of Free From goodies. 
For even more, visit:
Allergies
,
Celebrities
,
News