FreeFrom Eating Out Awards 2015
Once again, the FreeFrom Eating Out awards have been shortlisted. Find out here which outlets and products could be taking home this prestigious award this year…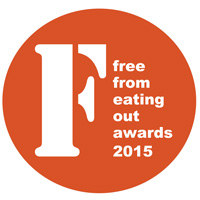 The FreeFrom Eating Out Awards are seeking out the very best in allergen aware food service and are open to any sort of outlet from a street food stall to a five star restaurant or an allergen aware school. The awards are entirely independent, supported by sponsorship and entry fees only. Winners will be chosen by a team of independent 'allergy aware' judges on incognito visits to the shortlisted entrants!
Winners will receive FreeFrom Eating Out Awards winning logos and coverage on all of FreeFrom's social media sites, and those of their partners, including the new Can I Eat There? restaurant guide.
The winners will be announced and the presentations made at the Food Matters Live event in London on 17th November at the Excel in London.
The shortlisted categories and outlets/products are listed alphabetically below.
Cafés, coffee shops and tearooms – sponsored by Can I Eat There?
Fish and Chip shops– sponsored by Glebe Farm
Pub restaurants – sponsored by Green's Gluten-free Beers
Restaurants – sponsored by Riso Gallo
Corporate Hospitality & Venues – sponsored by Nairns Gluten Free
B&Bs and guest houses – sponsored by Caterlyst
Schools, colleges and universities – sponsored by Thomas Ridley Foodservice
For more information please contact Michelle Berriedale-Johnson on 020 7722 2866, or email michelle@foodsmatter.com.
www.freefromeatingoutawards.co.uk
Tags:
News