Once again, the FreeFrom Eating Out awards are being shortlisted. Read on for more details on how to register your favourite place…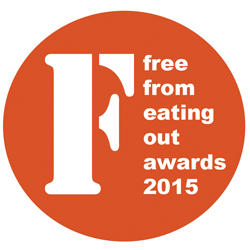 ONLY 15 DAYS LEFT to enter the 2015 FreeFrom Eating Out Awards and win free-from, allergen-aware glory!
Following on from their super-successful launch year, entry to the 2016 FreeFrom Eating Out Awards, sponsored by Sodexo,  will close on 28th August.
The FreeFrom Eating Out Awards are seeking out the very best in allergen aware food service and are open to any sort of outlet from a street food stall to a five star restaurant or an allergen aware school. Winners will be chosen by a team of independent 'allergy aware' judges on incognito visits to shortlisted entrants!
Winners will receive FreeFrom Eating Out Awards winning logos (see below) and coverage on all of our extensive social media sites and those of our partners including the new Can I Eat There? restaurant guide.
The winners will be announced and the presentations made by our patron, Antony Worrall Thompson, at the Food Matters Live event in London on 17th November – after which there will be a 'cook off' between the winning chefs from the 2014 awards!
Entering the awards is very simple – and very cheap!!
Just follow the links below to each category and follow the instructions from there on….
1. Cafés & teashops sponsored by Can I Eat there?
2. Street food, takeaways, deliveries sponsored by Genon Laboratories
3. Fish & Chip shops sponsored by Glebe Farm Foods
4. Pubs and pub restaurants sponsored by Green's Gluten-free Beers
5. Restaurants sponsored by Riso Gallo
6. Corporate hospitality and catering sponsored by Nairn's
7. Hotels and guest houses sponsored by Caterlyst
8. Schools, colleges and universities sponsored by Thomas Ridley Foodservice
Headline sponsors for the 2014 and 2015 awards are Sodexo Quality of Life Services.
For more information please contact Michelle Berriedale-Johnson on 020 7722 2866
www.freefromeatingoutawards.co.uk