Genius Gluten Free have added a brand new loaf to their range of gluten-free breads. It's a square cut white loaf, ideal for toast, toasties and sandwiches and is available now exclusively in Tesco.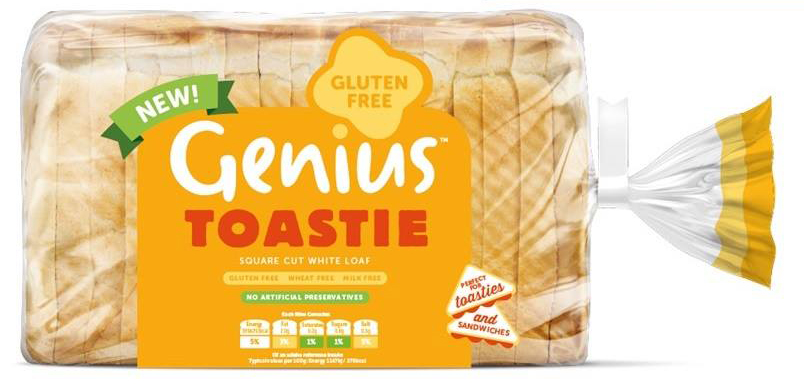 Genius Gluten Free, the number one bakery brand within the free-from category in Britain, is expanding its core bread range with the launch of the first ever square cut gluten-free loaf – Genius Toastie.
A category first, the Genius Toastie loaf is a delicious, soft square-cut loaf, ideal for sandwiches and toasties. Gluten, wheat and milk free, with no artificial preservatives, the new loaf is designed to offer a gluten-free alternative to mainstream square cut soft white loaves, which currently account for the vast majority of the mainstream bread market.
The new Genius Gluten Free Toastie is a full size loaf (500g), and the slices are approximately 125mm high, which should be welcome news to gluten-free consumers who are often disappointed by the small sizes of other gluten-free loaves on offer.
From a traditional cheese toastie to a classic tuna mayo sandwich, this loaf is great for all occasions and all ages. And why not try something more adventurous and create the ultimate cheese & ham toastie by adding a dash of gluten free worcester sauce and some English mustard. Delicious!
Nutritional information
The Toastie loaf is gluten-free, wheat-free, dairy-free and soy-free. 

Ingredients
Maize Starch, Water, Potato Starch, Tapioca Starch, Rapeseed Oil, Humectant: Vegetable Glycerol; Psyllium Husk Powder, Yeast, Stabiliser: Hydroxypropyl Methyl Cellulose; Ground Golden Flaxseed, Free Range Dried Egg White, Rice Flour, Dextrose, Iodised Salt: Salt, Potassium Iodate; Fermented Maize Starch, Partially Inverted Refiners Syrup.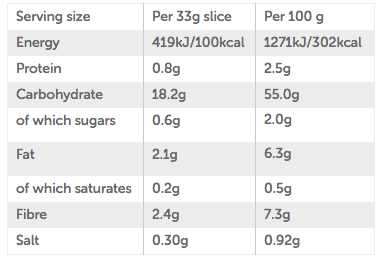 Where can I buy it?
You can find this product in selected branches of Tesco. Genius is also stocked in independent shops and retailers, so keep your eyes open next time you're out and about. The loaf retails at £2.70 in Tesco.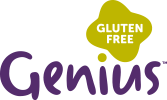 For more information, please visit www.geniusglutenfree.com.