Gluten-free brownies through your letterbox!
Cake or Death deliver some of the UK's most loved brownies nationwide and hassle-free through your letterbox. Beautifully packaged in hot pink leopard print, customers are also able to include a personal note making Cake or Death brownies the perfect gift. The fudgey, indulgent brownies come in a variety of flavours (all of which are gluten-free except the Biscoff version) and also happen to be vegan.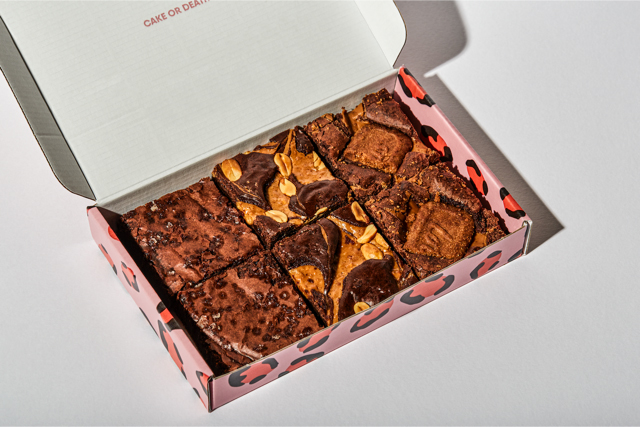 Beautifully packaged in a hot pink leopard print, the Cake or Death experience is luxury treat, from it dropping on your doormat, right through to the last mouthful. These aren't any ordinary brownies. Cake or Death brownies are everything a brownie should be and more; fudgy, indulgent and very moreish, all made with the very best quality vegan ingredients. Both vegans and non-vegans alike are huge fans.
Keep things simple with the classic Sea Salt or Peanut Butter flavours. Or get fruity with raspberry or orange flavours. There's even a nostalgia hit with the Peanut Butter and Strawberry Jam option. For the adventurous, the vanilla spiked Walnut Blondies with a rich caramelised flavour are a great alternative.
For the die-hard brownie enthusiasts, Cake or Death is available as a monthly subscription with varying prices and flavours.
Katie Cross, lifetime baking enthusiast and Founder of Cake or Death started her vegan cake business in early 2019 after discovering the lack of quality vegan bakes on the market. Starting with wholesale baked goods and bespoke birthday cakes, Katie quickly realised how popular Cake or Death's brownies were. Once the pandemic hit, Katie pivoted the business from wholesale to the ingenious consumer letterbox brownies and has never looked back. Cake or Death increased turnover by an incredible 300% in the three-month pandemic period with customers ordering brownies for themselves and sending packages to loved ones with heart-warming messages included.
Comments
Tags:
Gluten-Free Diet
,
Products