Iconic ice-cream brand Häagen-Dazs has quietly introduced four non-dairy ice cream flavours to market in the USA. Peanut Butter Chocolate Fudge, Coconut Caramel, Chocolate Salted Fudge Truffle, and Mocha Chocolate Cookie flavours have all been spotted in California Target locations and have been added to the brand's website.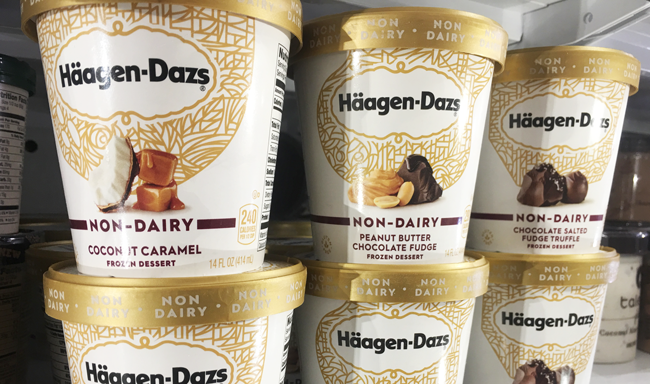 The flavours
While the packaging makes no mention of the word "vegan," according to Vegansaurus, a trusted source has verified that each flavour is indeed free of animal products. A reported fifth flavour—Pistachio Chocolate—is also rumoured to be in production.
Häagen-Dazs' entry into the non-dairy market follows the lead of other big-name brands including Ben & Jerry's and Breyers—which introduced almond milk-based flavours to test markets earlier this year.
Unfortunately we have no word on when the new flavours will be hitting stores in the UK, but let Häagen-Dazs know on Facebook and Twitter that you'd love to see them on sale here, and there is demand for these new products here too.
Source: VegNews. Photo: VegNews.