Harvester add new vegan and vegetarian options to the menu
Harvester has recently announced the launch of its new vegan and vegetarian menu options. With an ever increasing demand for meat-free and vegan options, Harvester is now offering its guests some delicious new dishes, responding to diners' special dietary wants and needs.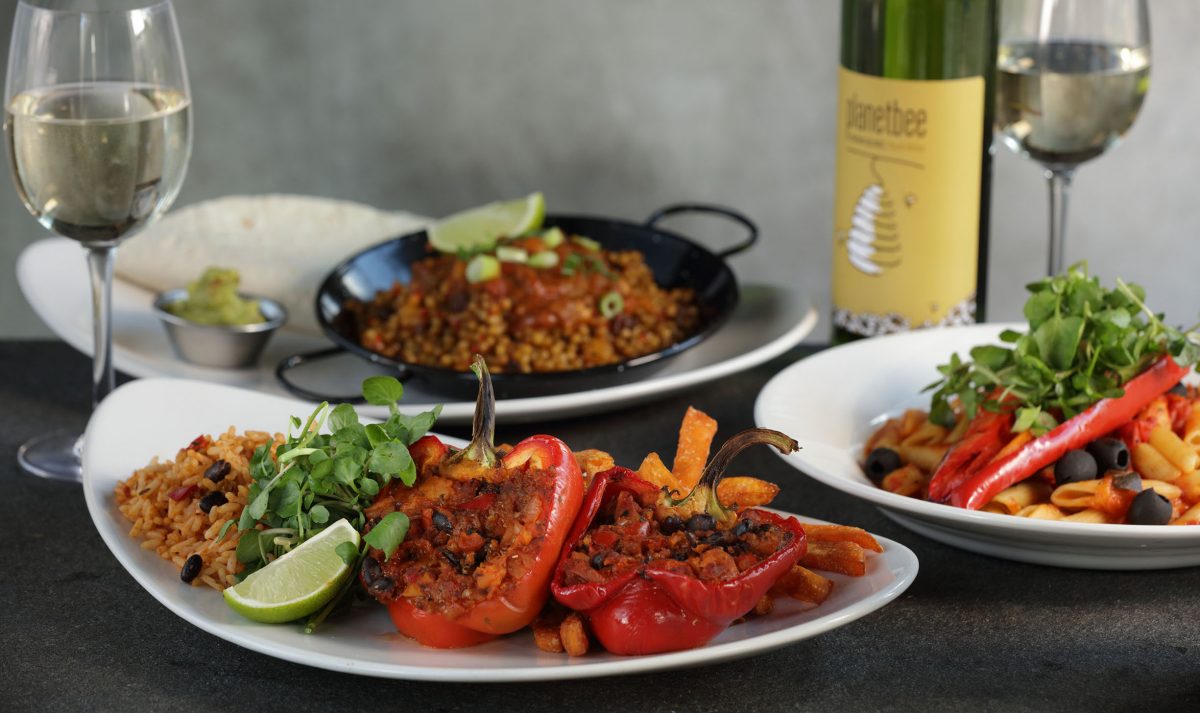 After trialling a large range of veggie and vegan dishes in selected restaurants for the past few months, Harvester has now rolled these dishes out across the country.
Harvester prides itself in spotting new dining trends and responding to its guests needs, and is delighted to be bringing more choices to diners who may find that their needs are not catered to when eating out.
With eight vegetarian/vegan dishes, including Harvester's first ever vegan dessert and a selection of vegetarian starters (not forgetting their famous unlimited salad bar!) guests can now go vegan for three courses.
Dawn Carr, Vegan Corporate Projects Manager from PETA commented, "PETA is delighted that Harvester has added vegan options to its menu. Savvy businesses are jumping to satisfy the public's appetite for healthy, humane plant-based food, and Harvester's vegan dishes – including its satisfying Stuffed Red Pepper served with sweet potato fries and its delicious Coconut & Raspberry Rice Pudding – don't disappoint."
Starters
Jalapeño Cream Cheese Poppers (v) £4.50 – 

Breaded jalapeños filled with cream cheese, with a sour cream dip.

Mac & Cheddar Cheese Bites (v) £4.50 – 

With tomato salsa.

Falafel & Houmous (v) £4.50 – 

Chickpea falafel with houmous dip.

Portobello Mushrooms (v) £4.50 – 

In a salt & pepper beer batter, with a blue cheese dip.

Halloumi Skewers (v) £4.50 – 

With our Spiked Maple sauce and fresh grilled pineapple.

Cajun-Fried Green Beans (v) £4.50 – 

Cajun-battered fried green beans with a sour cream dip.
Main meals
Aubergine & Red Lentil Tagine (ve) £9.99 – 

Giant couscous cooked with apricots, raisins, coriander &

red pepper. Topped with a Moroccan-inspired spiced

stew,

with flat bread and avocado dip.

Sweet Potato Jambalaya (v) £9.49 – 

Creole-style rice with black turtle beans, peppers, okra & baby sweetcorn.

With sweet potato & corn fritters and Cajun-fried green beans.

Herb-Battered Halloumi & Chips (v) £8.29 – 

With fries, tartare sauce and your choice of garden or mushy peas.

Penne Arrabiata (ve) £6.99 – 

Spicy penne arrabiata with black olives, grilled kapia pepper

and watercress.

Stuffed Red Pepper (ve) £10.49 – 

Stuffed with sweet potato, black bean & quinoa chilli, with spicy rice

and sweet potato fries.

Beetroot & Halloumi Burger (v) £8.99 – 

A delicious beetroot burger topped with fried halloumi

and sliced mushrooms.

Falafel Wrap (v) £7.99 – 

Tortilla filled with smashed avocado, salsa, baby gem lettuce and your choice of either fries, spicy rice, jacket potato or steamed vegetables.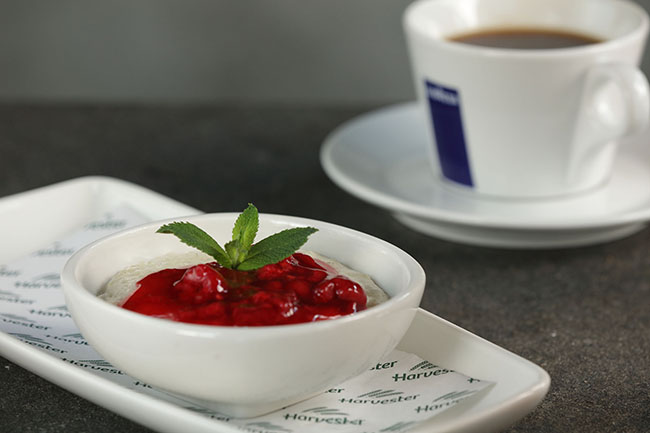 Desserts
 Coconut & Raspberry Rice Pudding (ve) £4.29 – 

Slowly cooked in coconut milk, served with raspberries in sauce.

 
(v) Made with vegetarian ingredients
(ve) Made with vegan ingredients
The new menu can be viewed here: http://www.harvester.co.uk/favourites.
Tags:
News