Jo's Free-From Dinner Party #4
Recently diagnosed Coeliac and newbie blogger Jo Knowles is on a mission not to let her gluten and dairy-free diagnosis rule her eating habits. We've experienced the ups and the downs of her first Free From dinner parties with her. Here she shares her experience of hosting her fourth party, let's see how it goes…
Round 4 – Summer Delights
So we are supposedly half way through this gloriously wet weather that we call the great British Summer and with my next dinner party only days away, I thought I would laugh in the face of the rain and cheer up my guests with a summer themed meal. Taking inspiration from the fabulous Ella Woodward and the seemingly unstoppable Jamie Oliver, my menu was quickly decided on. I went for a clean pea and mint soup, followed by lemon chicken with a diced salad and finished up with banoffee pie. All gluten and dairy free and hopefully filled with the hope of sunshine to warm us up on what has been a particularly wet July.
Now this dinner was a little bit special, as it was the first time since my diagnosis that I had my good friend and her husband over and I have cooked for them both. What makes it even more special is that not only is she an incredibly supportive and kind friend, she is also a fellow Coeliac. With an added dairy intolerance to match. And no, we didn't meet after we were diagnosed; we became friends before either of us had even begun our rocky adventures into the world of gluten-free living. If that isn't serendipity walking right up to us with a trumpet playing mariachi band and neon flashing lights advising us to become firm friends, then I don't know what is. This friend has been my rock, an incredibly patient ear on my less positive days and generally, just someone to hang out with who totally 'gets it' (I can hear all you Coeliacs out there silently nodding in agreement at this). Because becoming a Coeliac can be an incredibly lonely world at times so finding a fellow Coeliac who is also a great friend makes me one lucky girl. Contemplating your life on a limiting and confusing diet is much easier to navigate when you have like-minded people to travel with.
And so with a spring in my step and not feeling like the 'odd one out' at the dinner table, I decided to get ahead with my prep and made the soup the night before. It was such a simple recipe but what surprised me was the sheer beauty of the colour of it. It was so vibrant and summed up to me the beauty of this lovely country we live in – green, fresh and packed with fresh produce.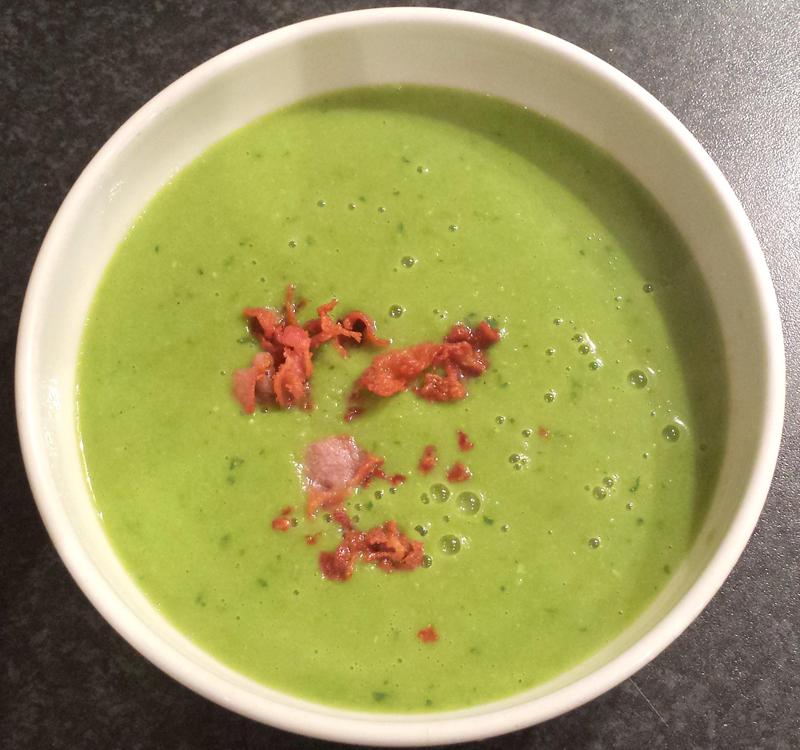 On a roll, I decided to prepare the dessert too, and again, providing you have a food processor to hand; the recipe is easy to follow and the three layers were quick. An added bonus was once finished, I got to lick out the bowl afterwards, like the ten year old girl that I am.
Whilst it is called a banoffee pie, it was a far cry from the synthetic, sugar-laden packaged ones from the supermarkets. This 'Deliciously Ella' recipe was only sweetened naturally with a yummy combination of honey, medjool dates and nut butter and without a biscuit crumb in sight. I adapted the recipe by using a mix of almond and peanut butter which I feel gave it an added depth of flavour.
(Excuse the amateurish and rather messy photo shown here, it really did taste better than it looks!)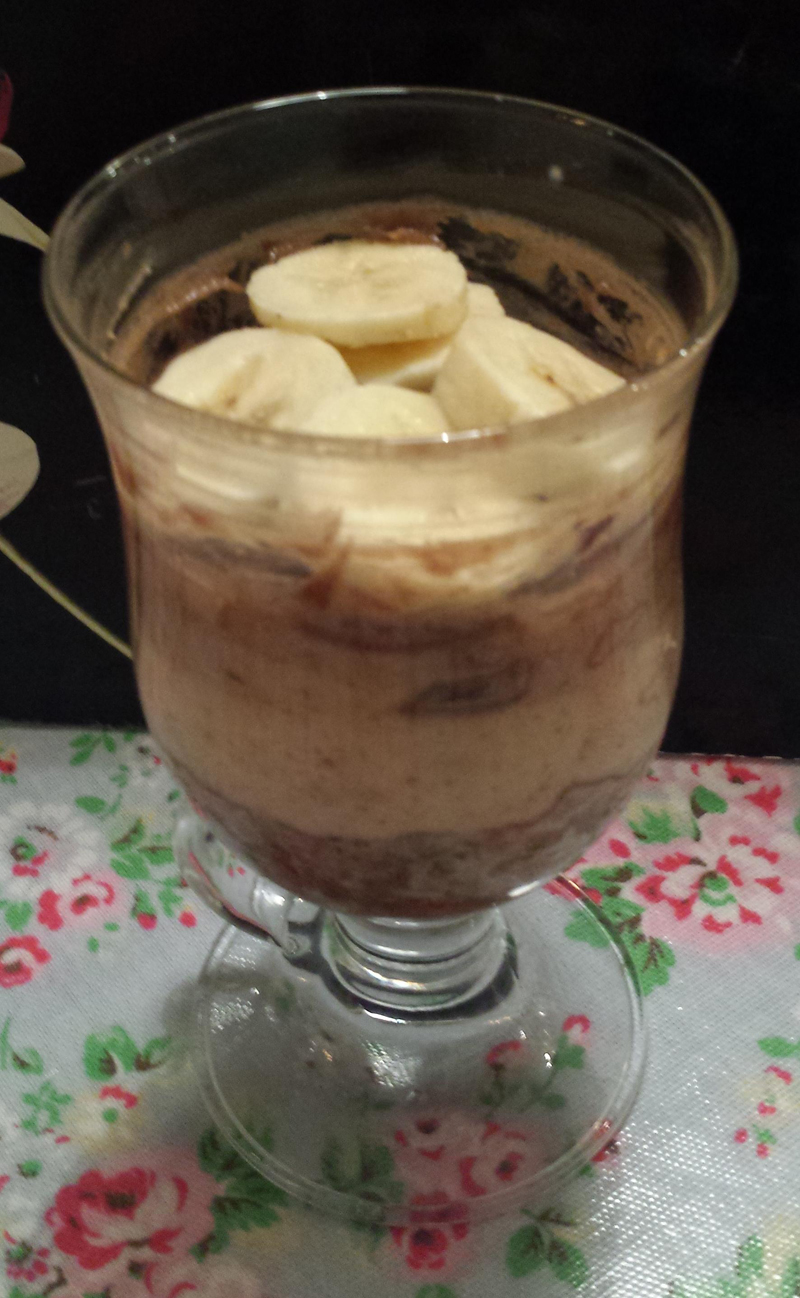 On the day of the dinner, I decided to make some home-made bread in the morning to accompany the starter, but other than that, no further preparation was needed until the evening. I knocked up a quick summer salad of chopped tomatoes, cucumber, celery and pepper and poured in some olive oil and oregano and to quote Jamie Oliver, it looked 'lovely jubbly'.
As with many of Jamie's recipes, the main course was a one pot wonder. After cooking the chicken for 45 minutes with nothing but a good glug of olive oil and salt and pepper, I had time to par boil the potatoes in the same water as a whole lemon and a whole garlic bulb. Once boiled for twelve minutes, everything was then shoved in the oven, including the lemon and garlic along with streaky bacon covering the meat. This left me free to go and get spruced up with nothing left to do but pour the wine and light some candles for the ambience.
Our guests arrived and a lovely evening was had by all. Lots of laughter ensued and everyone could relax in the knowledge that the two Coeliacs at the table were safe from any cross-contamination issues or intolerances. As the last plate was cleared and the candles blown out, I was able to reflect on the evening and can now honestly say that I am really starting to enjoy this gluten free lifestyle I have embarked upon. I enjoy the researching for recipes; the trial and error of trying new foods and more importantly, the proof that eating gluten free does not have to be limiting or indeed boring. Life is what you make it kids, and I choose to make mine full of flavour…..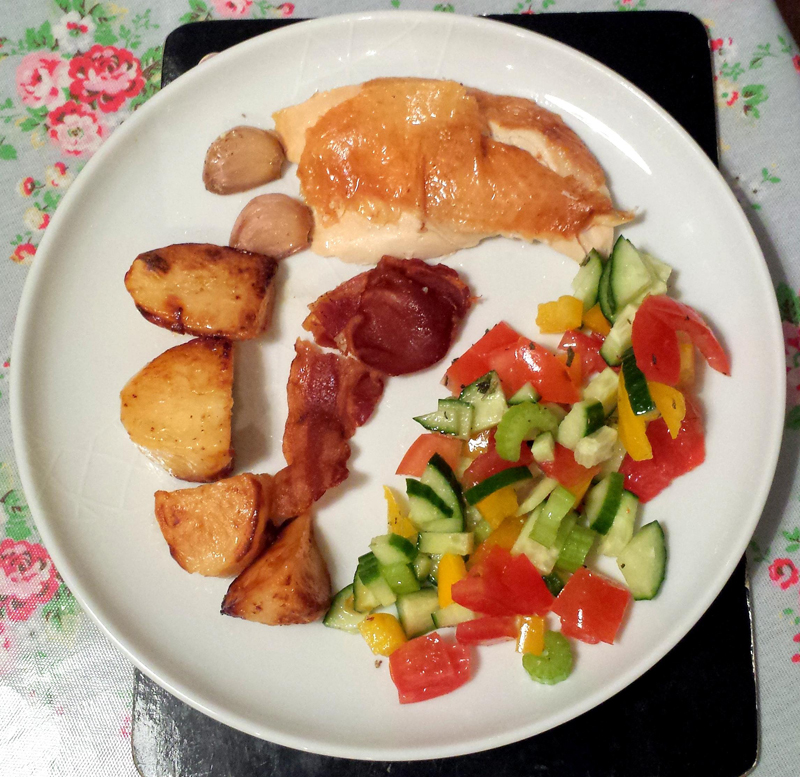 Tags:
Dairy-Free
,
Gluten-Free
,
Your Stories