Moo Free launches new range of premium dairy-free chocolate bars
Moo Free Chocolates has launched a new range of premium dairy-free chocolate bars in six enticing flavours.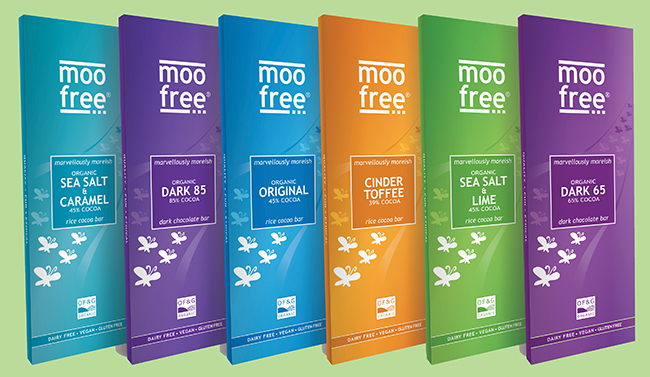 Moo Free Chocolates' range of dairy-free chocolates is well-loved amongst those who avoid dairy thanks to their delicious and fun range of mouth-watering flavoured chocolate treats.
Now the vegan chocolatier is expanding its range with a brand new line of premium chocolate bars (RRP £2.19) to give those looking for something special to indulge in more choice.
Rolling out from March 4th, the family-owned chocolatier's new additions include trendy Sea Salt & Caramel, zesty Sea Salt & Lime, classic Original and a crunchy Cinder To ee, a larger variant of their most popular smaller bar – the Mini Moos Bunnycomb bar.
"This is one of the greatest innovations in Moo Free's history", says co-founder Mike Jessop. "These are the premium chocolate bars consumers have been waiting for. Six new bars with bold, exciting flavours made with premium inclusions and ethically-sourced ingredients".
The premium, ethical chocolatier also makes its debut in the luxurious world of dark chocolate with a Dark 65 and a Dark 85 bar – both made with single origin cocoa mass.
"The fruity flavours of the single origin Dominican cocoa mass really come through with our brand new dark bars" adds Mike Jessop. "Our bars are also guaranteed to be vegan and free from dairy, gluten and soya as we don't have those allergens in the factory. Not all manufacturers can say the same!".
Tags:
News
,
Products