Morrisons have announced a price crunch of free-from foods
Get your wallets ready, Morrisons have cut their prices by an average of 39%!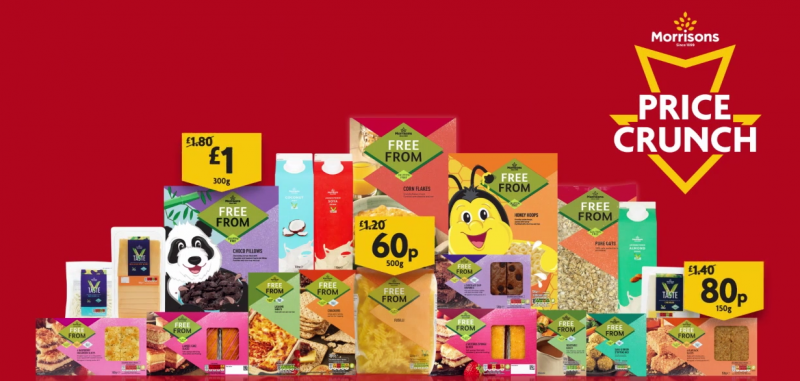 Morrisons has 'crunched' the price of many of its foods that are free from common allergens. The price cuts aim to make shopping more affordable for customers who follow a diet free from gluten, lactose, milk or wheat. Free From products often come with a higher price tag than 'regular' products due to the complex manufacturing processes involved and the smaller quantities required.
So, in order to help its customers with food intolerances, Morrisons has 'crunched' many of the products that they buy the most frequently. The average price cut is 39 per cent and the crunched items focus on staples like pasta, cereal and dairy substitutes.
Examples include:
Morrisons Free From Fusilli Pasta (500g) Was £1.20 – now £0.60
Morrisons Free From Gluten Free Oats (1kg) Was £3.50 – now £1.20
Morrisons Free From Crackers (200g) Was £2.00 – now £0.60
Morrisons Free From Corn Flakes (300g) Was £1.50 – now £0.60
Morrisons Free From Flapjacks (150g) Was £1.40 – now £0.80
Morrisons Unsweetened Almond Milk (1L) Was £1.00 – now £0.85
Morrisons Free From Lasagne Sheets (250g) Was £1.20 – now £0.35
Charlotte Baldwin, Morrisons Free From buyer said "Our customers with food intolerances tell us that they would like to pay less for many staples. We are listening".
In addition, Morrisons has increased its Free From range by adding nearly 100 new products to the range including croissants, ice creams and doughnuts as well as seasonal favourites like mince pies.
Follow us on Facebook, Twitter and Instagram for all the latest recipes, news and features from Gluten-Free Heaven.