New gluten free chapati flour launched
Eurostar Commodities has launched a new gluten-free chapati flour
The new chapati flour is available in 1.5kg and 3kg bags in White and Medium Brown varieties. A wholemeal variety will be launching in January 2020.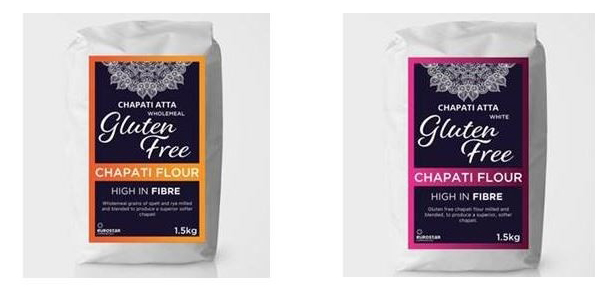 The premium flour is gluten-free, coeliac friendly, higher in fibre, and is vegan.
Developed specifically to produce high-quality chapati, Eurostar Commodities Gluten Free Chapati Flour is a premium flour for the softness and flexibility required for producing great consistent results.
Eurostar Commodities offers many gluten-free flours already, including chia, chickpea, flax, sorghum and rice, and many more.
Philip Bull, MD Eurostar Commodities said; "This launch comes on the back of significant research and development. We recognise the increasing consumer demand for gluten-free products, however, within this category there is varying quality. For us, the most important thing is quality. We wanted to create a product that has excellent extensibility that is consistently reliable and ultimately tastes incredible, with great texture – certainly as good as, if not better than similar products which contain gluten. What many people like is that it also comes in a traditional white flour which is an extremely popular choice."
This builds on the success of Eurostar Commodities Spelt and Rye chapati flours. With more natural processing and enhanced flavour properties Spelt and Rye has increased absorption benefits. Spelt and Rye chapati flour blends older grains of rye and spelt to produce a tasty chapati, high in quality and with the softness and flexibility required for producing a great result. Rye and spelt give a rich hearty taste and retain a larger quantity of nutrients than other types of grains when milled. They're a good source of fibre and minerals and are higher in protein than wheat flour. Because they are low GI the products are also good for diabetics.
For more gluten-free news click here.
Tags:
Flour
,
News
,
Products